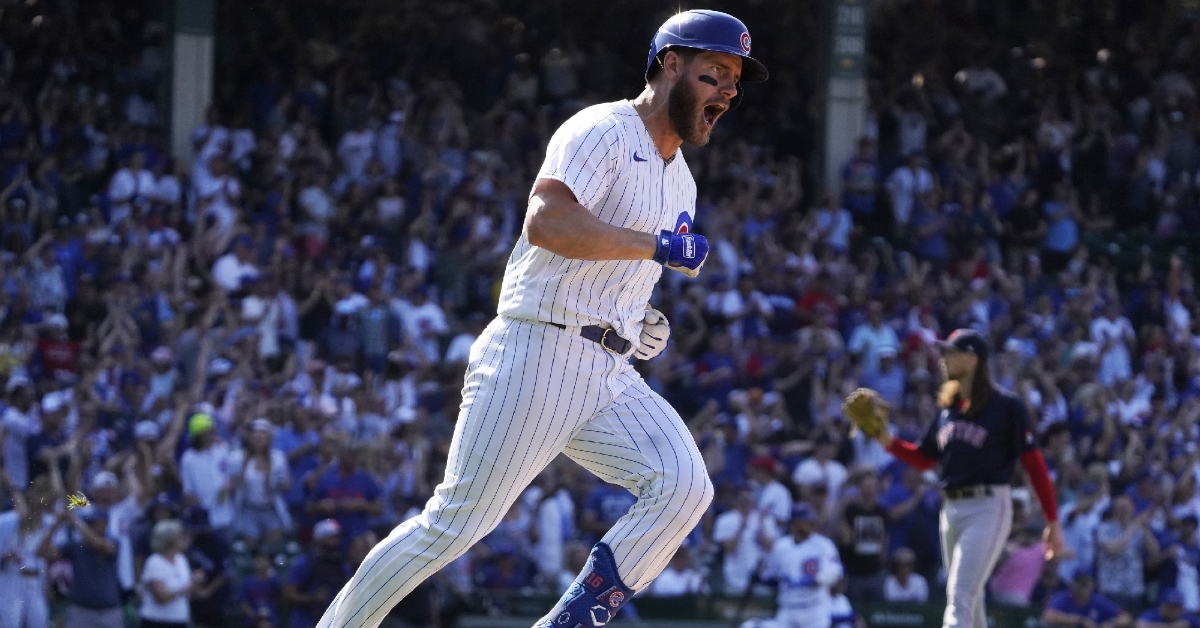 | | |
| --- | --- |
| 2022 Season Report Cards: Cubs Third Basemen | |
---
Over the last few seasons, the Cubs have seen their organization undergo drastic changes. Most of those changes came from the product on the field, where most, if not all, of the 2016 World Series team has moved on to different organizations.
That includes 2013 first-round pick Kris Bryant who patrolled third base for the better part of seven seasons in Chicago. Sure, there were some lows during his time, especially regarding the injuries, but there were also plenty of highs, including an MVP and Rookie of the Year.
With him no longer in the picture, the Cubs have had a gaping hole to fill at the hot corner and have tried several different approaches to fill that spot. Most of it was done via platoon roles, but the Cubs are now going to focus on finding a long-term option to help build their next great team around.
Love him or hate him, Wisdom is a fascinating story and someone the Cubs will have to consider for a multi-year deal for some role. Mostly a minor leaguer, Wisdom was a highly touted prospect in the St. Louis Cardinals system, but was never given an opportunity in their organization.
That opportunity didn't present itself until he was nearly 30 years old, and it came with the Cubs in 2021. Known for his high power numbers, Wisdom is never going to hit for a high average, while his strikeout numbers are not very good. That is just who he is and the type of player he is, and at this point, nothing will change that.
Grade C+: I would love to see Wisdom remain with this team long-term, but the reality is that won't happen. His .207 average and nearly 40% strikeout rate are not appealing, but his 25 homers led the team, as power will always be a considerable part of his game.
Wisdom also showed more defensive versatility this season, and that alone might help him hang around for another season. Look for the Cubs to bring him back at least one more season, as he comes cheap and has plenty of power.
Not with the team when the season began, McKinstry was acquired from the Los Angeles Dodgers as part of the Chris Martin deal midseason. Another one of those classic utility infielder type of players, McKinstry has always been an excellent hitter in the Minor Leagues, where he has logged a .278 average.
The problem for him was playing in a loaded Dodgers organization where an opportunity to play would not come easy. Now with the Cubs, McKinstry had a chance last season and will do what it takes to get another one next season.
Despite hitting just .206 once he arrived in Chicago, there were plenty of flashes that showed McKinstry can not only hold his own, but is more than capable of being a leadoff hitter. He played excellent defense and gave the Cubs a boost with guys like Nico Hoerner and Nick Madrigal out of action.
Grade C: There is not a large enough sample size to be too strict on his grade, but you have to look at his average. When you hit close to .280 during your minor league tenures, there is plenty of evidence that you can hit. Opportunities or not, you need to find a way to hit close to that level if you want to make it in this league.
One of the more intriguing free agent signings by Jed Hoyer last offseason was the addition of Villar on a two-year deal. Another utility infielder by trade, Villar has not only played virtually every infield position, but brought a ton of leadoff experience this team has lacked in recent seasons.
When the signing was announced, it made a ton of sense as the Cubs added a quality player with the potential to be flipped at the deadline for other pieces. However, like most free-agent deals, they can be a crap shoot, and this one didn't work out well for the Cubs.
He struggled with the Cubs, hitting just .222, and played some of the worst defense in the league. That is not good on any front, which is why the Cubs later released him.
Grade D-: Had it not been for his switch-hitting and versatility, Villar would have received an F. Still, this was not a good season at all for him, and this signing was one of the ones that backfired for Hoyer this season.
It was a flyer deal that the Cubs hoped would work out in their favor. Sometimes they do, and sometimes they don't, but you can't be mad at them for taking a chance on a guy who has had plenty of MLB success.