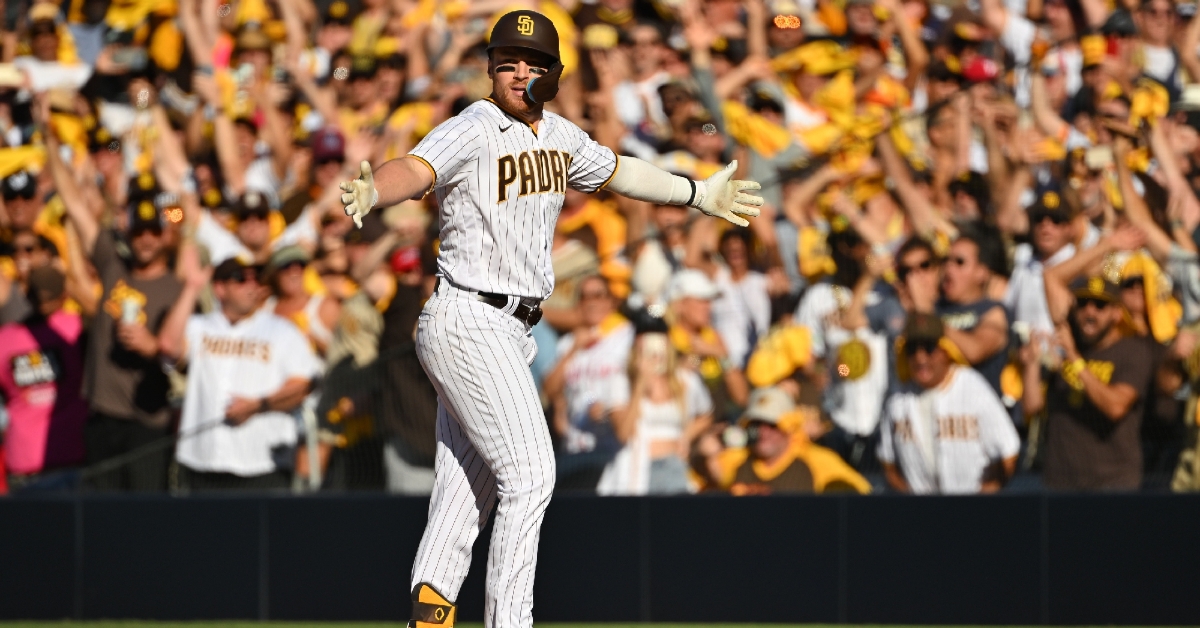 | | |
| --- | --- |
| Third baseman Brandon Drury could be a nice fit for Cubs | |
---
The other day we spoke about some potential free agent fits for the Cubs, and the name Josh Bell popped up for first base. Granted, first base is a need for this team and has been since Anthony Rizzo was traded, but the Cubs do intend to give fast-rising prospect Matt Mervis a look this spring.
From all accounts, if he does enough to win the job, it is his, and the Cubs will address what happens with playing time from there. However, there are other infield positions that the Cubs need to improve, and the hot corner at third base is one of them.
Much like Rizzo, once Kris Bryant was traded in 2021, the Cubs have used plenty of different combinations at third, hoping something would stick. You saw guys like Patrick Wisdom and Zach McKinstry have some success this season, but neither of them is the long-term answer.
Going through the farm system and you have guys who did have great seasons this year, but most of them are not viewed as long-term options at third. With all that being said, where do the Cubs go from here to address their hot-corner needs? Well, one option would be to watch the San Diego Padres this season as Brandon Drury had a sneaky good year for them.
Granted, the third base market is going to be weak this offseason, but the Cubs do need an upgrade over Wisdom, and Drury could be the best one out there to give them that. Primarily a utility player most of his career, Drury settled into a nice regular role in 2022, and the numbers backed it up.
Drury finished the season hitting .263 with 28 homers and 87 RBIs, but he was sitting at .278 at one point before cooling off. Regardless, he not only had a great year, but a career year, and it will be interesting to see if that was a fluke or not.
A big reason for his overall success this season was his ability to crush lefties, where he hit .299 compared to just .248 against righties. That has been an area of concern for the Cubs in recent seasons so to have someone who can help out in a position of struggle would be huge.
The former 13th-round pick had a career year this season, and his uptick in production across the board has a lot of teams intrigued by what he can do. At 30 years old, there is a risk in signing him to a lengthy deal as he is nearing the back end of his career.
However, if the price is right, a short-term two or maybe three-year deal would work as it would give this team a reliable placeholder until someone else is ready. With the Cubs already saying they want to use Christopher Morel as a utility guy, Drury opens the door for them to do that as Morel could move off third more frequently.
Wisdom and McKinstry were other guys who saw time at third, and decisions would need to be made on them. For McKinstry, he still has minor league options left over, so that may be the best route to go with him for the time being. Wisdom becomes a bit more tricky as his options are far more limited.
Considering what the Cubs' outfield looks like now, and what it could look like Wisdom would be a fourth or fifth outfielder at best and wouldn't have much playing time out there. You also have to look at the Cubs showing interest in Matt Mervis and Jose Abreu at first base, which would push Wisdom off first.
You still have the DH, but Abreu and or Mervis could fill that role, too as could Franmil Reyes, should the Cubs entertain the idea of re-signing him.
Because of the obstacles that stand in the way of Wisdom, Drury to the Cubs seems like a dream scenario. Drury is also a guy who has played all over the diamond in his career so he would give the Cubs a similar feeling to when they added Ben Zobrist.
This was not a move that would have been talked about had the Cubs not done what they did in the second half of the season and Drury not had the season he had. Now that it has happened, this seems like the perfect fit if the Cubs can make it work.