| | |
| --- | --- |
| Are owners ready to end the MLB lockout? | |
---
| | | |
| --- | --- | --- |
| Saturday, February 12, 2022, 9:00 AM | | |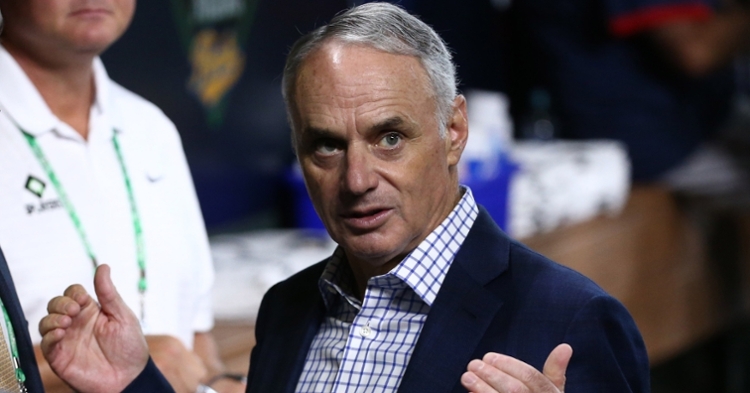 When the CBA was set to expire in early December, everyone knew a lockout was coming. This was a situation that had been brewing for a few years, and it was only a matter of time until something gave way. That something was the first Lockout in over 20 years for major league baseball, putting the clamps on what was supposed to be an exciting offseason.
Lockout or not, I don't think anyone expected it to last as long as it has. Here we are 71 days later, and there is still no baseball with very little progress being made. Catchers and pitchers are supposed to report this week with baseball set to begin in two weeks, and it is becoming more and more likely that there will be a delay in spring training.
However, there could be some good news on the front as Rob Manfred has delayed announcing a delay to the Spring Training season. That is because he feels the owners are set to present a proposal to the players that will make it hard for them not to agree on the parameters. Considering this is the first time Manfred has spoken to the media since the lockout began, that alone is a positive sign.
We have seen some recent signs of agreement, such as both parties agreeing to the universal DH and other minor tweaks coming that have been talked about. Manfred said that losing any games or revenue is the last resort at this point, hence why he hasn't delayed spring training. As things sit, the status of spring training hasn't changed despite pitchers and catchers set to report in three days. During their session on Saturday, the two sides will have to discuss the Spring training calendar, but up until that point, no change is being made.
I love the optimism when you hear things like that, but at some point, you need to face reality, and that reality is that Spring Training will almost certainly begin in March, and it will be a condensed Spring Training with minimal games to ensure the season starts on time. What that does to players and their preparation remains to be seen, but things will look much different in the coming weeks.
Manfred believes that the owners are not only going to make a good offer to the MLBPA and the players, but it should help move the process forward to at least get baseball going again. After all, whenever discussing terms during a lockout, all it takes is for one breakthrough session to happen for all the pieces to come together. Manfred believes the proposal they will present on Saturday is not only the breakthrough everyone needs, but it is an excellent proposal to help get the process moving in a more fluid manner.
Good proposal or not, a deal needs to get done, and that still may not happen by Saturday. Should the two sides not agree to an agreement, that is when you can start planning for a delay in spring training or, worse, starting to lose regular-season games. If this so-called proposal is as good as Manfred says, the movement on Saturday should be substantial enough to put the sides in a position to come to an agreement quickly.
If you are one of those fans who are still optimistic that the season will start on time, I applaud you. I was once one of those people, but after constantly hearing that no progress is being made, you have to wonder if baseball will be played at all this season. This was not something that just popped up out of the blue. It has been boiling for years, and everyone knew what the potential was once things got closer to the expiring CBA.
Now, we are waiting for baseball with no end to the Lockout in sight. Ideally, the best-case scenario is for both sides to settle their differences on Saturday and agree to get things rolling. I don't see that happening, at least not yet, but there is some positive feedback to go off of that. Even if no deal is reached, the key would be progress.
If progress is made, that is the first step in the right direction, as many people feel that the league only needs about a week to get spring training rolling. Whenever a deal is reached, look for baseball to begin about a week later so the teams can be set to go for opening day. March 31 is when opening day is supposed to happen, and while most fans don't see that as a possible manner, Manfred is being optimistic at this point.
He has already said that missing any games, whether it be spring or regular season, is a disastrous outcome for this industry and the worst possible outcome. He also believes delayed spring or not that there will be an agreement in place long before the start of the regular season. Even if spring training does happen, look for it to be different as most teams don't expect to have a typical spring training where minor league players are in camp.
Minor League players on the roster bubble are one thing, but outside of that, you will see two separate spring training seasons where minor league players go to their camp and major league players go to theirs. Saturday will be crucial when it comes to major league baseball, and if things go well, we could be talking about actual baseball real soon.