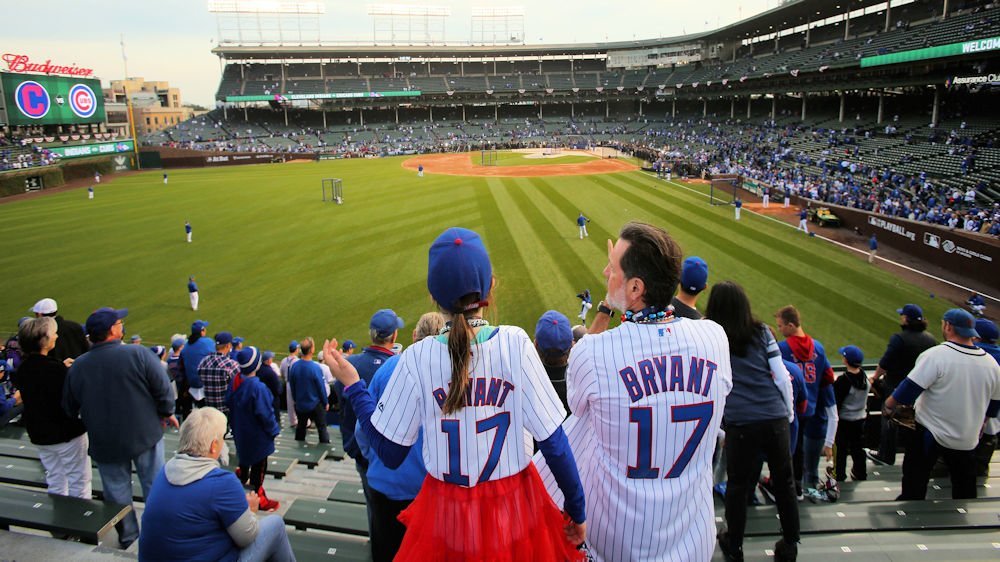 | | |
| --- | --- |
| Cubs News: Bleacher Seats: My fond memories at Wrigley Field | |
---
| | | |
| --- | --- | --- |
| Friday, August 10, 2018, 11:38 AM | | |
Anyone who has ever gone to a baseball game has their favorite places to sit. For many, they have to sit right behind home plate so that they can see the break on pitches. Others want to be a bit farther down the lines, in foul territory, for a better chance of grabbing a foul ball. Still, others prefer to sit in the upper deck where they can get an excellent overview of the whole field.
For those of us of a certain age, at Wrigley Field, there are only two places we ever sat. The grandstands or the bleachers. The reason is quite merely economics. In the 50's and 60's when I lived about 2 miles from Wrigley, I would go to many, many, games each summer. My father, who had a vital job at the time, delivering Lloyd J. Harris pies to restaurants and bars on the southside, made very little.
As such, the $1.50 for the grandstands, and free Monday's for the ladies, was a treat for us. They offered shade, a hot dog truck on the concourse between the stands and box seats, multiple food vendors, and the chance to sit behind a pillar that would completely obstruct your view of first base, home plate, or third base depending on where you sat.
When cash was a little thinner, well the bleachers were your only choice. At $1.00, American, you could sit in 30% filled seats, under the blazing sun or pouring rain, with at least three guys questioning the heritage or sexual preferences of the opposing outfielders. Believe it or not, when I first started going to games, I can remember sitting in the center field seats. Imagine batting with a sea of white shirts as your background.
The bleachers are a long-standing tradition at Wrigley Field. #JimBeam pic.twitter.com/dQnO6KT9TI

— Chicago Cubs (@Cubs) August 10, 2018
Over the years the bleachers have become much more glamorous. The team started winning, and that filled out the stadium, and many more people discovered that it was pretty neat to sit there. The play "Bleacher Bums" became a huge hit and made people want to go see what all the talk was about, so they started filling in the bleachers.
The Cubs and Harry Caray made it seem cool to be out there, and so every 20 something felt they needed to be there to be seen. One day, one of the regulars decided that when the opposing team hit a homer, he would toss a ball back onto the field. Everyone thought it was the home run ball, but in fact, it was a beat up one he had from batting practice. Now, every dope out there tosses the game ball back before someone can stop him and give him a used one instead.
After that you could hardly get a ticket to sit in the bleachers, and if you could it cost you one kidney and a thumb. Now it is a party every day with 98% of the fans not even paying attention to the game, and the insults towards opposing outfielders have gone the way of $1.00 seats.
I can remember going with my cousin, or my aunt, or one of my many uncles, and we would get there in time for batting practice. Depending on what was less filled, we headed towards either right field or left and positioned ourselves in row three or four and waited for the onslaught of balls coming if the wind was blowing out.
Seats $1.00, Hot Dogs $0.50, Coke $0.75, memories, priceless. I always was anxious with excitement as I awaited Pat Piper to call out, "Attention, attention, please. Have your pencils and scorecards ready so that I can bring you the correct line-up for today's ballgame." Goose-bumps just remembering that call.
There was a charm to sitting out there back in the day, and to some extent, I think it remains. The last time I went to a Cubs game was the 2016 season in April, and it was overcast and chilly, and the seats were only about 70% filled. It reminded me of when I was a kid, and it felt like you were in an extraordinary place.
I've been to many ballparks over the years, and most have their unique style that is interesting in of itself, but nothing matches the feeling I get when I come up those steps and see Wrigley Field for the first time that day. For sure no other place on earth gives you the view and feeling like the outfield bleachers do at Wrigley.