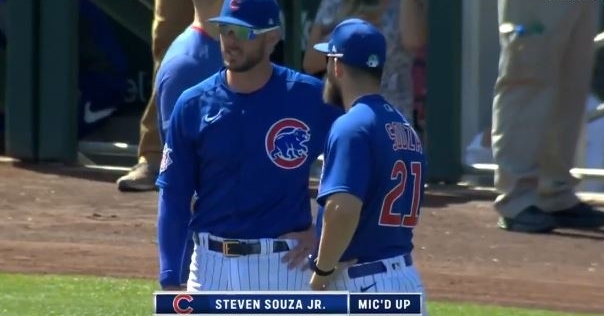 | | |
| --- | --- |
| Catcher/Outfield options for 26th man for Cubs | |
---
A new rule that will be implemented when the 2020 MLB eventually starts is that teams will be allowed to have a 26th man on the roster and additional player from the traditional 25 that the MLB had over the past years.
While the MLB has not announced an official start date for the 2020 season amidst the Covid-19 pandemic craziness, commissioner Rob Manfred canceled Spring Training and pushed the regular season that was supposed to begin on March 26th back two weeks. In a more recent announcement, Manfred said that the season's start would be at least pushed back until Mid-May, under a plan from the center for disease control that recommends all events consisting of more than 50 people to not take place until then.
Whenever it is that the season begins, David Ross will have to make some challenging roster decisions to get the right 26 to break camp with and begin the 2020 season on the right foot.
To breakdown the roster and explain the potential solutions to any of David Ross' predicaments, we decided to break down this article in an infield and outfield part.
Here is the outfield/catchers portion.
OUTFIELD/CATCHERS
When scanning the outfield and looking behind the plate at the Cubs, it appears left fielder Kyle Schwarber, center fielders Ian Happ and Albert Almora, right fielder Jason Heyward, catcher Willson Contreras, and backup catcher Victor Caratini are locks to make the 2020 roster — but that still leaves multiple names who could be intriguing options to be in the mix for the Cubs in 2020 and could serve as the 26th man on the roster.
Steven Souza, Jr.
While Albert Almora Jr. seems to be a lock for the roster due to his stellar defense and potential, the Cubs couldn't help but explore an option for an outfielder that could help a little bit more offensively — an area in which Almora has bees statistically awful over the last few seasons especially against left-handers, which is likely a role he would serve on the team. Souza may not be as good as Nicholas Castellanos, but the Cubs are looking at the veteran outfielder to have a nice bounce back from his injury that did not allow him to play in 2019. While the 30-year-old also missed most of 2018 with an injury, his last full season of 2017 with the Tampa Bay Rays consisted of 30 homers, 78 RBIs, 16 steals, and a .239 batting average. Souza is a career .233 hitter but is generally better against lefties, which is where he would likely play — potentially as a platoon with Jason Heyward or Kyle Schwarber when there is a tough lefty on the mound against the Cubs. At the least, the Cubs are hoping to get a solid veteran presence out of Souza, with solid defense in the outfield with some pop in his bat, especially against lefties. So far this Spring, Souza is hitting .273, which would certainly play. Souza was signed to a major league deal and is likely to make the major league roster as a fourth/fifth outfielder or 26th man.
With five outfielders already planning on making the major league roster, it seems unlikely the Cubs would break camp with Ian Miller as their sixth. However, I expect Miller to be brought up to the major leagues at some point this season because of the specific skill set he brings to the table. Early on in the spring, Miller was impressing for the Cubs. In 34 at-bats, Miller slashed .382/.462/.471 with six RBIs and a league-leading eight stolen bases. The speed that Miller provides is a good change of pace for the Cubs offense that has traditionally lacked in that category over the last half-decade.
While the 28-year-old has not had a ton of major league experience, his impressive spring and extreme potential has made it likely that his name will crack David Ross' lineup card at some point this season. Whether it be to steal a big base down the stretch of the season or to eat up innings in the outfield when a player got down with injury or lay down a bunt in a crucial spot — it seems apparent that Miller will be called upon to contribute in one way or another to the Cubs in 2020. However, it seems unlikely that the Cubs would break camp with him on the roster.
Josh Phegley
Phegley is a long shot at making the roster on opening day, but there is not a chance the Cubs make it through the entire season using only two catchers. Last season, both Caratini and Contreras missed time due to injury — so whenever that might happen, it is likely Phegley would be called up to the big leagues to contribute. The seven-year veteran is coming off his best offensive season with the Oakland A's, batting .239 with 12 home runs and 62 RBIs. The Cubs signs the 32-year-old with plans to strengthen an already deep position in the organization. Phegley provides a solid right-handed bat and good defense behind the plate with a history of successfully managing pitching staffs. Whenever the Cubs call upon Phegley, he will look to make the most of his opportunity. On top of that, we all saw how well the Cubs did with three catchers in 2016 with Miguel Montero, Willson Contreras, and new Cubs manager David Ross — and we all remember how well that season turned out.
It is important to know that Happ can also play infield at third, second, first, or even shortstop if he had to. On top of that, Victor Caratini provides positional versatility at first or third base. On the 40 man roster, the Cubs also have top prospect, Miguel Amaya, on the radar at catcher — but many experts believe he still has developing to do.
You can find part 1 of this article on the infield options here.

Tags: Cubs Baseball
,
David Ross
,
Kyle Schwarber
,
Ian Happ
,
Albert Almora
,
Jason Heyward
,
Willson Contreras
,
Victor Caratini
,
Albert Almora Jr
,
Ian Miller
,
Miguel Montero
,
Miguel Amaya