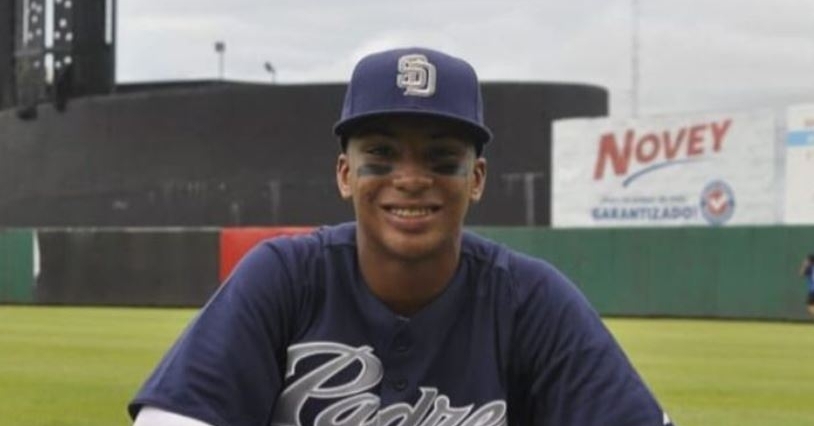 | | |
| --- | --- |
| Chicago Cubs Top 30 Prospect Rankings for 2021 Part 3 | |
---
| | | |
| --- | --- | --- |
| Tuesday, March 30, 2021, 6:52 PM | | |
Today for our top prospect series, we crack the top 20 as we move to the organization's top prospects' mid-tier level. This is the area where you start to see players who could be one or two years away, if not less. Yes, some may be more than that, but these are the players that fans should get to know real soon.
While the last portion of this list was position-heavy, it is about pitching today with three of the five on this list pitchers. There will also be some new and unfamiliar names in this area as the Cubs top prospect list continues to turn over fresh leaves every season.
20. Yeison Santana (SS)
Also acquired in the Yu Darvish deal, Yeison Santana was a 2017 international free agent who signed with the Padres for just 300,000. A shortstop by trade, many feel he can transition to the outfield, where he could land at one of the two corner positions. Unlike the rest of the Darvish trade prospects, Santana is 20 years old and has some professional experience under his belt.
In 77 career games spanning from both the Dominican and Arizona Rookie Leagues, Santana has put together a 306-batting average to go with three homers and 55 RBI's and nine steals. He has also shown a great eye at the plate, drawing 56 walks and punching out 68 times. Unlike many hitters into today's game, Santana doesn't care about launch angle and uses a contact first approach at the plate.
His approach helps him spray the ball the opposite way a lot, and he will continue to barrel up the baseball. Santana will never grow into a power hitter but should become a 10-15 homer guy with time. If he can continue to make contact and hit the ball, look for him to be a regular player at the next level.
19. Kevin Made (SS)
One thing the Cubs have over most organizations is a farm system loaded with shortstop prospects. Made is another one of those players signing a 1.5-million-dollar international free-agent deal in 2019. Expecting a lot from this player, Made put his pro debut on hold to add some muscle, then saw the 2020 season canceled. He will finally take the field in May and will be playing for the Dominican Cubs.
Much like Santana, Made doesn't care about launch angle and is a line-drive hitter who uses all fields. At just 18 years old, not only does he have excellent bat speed, but he has a far more advanced approach at the plate than most. Made is someone who can give you 15 homers a season once he fills out but will also focus on hitting for average overpower.
Not only that, Made has already above-average speed and could get faster once he physically matures. Despite having the instincts to play SS, his overall athletic ability will allow the Cubs to move him all over the diamond as his plus arm strength and quick transfer pays dividends.
18. Burl Carraway (LHP)
Taken in the second round of the 2020 MLB draft, Carraway was an intriguing pick for various reasons. Starting with the obvious, and you had most scouts say that he was not only the most MLB-ready arm of the draft, but they also said had there been an entire 162 game season that he would have contributed at some point. A lefty who worked in the high 80's in high school, Carraway is the rare pitcher who strictly was used as a reliever in college.
That is not terrible when you think about it as he attacks hitters with two plus pitches. First is a fastball that sits in the 93-98 range but is consistently around 95. Next comes his 78-79 MPH curve that features not only a sharp break but a late break to make life miserable for hitters. Carraway also is developing a slider and a change, and his ¾ arm slot delivery gives him great deception with his pitches.
Unlike most lefties who are imposing figures on the mound, Carraway stands at just six feet and isn't intimidating. Still, the Cubs loved what they saw and immediately stashed him at their Alternate site last summer. While most expect him to be a closer in the waiting, I would love for him to fill any high leverage situation. With no professional experience thus far, Carraway will most likely start at Myrtle Beach but could finish up at Tennessee if not higher by the season's end.
17. Riley Thompson (RHP)
An 11th round pick in 2018, Riley Thompson has been turning heads especially coming off a strong 2019 season. After going 0-2 with a 2.84 ERA with Eugene in 2018, Thompson made 21 starts for South Bend in 2019, going 8-6 with a 3.06 ERA. Not only that, but he has also held opponents to a 242-batting average while walking 40 compared to 112 punchouts.
Once someone who hit 96 consistently in high school, Thompson underwent Tommy John and has had to build up strength ever since. Mostly someone now who lives in the 92-94 range, Thompson did top out at 97 with South Bend leading the Cubs to believe he can average mid 90's again. Along with that fastball comes a curveball that sits around 84 with some of the system's best spin rates and split change that he continues to work on.
Thompson has worked on his delivery a lot which has led to an improvement in overall command. If that continues, the Cubs have a middle-of-the-rotation arm to build around in the next few years. However, there is some thought about trying to mold him as a closer this year as that could speed up his development process. Look for South Bend to enjoy him yet again.
The 2019 organizational pitcher of the year, checks in at 16, with Abbott grabbing that spot. A second-round pick in 2017, Abbott has been nothing but impressive 16-14 as a pro with a 2.84 ERA. 2019 was a breakout season for him despite posting an 8-8 mark with Tennessee. His ERA barely broke two as he finished with a 3.01, and his 52 walks to 166 strikeouts made him the first pitcher since 2009 to top 150 strikeouts in the Cubs system.
Expected to be near the top of the rotation for Iowa, Abbott hoped to compete for a starting spot this spring but saw just two innings of work. Not known as a power pitcher, Abbott sits in the 90-93 range with his heater but has topped out at 95. It is his secondary pitches that set him apart from the rest of the system.
To counter his heater, Abbott uses an 87 mph Cutter against righties along with an 83 MPH slider and 78 MPH curve. His curve is the better of the two, but both can be equally as tough. Abbott has an easy delivery and almost makes his release look effortless on the mound. Although he will start in Iowa, look for him to be on the MLB roster at some point in 2021 and competing to start full-time in 2022.