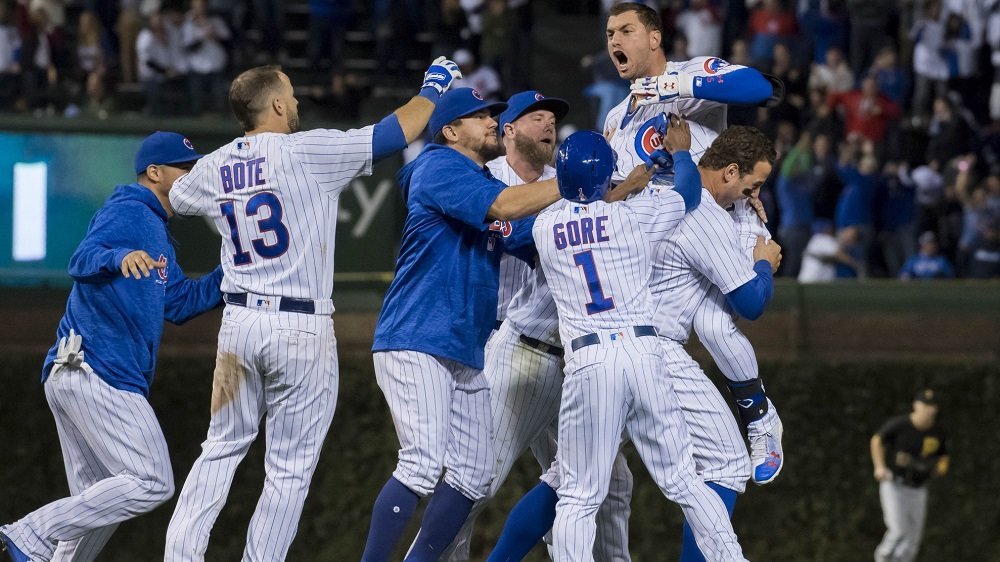 | | |
| --- | --- |
| Commentary: Albert Almora Jr. vs. Ian Happ | |
---
| | | |
| --- | --- | --- |
| Tuesday, October 9, 2018, 8:27 AM | | |
After listening to a ton of nonsensical ranting on social media for the last six months, claiming that Albert Almora, Jr. isn't half the player that Ian Happ is, I figured it was time to just sit down and write an article comparing the two.
This is going to be an article full of statistics, so I'll caution you now: If numbers bore you, then it's probably time to stop reading this and check out the other stuff on the site. If you have any doubts about who the better of the two is, then read on.
I can already hear the first protest; "But Almora has played longer!" Yes, by a part of a season, but in the grand scheme of things, Almora has 919 plate appearances, compared to Happ's 875. I'd say they've had about equal playing time, as the 44 additional plate appearances are only worth about eleven games.
There's little doubt that the two will trade leads throughout the categories, but look at them all, then decide.
Let's do this.
REGULAR SEASON BATTING: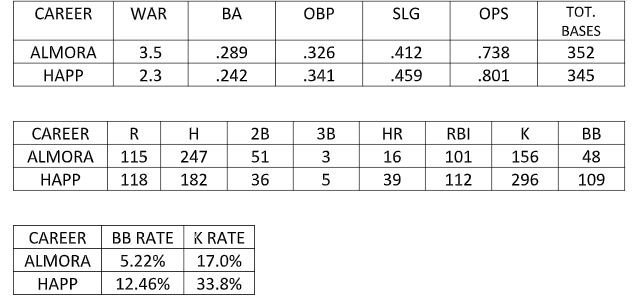 Just My opinion, but whether facing a righty or a southpaw, Almora creams Happ in batting average. Happ does rank higher in OBP, and sometimes in slugging, but most of that is attributed to his high walk rate. Sit back down, no one is complaining about him getting on base. With Happ being a switch hitter, he should always have an advantage over Almora at the plate, but the numbers just don't support that.

POST SEASON BATTING: (NOTE: I used a scaled-down set of stats here- not to hide numbers. As there's nothing to hide, but because of the decrease in total at-bats)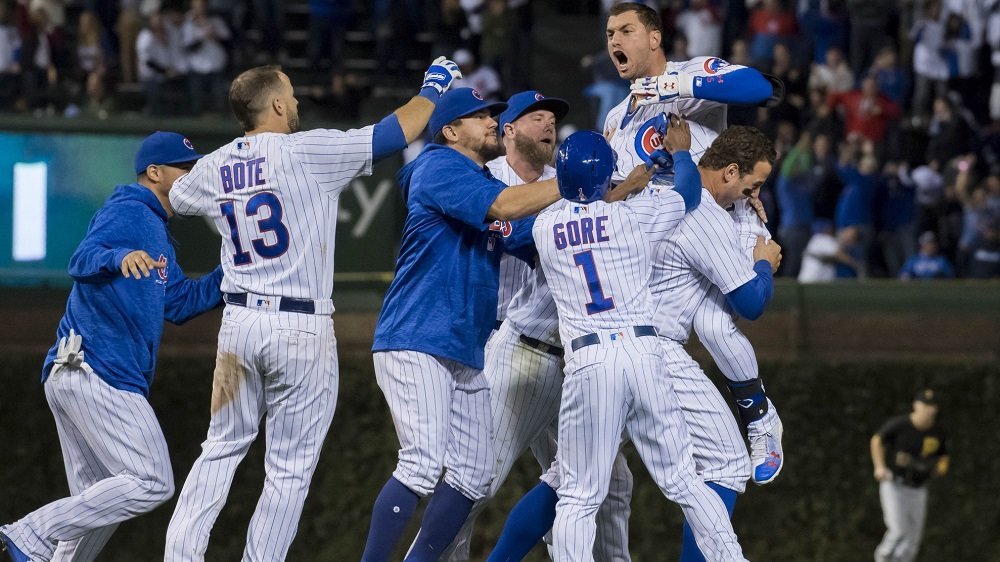 Turning to fielding, I think it is fair to note that half of Happ's errors have resulted when he was playing the infield. I'm sure the anti-Almora crowd will take issue with this, claiming, "Well, at least Happ can play all these positions," but I'd submit that if a player- and that's ANY player- chooses to be a utility guy, then you as fans, have to accept the number of errors charged to him without whining. I hated seeing Baez racking up errors at short as he was heading for an MVP award, but that's just how the cookie crumbles.
To differentiate, the number in parenthesis is Happ's total errors, the number outside the parenthesis are outfield errors. I did the same thing for "DP" (double plays turned).
FIELDING: (Not nearly as many stats here, but the biggie is errors)

So, there they are, in black and white. To borrow Fox News' slogan, "We report, you decide."
I'm not going to dispute that Happ has better numbers in some areas, but that comes as no surprise. You can look at all the sabermetrics you want, but at the end of the day, I will always rely on the stats that baseball has used for decades: BA, RBI, errors, walks, strikeout rates, etcetera.
I never said that I didn't like Happ. I never said that Happ was awful. What I have said, and maintain, is that Ian Happ is overrated. He will grow to be a decent player, but probably not with the Cubs. I don't like the way Happ has played, and I think he has undoubtedly been awful to a degree this season.
Taking Theo Epstein's words into account, "production over talent". I think it's fair to say that Happ is talented, but he is not producing. A lot has been made out of Epstein's quote, and many have speculated as to what he meant by those words. I have interpreted "production over talent" to mean, "I don't give a damn what your name is, produce or be gone." I guess we will see…