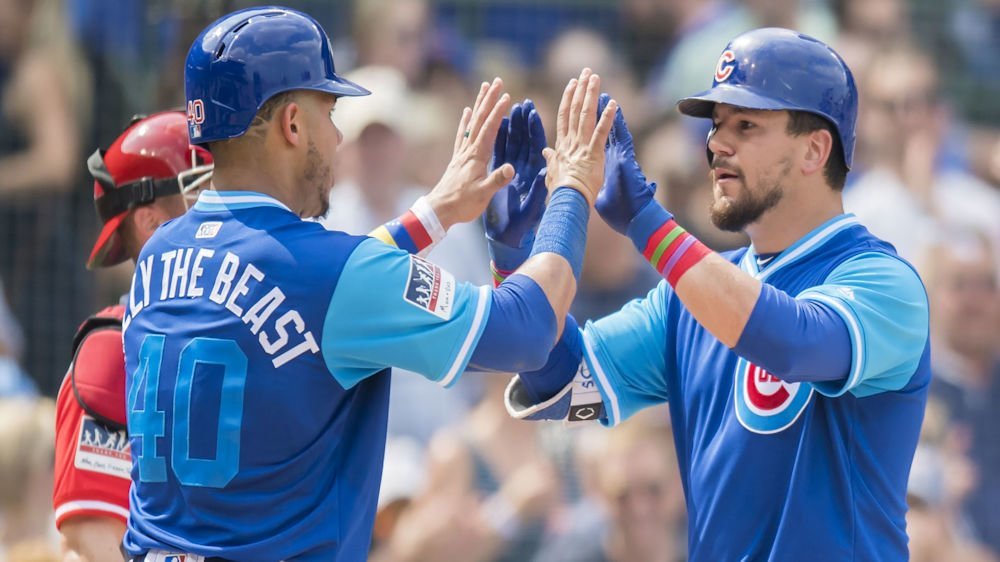 | | |
| --- | --- |
| Commentary: The Cubs are back! | |
---
| | | |
| --- | --- | --- |
| Sunday, August 26, 2018, 11:33 AM | | |
Recently, I predicted the Cubs were done being manhandled by the Reds, and that they'd be taking at least three out of four this series. Don't look now, but here we are getting ready to start game four, and the Cubs are poised to sweep.
Players, reporters and fans alike, all knew that the offensive slump couldn't last forever, but nothing seemed to be able to break its grip, as the Cubs had managed only five runs in a five-game period. The frustration was being heard loud and clear, as even mild-mannered Anthony Rizzo got a little frustrated with reporters questioning the nearly non-existent offense. During a media session, Rizzo barked, "Do you guys think we're going to hit this bad for the rest of the season?" Silence. "I said, do you guys think we're going to hit this bad for the rest of the season?" Reporter: "I didn't think you would do this for five games." Ouch.
When Daniel Murphy mysteriously cleared waivers unclaimed last week, Theo Epstein decided that it was time to give his ailing offense a shot in the arm. Much like with the addition of Cole Hamels and Jesse Chavez, Murphy's impact was felt almost immediately.
Murphy's career batting average at Wrigley Field stands at .407, good enough for an MLB record, and now, Wrigley is his personal playground. Murphy is now batting .368 through his first four games as a Cub, contributing seven hits, two dingers, and five RBI, so far, in his inaugural week. Even more importantly, the Cubs are now 4-0 since Murphy joined the team, and have outscored their opponents 28-11 over the last four games.
While being traded mid-season has got to be stressful for any player, knowing that you were acquired to jump-start the offense of a faltering, first-place team has got to come with a tremendous amount of pressure. Murphy certainly knew what his role was going to be, and he hasn't disappointed.
Nothing seems insurmountable anymore. There appears to be magic in the air lately, and the fans are feeling it, as the Cubs have suddenly become thunderous in their charge for the post-season.
A complete game by Cole Hamels and a walk-off home run by David Bote. A diving catch by Ben Zobrist, and the seemingly never-ending magic by Javier Baez. The Schwar-bombs are flying freely again, and Almora is heating up. For Pete's sake, even Ian Happ smiled yesterday after hitting yet another single.
The pieces are finally falling into place, and the entire team seems to be responding. If the Cubs were great last week, then they're phenomenal now. What I wouldn't do to be able to compile the highlights from the past four games and set them to the song "Come Together" by the Beatles, as that seems to be rather fitting at this point.
The Cubbies are now up four games over the Cards, and four-and-a-half over the Brewers, with just over 30 games to go. Kyle Hendricks (9-10, 4.04 ERA) takes the mound for the Cubs today, facing off against Homer Bailey (1-11, 6.21 ERA) for the Reds. Get your brooms ready…