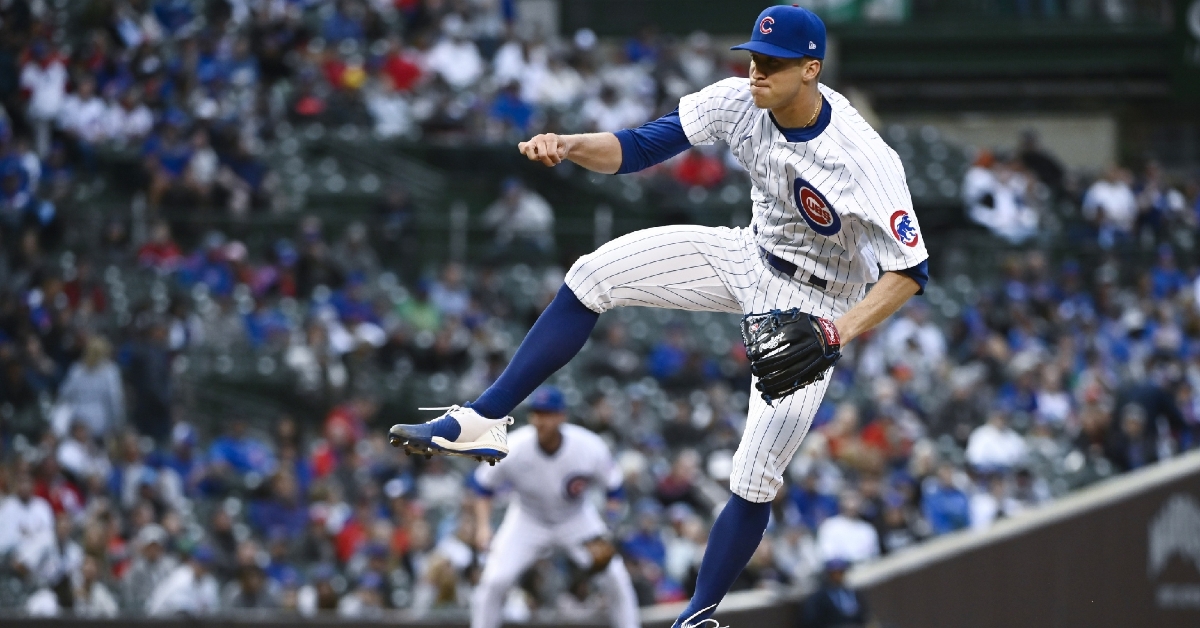 | | |
| --- | --- |
| Cubs lose to Cards in extras after Kilian shows his potential | |
---
| | | |
| --- | --- | --- |
| Sunday, June 5, 2022, 9:29 AM | | |
CHICAGO - After taking one from the St. Louis Cardinals (31-23) earlier in the day and looking good doing so, the Chicago Cubs (23-31) had a chance at a doubleheader sweep. Getting the start and making his much anticipated MLB debut was the right-hander Caleb Killian.
Acquired as part of the Kris Bryant deal a season ago, Killian has been nothing short of impressive since coming to Chicago. After going 7-4 last season with an ERA under three, Killian was at it again this year, posting a 2-0 record with a 2.06 ERA. Although not as dominant as the minor league numbers show, Killian looked good in his first start giving the Cubs five innings of three-run ball with six punchouts as he took the no-decision in the Cubs 7-4 extra-inning loss.
While Killian was making his MLB debut, Andre Pallante was making his first career start after posting a 1.23 ERA across 17 relief outings. Although battling with his command, Pallante held the Cubs to just one run through four innings before handing things off to their bullpen.
That run came in the first inning as all the energy in the building was still buzzing around Killian and his debut. Not only did Christopher Morel extend his on-base streak with a single, but Willson Contreras followed that up with a double to put the Cubs in front 1-0. Ian Happ added a walk after that, but an inning-ending double play killed what could have been a huge inning.
Not expecting that run to hold up, Killian dominated through three innings on the mound, holding the Cardinals to zero runs and striking out four. Throughout the first three innings, the Cubs had multiple chances to push across more runs but continued to come away empty-handed, as that has plagued this team for the duration of this series.
Looking to make better contact the second time through the order against Killian, St. Louis began to show some patience at the plate with a pair of walks mixed with a Paul Goldschmidt single and had the bases loaded with one down. Facing adversity for the first time, Killian uncorked a wild pitch that allowed the Cardinals to tie things up and allowed the Brendan Donovan double that put the Cardinals in front 3-1. That would be all he would allow as his first career start came to an end with him trailing.
As a team, you always want to pick up your pitcher when they have a bad inning, and the Cubs were looking to do just that as a pair of walks, and a P.J. Higgins single had the bases loaded for them with one out. Like in so many other cases, the Cubs couldn't score as an inning-ending double play killed that threat.
With their bullpen now going to work and Mychal Givens, the first out of the pen, the Cubs saw him pitch himself into trouble, but also managed to pitch himself out of trouble. That flipped the momentum back in the Cubs favor as it was their time to cash in once again.
Rafael Ortega got off to a horrendous start this season, but that is in the rearview as he is hitting upwards of .270 now. His one-out single in the sixth set the Cubs up nicely before Higgins followed that with another single. Looking for a huge hit, Jason Heyward came through with a third straight hit to cut the lead to 3-2. A Morel double later in that inning brought the game back to even as this Cubs team refuses to go down without a fight.
Givens continued to play with fire in the seventh, walking the bases loaded only to see David Robertson save him from disaster. Robertson remained out there to pitch a scoreless eighth and then watched the Cubs squander a leadoff double from Ortega.
Still, with the ball and working the ninth, Robertson began the inning with a pair of strikeouts and allowed three straight singles to Edmundo Sosa, Tommy Edman, and Nolan Gorman to load the bases. What looked to be a sure-fire go-ahead hit from Gorman turned into a break for the Cubs as Sosa missed third and had to go back to touch it, which allowed Robertson to induce an inning-ending groundout to Goldschmidt.
Looking for a ninth-inning rally and walk-off win, things didn't start well until Happ ripped a two-out double off Giovanni Gallegos to extend the inning. An intentional walk to Frank Schwindel put two runners on, but nothing came from it as this game was heading to extras.
With Michael Rucker on the mound for the 10th, the Cardinals got the upper hand quickly and buried the Cubs three hitters in. Donovan delivered the game-winning blow with a two-run double before the Harrison Bader single made things 6-3. St. Louis added another run later in that inning as four runs came across to score and had the Cubs trailing 7-3.
Heyward did manage to drive in his second run of the night with an RBI double, but that was it as Gallegos earned his first win of the season as the Cubs played to the double header split. The Cubs had 12 hits in the game, with six different players having two-hit nights.

Tags: Cubs Baseball
,
Kris Bryant
,
Christopher Morel
,
Willson Contreras
,
Ian Happ
,
Mychal Givens
,
Rafael Ortega
,
Jason Heyward
,
David Robertson
,
Frank Schwindel
,
Michael Rucker