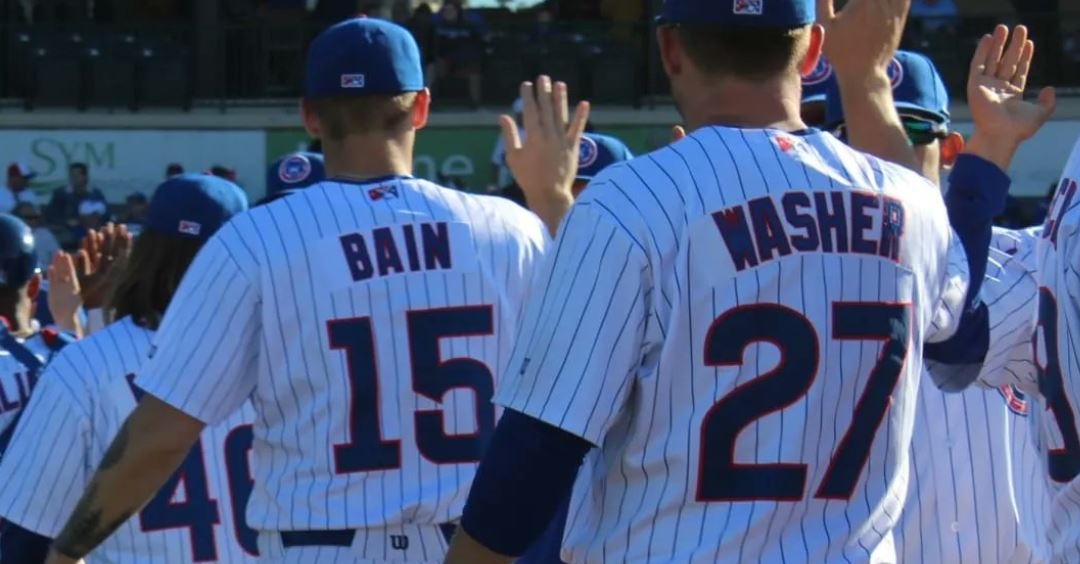 | | |
| --- | --- |
| Cubs Minor League News: Bain impressive, SB sweeps Peoria, Alcantara homers, more | |
---
If you miss winning baseball, then you might want to check out the Cubs Minor League system, as they have done their share of winning. Following a doubleheader sweep from South Bend and a 3-2 night overall, the Cubs system put together another winning night on the diamond as all four teams are .500 or better.
This is a pleasant surprise when you look at how things at the major level have gone this season, but it also bodes well for the future. The next question is, when will that future arrive at Wrigley Field, and what role will they play this season or beyond.
SAINT PAUL SAINTS 9 - IOWA CUBS 2
One of the teams who didn't have the best luck was Iowa, as they fell to 13-15. Despite what that scoreboard says, this game was much closer as eight of the Saints nine runs came after the fifth inning.
James Bourque got the start for Iowa as he was one of five pitchers to get the ball for Iowa. Although he allowed one run in an 1 2/3, he handed things off to Eric Stout, who kept Saint Paul off the board for 2 1/3 innings. Those two were the best when it came to Iowa pitchers on the day as the rest of the bullpen struggled.
Jordan Balazovic took the ball for Saint Paul and tossed 3 2/3 innings of work. He handed things off to Mario Sanchez, who was charged with both earned runs before Wladimir Pinto took care of the rest in the final few frames.
Iowa found themselves trailing 1-0 in the second inning as the Saints cashed in with a Jose Godoy single to take the lead. Although it took five innings for the offense to break through, Nelson Maldonado continued to hit the ball with authority connecting for an RBI double to tie things up.
Save that baseball! Nelson Velazquez' first Triple-A hit is this double in the fourth inning! pic.twitter.com/wECZ29aaIT

— Iowa Cubs (@IowaCubs) May 7, 2022
The sixth inning is when Saint Paul began to pull away, using the Kevin Merrell three-run shot to make things 4-1. Maldonado answered that with a sacrifice fly in the top of the seventh to pull the Cubs within 4-2 and was responsible for both RBIs. That would be as close as the Cubs would get as Saint Paul pushed across five runs in their final two at-bats, with four coming in the eighth inning.
Final from CHS Field. pic.twitter.com/2UeW7OkSdd

— Iowa Cubs (@IowaCubs) May 7, 2022
BIRMINGHAM BARONS 6 - TENNESSEE SMOKIES 2
The only other team to fall on Saturday was Tennessee as they fell to the Barons 6-2. Manuel Espinoza got the start for the Smokies and was hoping his fortunes would change. Instead, he fell to 0-3 on the season, allowing four runs in four innings while striking out four.
That was more than enough for Steven Moyers, who not only went 5 2/3, but did so, allowing just one run and striking out six to secure the win. Birmingham took the early lead in the first inning when Raudy Read belted a two-run shot off Espinoza in the first inning to make things 2-0.
Later, two innings saw that lead double when Jose Rodriguez connected for an RBI double to make things 4-0. THat hit proved to be the game-winner as the Smokies offense was silent most of the game. The fourth inning is when the Smokies broke through for the first time when Bryce Ball added his 10th double of the season, making things 4-1.
After hitting a homer in the first inning, Read came through with a sacrifice fly off Danis Correa in the eighth to extend the lead to 5-1. Add in an Alex Destino RBI groundout, and it was 6-1 heading into the ninth. Darius Hill added a ninth-inning RBI for the Smokies, but it wasn't enough as they fell 6-2. Hill had a great day by recording three of the team's four hits with that RBI.
How good has Christopher Morel been recently? Well, this series he is batting .353 with 2 homers, 6 hits, and 4 RBI. #Cubs #CubTogether #SmokiesBaseball #ItsDifferentHere @Christo66021711 pic.twitter.com/TDyzZZqMpr

— Tennessee Smokies (@smokiesbaseball) May 7, 2022
south b
SOUTH BEND CUBS 3 - PEORIA CHIEFS 2 (game 1)
Not only did the Chicago Cubs play two on Saturday, but it was time to play two in South Bend with the Cubs taking on the Chiefs in a doubleheader. Game one went the Cubs way with South Bend taking down the Chiefs 3-2.
Despite being outhit 7-3, South Bend limited the damage and did what they needed to do to win. Jordan Wicks started this game and gave South Bend four innings of two-run ball, although none of those runs were earned. Chris Clarke took over for him, tossing the final three innings to earn the win while striking out four and not allowing a run.
The runs that Peoria scored came in the third inning, but they came after an error set things up. That put Wicks in an early hole as the Chiefs grabbed a 2-0 lead following a Masyn Winn sacrifice bunt and a Jacob Buchberger groundout. South Bend cut the deficit in half in the bottom of the third using a Bradlee Beesley single to pull within 2-1.
A beautiful day for a doubleheader ????@owen_caissie @Scotty_Mckeon2
And a pair of Luis Verdugo@SBCubs #SBCubs pic.twitter.com/RsoXrJvQEt

— Rebecca Snyder (@becsnyder) May 7, 2022
The next inning saw South Bend grab the lead for good as they continued to capitalize on their chances. Fabian Pertuz cashed in with an RBI triple to tie things up 2-2. He would then come home to score on an error, which proved to be the difference in the 3-2 South Bend win. Beesley, Pertuz, and Matt Mervis had all three hits for the Cubs.
CUBS WIN GAME 1! pic.twitter.com/kGn05ZZgvb

— South Bend Cubs (@SBCubs) May 7, 2022
HIGHLIGHTS
Game 1 today was another nail-biting victory... Jordan Wicks ( @jordan_wicks99) got the start, Chris Clarke (@topher_clarke) got his 3rd win and the Cubs clawed back from a 2-run deficit to win 3-2. pic.twitter.com/LkJ14gojUw

— South Bend Cubs (@SBCubs) May 8, 2022
SOUTH BEND CUBS 4 - PEORIA CHIEFS 0 (Game 2)
If winning game one wasn't good enough, why not make it two in one day as the Cubs shut out the Chiefs 4-0. The win gave the Cubs a doubleheader sweep and moved them to 14-12 on the season as the great start to their homestand continues.
Max Bain took the ball in game two and didn't qualify for the win despite going four scoreless innings. Bain allowed just one hit in four innings, walking two and striking out five. He handed things off to Riley Martin, who had a much better outing than his previous outing. Martin went three innings, allowing three hits with five punchouts as he earned his first career High-A win.
Despite going the distance for Peoria, Michael McGreevy took the loss allowing four runs on 11 hits with two K's. His ERA remains 2.10 as he has been one of their best all season. After holding the Cubs scoreless through two innings, South Bend took the lead for good in the third when Scott McKeon and Yohendrick Pinango picked up RBI singles to make things 2-0.
Two innings later saw the Cubs offense at it again, with Mervis and Jake Washer adding RBI singles to make things 4-0, which is what the final score ended. South Bend had five players with multiple hits as McKeon, Pinango, Washer, Edmond Americaan, and Ed Howard were those players. Mervis added the final hit.
Doubleheader SWEEP! ???? pic.twitter.com/OSthDghaw2

— South Bend Cubs (@SBCubs) May 7, 2022
HIGHLIGHTS
Cubs pick up a shutout victory in game two behind gems from @mbain_38 and @Riley_Martin16 plus @mmervis12 extends the longest active hitting streak in High-A to 13 games. pic.twitter.com/Ni8rZf2Fae

— South Bend Cubs (@SBCubs) May 8, 2022
Max Bain tossed 4 scoreless frames today and was out there supporting a very worthy cause, here's @mbain_38 on the field postgame with @BKingSports after the Cubs doubleheader sweep. pic.twitter.com/BaNX0dZd6w

— South Bend Cubs (@SBCubs) May 8, 2022
MYRTLE BEACH PELICANS 9 - SALEM RED SOX 6
For the first time in a while, the Pelicans pitching struggled to get Red Sox hitters out. Fortunately, their offense remained hot as they improved to an organizational best 18-7 following the 9-6 win.
Porter Hodge got the start and went 4 1/3 innings. He allowed four runs on seven hits as his ERA sits at 2.91. Luis A Rodriguez and Jake Reindl finished things up as they allowed a run. Despite that, both have sub 1.3 ERA's, with Rodriguez posting a 1.26 and Reindl sitting at 1.29.
Despite the win, things didn't start that well for Myrtle Beach as Salem came out swinging. Former Notre Dame University 1B Niko Kavadas continues his excellent start, ripping his ninth double of the season to make things 1-0 Salem. That score would hold until the top of the fifth when Myrtle Beach answered.
Even with nine runs in the game, most of their damage came in that fifth inning when six runs came across to score. As expected, Pete Crow-Armstrong was part of that big inning as his RBI single put the Pelicans on the board. Add an RBI groundout from James Trianots and a wild pitch, and the Pelicans held a 3-1 lead. The inning's big hit came from Kevin Alcantara as he launched his second homer of the season to make things 6-1.
SIX RUNS in the top of the fifth for the Birds!

Kevin Alcantara highlights the inning with a three-run homer.

Pelicans 6, Red Sox 1 in the bottom of the fifth. pic.twitter.com/erwTj8dy16

— Myrtle Beach Pelicans (@Pelicanbaseball) May 7, 2022
Still in the fight, it was time for Salem to make noise as they pulled within 6-4 following a three-run frame. Two of those runs came on the Yorberto Mejicano homer before the Blaze Jordan sacrifice fly pulled them within 6-4. That would be as close as Salem would get as Myrtle Beach had more offense still to come.
Granted, another wild pitch did aid in the Pelicans late-game offense. They benefitted from a Reggie Preciado sacrifice fly, and the Liam Spence single to put the game away. Jordan and Eduardo Lopez added RBIs for Salem, but it wasn't enough as Myrtle Beach won again 9-6.
Birds to the moon.

We win our third straight against Salem with a chance to take the series tomorrow. #MBPelicans pic.twitter.com/2A6flsG9hN

— Myrtle Beach Pelicans (@Pelicanbaseball) May 8, 2022