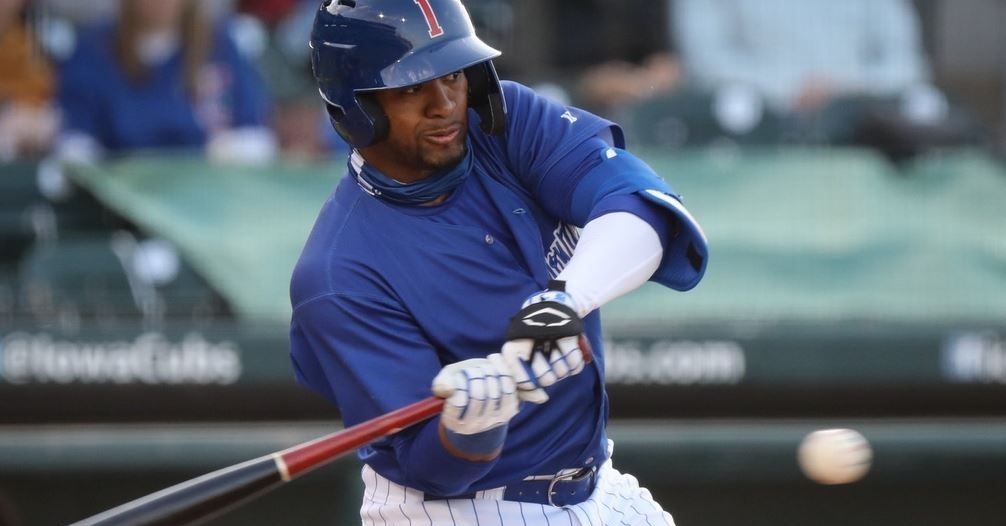 | | |
| --- | --- |
| Cubs Minor League News: Avelino with four hits in I-Cubs win, Ryan Jensen impressive, more | |
---
| | | |
| --- | --- | --- |
| Sunday, July 4, 2021, 12:00 PM | | |
While Friday night was as good as it gets on the farm for the Cubs, Saturday was a different story, as wins were hard to come by. Not only was South Bend swept in a doubleheader, but the organization went 2-4 on the evening, with Iowa picking up the lone win. It was a disappointing showing, but fortunately, the organization has one more game this weekend before getting a day off.
IOWA CUBS 9 – INDIANAPOLIS INDIANS 7
Series wins have been hard to come by for the Cubs, but they are on the verge of that Sunday following their 9-7 win Saturday. After a rough first inning from Matt Swarmer that saw both teams tied 4-4, the Cubs offense continued to stay hot before the bullpen did just enough to hold on.
Despite arriving late to join the party this season for Iowa, Alfonso Rivas has been playing well. The top 30 prospect is starting to find his rhythm as he belted a first-inning grand slam to give Iowa the 4-0 lead.
Alfonso Rivas grand slam pic.twitter.com/6LVlBLIavj

— Evan Altman (@DEvanAltman) July 3, 2021
What typically would be a comfortable lead for Iowa, Swarmer gave that lead right back as Bligh Madris and Christian Bethancourt picked up RBI singles ahead of the Hunter Owen double to make things 4-4.
Knowing that offense was going to have to lead Iowa to a victory, Ian Miller picked up a sacrifice fly in the third, only to see Owen one-up him with a homer in the bottom half of the inning to keep things tied 5-5. Iowa was able to take the lead for good in the fourth, as Abiatal Avelino put the Cubs in front for good with an RBI triple. He would then come home to score via an error as Iowa took the lead 8-5. Avelino had a monster night at the plate picking up four hits.
Still holding that 8-5 lead, Nick Martini pushed home the final Cubs run with an RBI single in the seventh as Iowa was in front 9-5. Following a shaky outing by Swarmer, the Cubs bullpen took over and looked great early on. After Ryan Lawlor struck out five in his two-shutout innings of work, Justin Steele followed that up with a pair of scoreless frames of his own.
Looking to close things out, Trevor Megill was called upon and made quick of work of Indianapolis in the eighth. That was until the ninth, when the Indians looked to rally. With plenty of traffic on the bases, Madris rolled one up the middle to push home a pair as the Indians were within 9-7. Fortunately, Megill made the one pitch he needed to make as he induced a game inning groundout to secure the win.
Along with Avelino and his four hits, the Cubs had three other players record double-digit hits, with Dee Strange-Gordon, Martini, and Rivas each grabbing two. In total, Iowa ripped 13 hits as Michael Hermosillo, Miller, and Vance Vizcaino added the final three hits.
We held on for our second straight win against Indy and have the chance to win the series tomorrow! pic.twitter.com/MpeVq2ByN0

— Iowa Cubs (@IowaCubs) July 4, 2021
ROCKET CITY TRASH PANDAS 9 – TENNESSEE SMOKIES 2
Rocket City was clearly upset with the way they played against Tennessee in the first part of this series. They took it out on the Saturday by winning 9-2, including pushing across five runs in the first inning. Peyton Remy has been one of the more reliable starters for Tennessee, but on this night, that was not the case as he allowed five runs on five hits in just three innings of work.
All those runs came in the first inning as Remy got off to a terrible start. Not only did he struggle with command, but David MacKinnon made him pay early, connecting for a two-run double to make things 2-0. Mitch Nay added to that lead with a long homer to left as Rocket City put Tennessee in a 5-0 hole early. A few innings later saw Izzy Wilson connect for his 12th homer of the season, and just like that, Tennessee was in a 7-0 hole.
Looking to put something together offensively, Brennen Davis put an end to the shutout bid in the bottom of the sixth, picking up an RBI double. Andy Weber would then add an RBI single in the eight to pull the Smokies within five at 7-2. The Smokies could not get any closer as Rocket City pushed home two more runs in the ninth to win 9-2.
Even with just two runs, Tennessee made plenty of contact as the Smokies connected for eight hits, with Carlos Sepulveda leading the way with two. Six others collected a hit in the game, with Darius Hill and Chase Strumpf, the lone players without a hit.
Rocket City wins tonight's contest but, we broke a world record anyway. #SmokiesBaseball #GoSmokies pic.twitter.com/y5jHWd7Osh

— Tennessee Smokies (@smokiesbaseball) July 4, 2021
LAKE COUNTY CAPTAINS 5 – SOUTH BEND CUBS 0
In what was a makeup of the June 30th postponement, Lake County made quick work of South Bend, topping them 5-0 in game one of a doubleheader. Joe Nahas made his second start of the season and was roughed up in five innings, allowing five runs, three of them earned in the losing effort. Brad Deppermann took over in relief and looked good in his two innings.
The big inning for Lake County came in the first when they pushed across three runs to take a 3-0 lead. South Bend played a significant role in that as a wild pitch from Nahas and a pair of errors from the Cubs defense led to all three runs coming across. That big inning was all the Captains needed as the South Bend offense was held in check.
A second-inning homer from Clark Scolamiero and a fourth-inning homer by Michael Amditis provided the remaining offense for Lake County as the Cubs were held to just three hits in the loss. Those three hits were collected by Delvin Zinn, Nelson Velazquez, and Yonathan Perlaza.
Happy #IndependenceDay everyone! pic.twitter.com/E5waf1wwRU

— South Bend Cubs (@SBCubs) July 4, 2021
LAKE COUNTY CAPTAINS 2 – SOUTH BEND CUBS 1 (8 innings)
Looking to avoid a doubleheader sweep, the Cubs turned to Ryan Jensen on the mound as he delivered his best start of the season. Not only did Jensen go six innings, but he went six hitless innings and didn't allow a walk. Jensen only struck out three hitters, but these are the outings the Cubs have been waiting for from him.
Unfortunately for the Cubs, Hunter Gaddis was equally as good as he allowed just one hit in his six innings of work to go with eight punchouts as fans were treated to a great pitcher's duel on the mound. After neither team could cash in through seven, it was time for extra innings, where the Cubs got on the board first.
Harrison Wenson manufactured the game's first run by using a sacrifice fly to get the job done. Looking to secure the win in relief, Samuel Reyes entered for his second inning of work after tossing a scoreless seventh. This was undoubtedly not the outing Reyes was hoping for, as a sacrifice fly by Aaron Bracho tied the game 1-1. With the bases loaded and two outs, Reyes had a chance to send the game to the 11th, but dropped the third out, which led to a 2-1 walk-off win for the Captains.
South Bend followed their three-hit performance with only two in game two as Edmond Americaan and Matt Warkentin earned those hits. Jake Slaughter, Bradlee Beesley, and Velazquez all went hitless in game 2.
DOWN EAST WOOD DUCKS 4 – MYRTLE BEACH PELICANS 2
The Pelicans have certainly been motivated to face the Wood Ducks this season as they have given them a battle every game. After seeing Down East dominate them in 2019, the Pelicans are looking to turn the tables this season. Despite a 4-2 loss, you have to give them credit for the fight they are showing.
Jose Miguel Gonzalez got a rare start and lasted four innings on the mound. He was charged with three earned runs, with all those runs coming in the third inning. Down East certainly figured him out in the third as it became a hit parade for the Wood Ducks. Luisangel Acuna and Alejandro Osuna picked up RBI doubles while Cody Freedman added a single to give Down East a 3-0 lead.
The Pelicans did their best to fight back in the bottom of the third when Kevin Made picked up an RBI single to make things 3-1. Unfortunately for them, there were unable to push across any more runs in that inning. Down East made them pay as Dustin Harris added a sacrifice fly in the fifth to put the Wood Ducks in front 4-1.
That would be more than enough for the Wood Ducks as the Pelicans were only able to push across one more run, with Jordan Nwogu adding an RBI single in the seventh.
We feel you, Keithron Moss. pic.twitter.com/zoUb8KN6C6

— Minor League Baseball (@MiLB) July 4, 2021
The Pelicans were held to just five hits as Pablo Aliendo, Ryan Reynolds, and Fabian Pertuz joined Made and Nwogu in the hit category. Coming off his four-hit game on Friday, Ed Howard was held hitless as he joined Yohendrick Pinango in that result.
We didn't win. But partying with 6,599 of our friends was pretty fun.

Let's do it again tomorrow. #MBPelicans pic.twitter.com/iboQ7hqt4K

— Myrtle Beach Pelicans (@Pelicanbaseball) July 4, 2021
ACL CUBS 9 – ACL Athletics 2
While most of the Cubs system has struggled to win games consistently, the ACL Cubs have gotten off to a great start improving to 4-1 with a 9-2 win. Yovanny Cabrera got the start and lasted three innings as he was charged with two runs with only one of those runs earned. Andricson Salvador followed him up and earned his second win in relief as he allowed just two hits in four three scoreless innings to go with four strikeouts.
A second-inning single by D.J. Lee gave the Athletics a 1-0 lead only to see the Cubs tie things up in the third with a Rafael Morel sacrifice fly. ACL Athletics retook the lead in the bottom of the third as an errant pickoff attempt at third led to the second run to score. Faced with an early deficit, the Cubs wasted no time retaking the lead in the fourth.
Coming off his fantastic rookie season in 2019 for the DSL Cubs, Felix Stevens unloaded for his first homer of the season, putting the Cubs in front for good 3-2. The Cubs continued to add to their lead in the sixth, with Miguel Fabrizio connecting on a double ahead of the Stevens single to make things 5-2. As if a three-run lead wasn't good enough, why not bust things wide open in the seventh.
Ezequiel Pagan tripled to push across the Cubs sixth run before a wild pitch made it 7-2 Cubs. Fabrizio capped off another great game with a two-run double as the Cubs continue to roll 9-2. Both Stevens and Fabrizio not only had two hits, but each of them had three RBIs on the night. Pagan added two hits from the leadoff spot, with Reggie Preciado, Ronnier Quintero, and Shendrick Apostel going hitless.

Tags: Cubs Baseball
,
Alfonso Rivas
,
Ian Miller
,
Abiatal Avelino
,
Ryan Lawlor
,
Justin Steele
,
Trevor Megill
,
Michael Hermosillo
,
Vance Vizcaino
,
Peyton Remy
,
Brennen Davis
,
Andy Weber
,
Carlos Sepulveda
,
Darius Hill
,
Chase Strumpf
,
Delvin Zinn
,
Nelson Velazquez
,
Yonathan Perlaza
,
Ryan Jensen
,
Samuel Reyes
,
Edmond Americaan
,
Ryan Reynolds