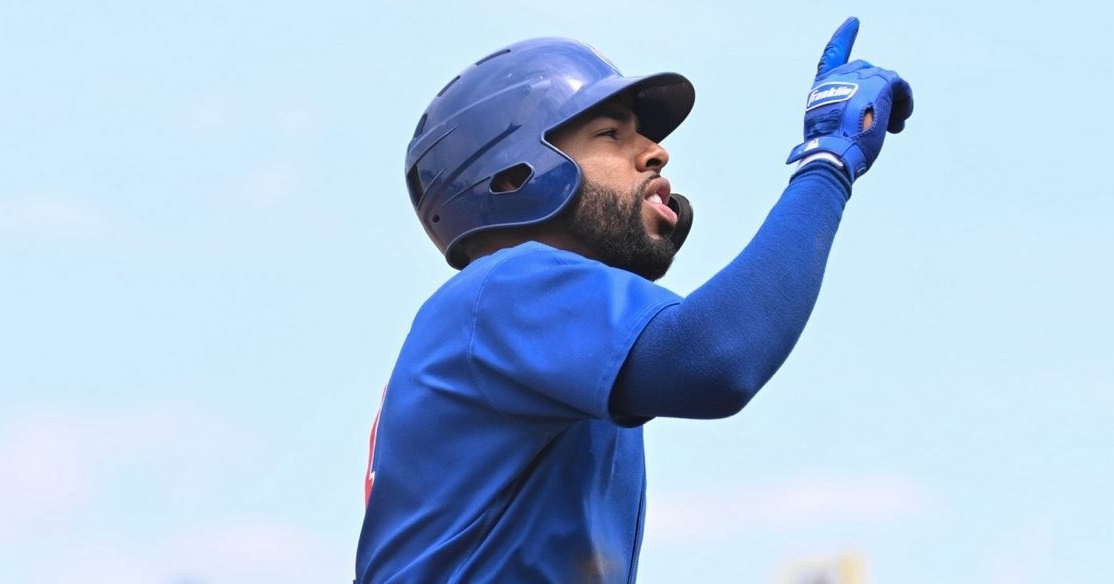 | | |
| --- | --- |
| Cubs Minor League News: Crook with five RBIs in win, Herz with 12Ks, Stevens homers, more | |
---
| | | |
| --- | --- | --- |
| Thursday, June 2, 2022, 10:33 AM | | |
Wednesday was a very interesting day, to say the least, for the Cubs minor league system. Not only did you have two blowout games, but two games that were decided via the shutout.
One of those games was suspended in the sixth and will pick back up on Thursday. Either way, the organization posted a 2-1 record on the night and continues to respond when facing adversity.
IOWA CUBS 13 - SAINT PAUL SAINTS 3
My have the tables have turned. After getting beaten into submission by the Saints on Monday, the Cubs used a six-run first, and three-run second to open up a massive lead and cruised to an easy win. Although he didn't get the win, Alec Mills looked much better in this start giving Iowa 3 2/3 innings of one-run ball while adding three strikeouts.
A big reason for Mills and his success this time around was the massive run support he was given early, especially in the first. David Bote started the party with an RBI double before the Robel Garcia groundout made things 2-0. Following the Narciso Crook single that extended the lead to 3-0, Greg Deichmann dropped the big blow as his three-run shot made it a 6-0 game.
That lead went to 9-0 in the second as Crook drove in two with an RBI single and then saw Deichmann pick up a sacrifice fly. It took four innings for Saint Paul to cash in and did so off the Jacob Cave homer, which was the only run Mills allowed. A Spencer Steer RBI in the top of the fifth brought the Saints within 9-2, but the Cubs offense was not finished.
Not only did Dixon Machado pick up an RBI double in the fifth, but came home to score on the Jared Young single. Crook then capped off a five-RBI day with a two-run shot in the eighth as the Cubs rolled 13-3. Four players for Iowa had multiple hits as Crook led the way with three hits to go with five RBIs. Tyler Payne, Machado, and Young all had two-hit games.
That was fun! pic.twitter.com/wdVYGZo6ly

— Iowa Cubs (@IowaCubs) June 1, 2022
BIRMINGHAM BARONS 14 - TENNESSEE SMOKIES 5
On the other side of the blowout games was the Tennessee Smokies, who didn't put up much of a fight. With Chris Clarke getting the start and then allowing six runs in five innings of work, it was a tall task for the offense as they needed plenty of runs to get things done.
Trailing 1-0 in the second, Birmingham busted the game wide open as the Raudy Read two-run shot, and Lenin Sosa single capped off a four-run frame with the Barons up 5-0. A second RBI single from Xavier Hernandez in the fourth had the Smokies down 6-0 before they finally started to breakthrough.
In the sixth, what started with a Chase Strumpf homer began a three-inning barrage that saw the Smokies score five runs.
Chase Strumpf puts the Smokies on the board with a solo shot! @CStrumpf pic.twitter.com/hbknaqKVws

— Tennessee Smokies (@smokiesbaseball) June 2, 2022
Still down 8-2 in the ninth, Birmingham wanted to make sure they didn't blow this game and came away with six more runs to open things up 14-2. Tennesse did show a little bit of heart in their final at-bats, with Cole Roederer and Alexander Canario picking up RBI doubles, but it didn't matter as the Smokies fell 14-5.
Cole Roederer with his first RBI in Double-A! pic.twitter.com/Wkmnr2wv8r

— Tennessee Smokies (@smokiesbaseball) June 2, 2022
Luis Vazquez and Yonathan Perlaza led the way with two hits, but Roederer's three-RBI day will shine the most.
The Smokies comeback falls just short. See you tomorrow for Thirsty Thursday. pic.twitter.com/ZPJJ5Vo4PH

— Tennessee Smokies (@smokiesbaseball) June 2, 2022
SOUTH BEND CUBS 3 - DAYTON DRAGONS 0 (suspended)
For those of you who are a fan of pitching, DJ Herz would have been the one to watch on Wednesday. One of the Cubs pest pitching prospects, Herz, tossed not only the best game of the Cubs season but one of the best games ever.
Herz allowed just one hit across five innings of work, but his 12 strikeouts stand out the most, as does his 1.45 ERA. There comes a time when you need to realize there is nothing else you can accomplish, and we are getting to that level with Herz in HIGH A.
DJ's dozen.

No. 9 @Cubs prospect DJ Herz spun a career-high 12 strikeouts for the @SBCubs: pic.twitter.com/pccraIc68G

— MLB Pipeline (@MLBPipeline) June 2, 2022
Although Herz was historically good, Bryce Bonnin was nearly as good, allowing just one walk and two hits in five innings while striking out six. With runs and baserunners, for that matter, at a premium across the first five innings, Jordan Nwogu broke the scoreless tie as his RBI triple gave the Cubs a 1-0 lead. Yohendrick Pinango would follow that with a two-run shot which is where things will pick up on Thursday.
MYRTLE BEACH PELICANS 2 - DELMARVA SHOREBIRDS 0
Speaking of strong pitching, the Pelicans had a great showing on the mound as Tyler Schlaffer and Jose Miguel Rodriguez combined to toss a four-hit shutout. Schlaffer earned the win, striking out eight across five innings, while Rodriguez punched out seven in four.
From an offensive side, things were not much easier for the Pelicans as they managed just five hits. However, all it took was one hit to give them the win, as Felix Stevens fourth-inning homer was all the offense they would need in the 2-0 win.
HAMMERED! ??

Felix Stevens puts the Birds up 2-0! pic.twitter.com/GvmGYoYRNP

— Myrtle Beach Pelicans (@Pelicanbaseball) June 2, 2022
Myrtle Beach is now at 34-13 on the season and has opened up a multiple-game lead over Charleston.
Pitchers. Game.

Pelicans win the second game of the series with their fourth shutout of the season. #MBPelicans pic.twitter.com/hYy3dVg9vv

— Myrtle Beach Pelicans (@Pelicanbaseball) June 2, 2022

Tags: Cubs Baseball
,
Alec Mills
,
David Bote
,
Robel Garcia
,
Dixon Machado
,
Jared Young
,
Chase Strumpf
,
Cole Roederer
,
Alexander Canario
,
Luis Vazquez
,
Yonathan Perlaza