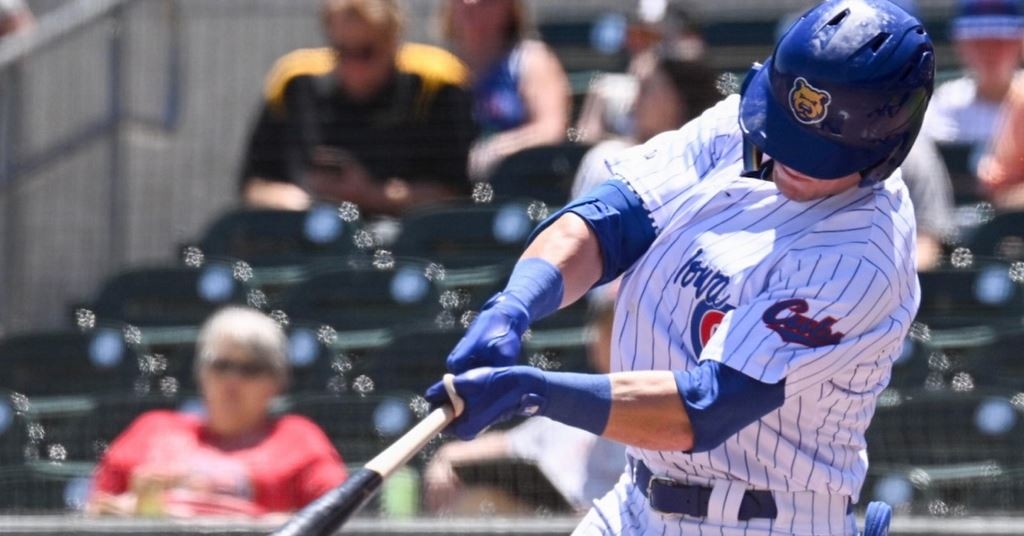 | | |
| --- | --- |
| Cubs Minor League News: Deichmann homers, Balego and Mervis smack homers in win, more | |
---
| | | |
| --- | --- | --- |
| Friday, June 3, 2022, 12:39 PM | | |
Although the wins are not as frequent this week as they have been, fans are still being treated to plenty of great baseball action. Thursday saw the Cubs organization go 2-2 on the day, 3-2 if you count the completion of the suspended game, and came one inning away from doing even better.
SAINT PAUL SAINTS 12 - IOWA CUBS 5 (10 innings)
There is something you don't see every day. A 10-inning game that was decided by seven runs as Saint Paul scored eight times in the 10th. That put a damper on what was otherwise a great day as Cam Sanders gave Iowa five strong innings on the hill allowing just two runs.
Adrian Sampson and Bryan Hudson relieved him and gave Iowa three scoreless frames before things imploded late. When you had Mario Sanchez on the other side tossing 7 2/3 innings and allowing just a pair of runs, you can see how challenging runs were to come for Iowa, and that didn't bode well.
Sanders gave up both of his runs in the second inning, and they came on one swing, with Tim Beckham hitting his first homer of the season. Iowa managed to tie things up in the bottom of that inning with Greg Deichmann picking up his third homer in the past week, but that was all the offense until late.
It became deuces wild in the ninth for both sides again as Cole Sturgeon's single off Cayne Ueckert put Saint Paul back in front 4-2, with the Cubs getting one last shot. Not only did they succeed, but they did so relatively quickly, with Nelson Velazquez picking up an RBI single and Trent Giambrone adding a bases-loaded walk to tie things up 4-4 and send the game into extras.
In the extra frame, the Cubs became the victims of a massive inning as Saint Paul pushed across eight runs anchored by the Roy Morales grand slam to take a 12-4 lead. They would end up winning 12-5 as the lopsided scores of this series continued.
Final from Principal Park. pic.twitter.com/2FUSrDT14M

— Iowa Cubs (@IowaCubs) June 2, 2022
TENNESSEE SMOKIES 5 - BIRMINGHAM BARONS 4
Despite being involved in another close game, Michael Ryan and his team continued to play well and earned another win. Dalton Stambaugh got the start and kept Tennessee in the game despite dealing with command issues across his three innings.
Three scoreless frames from Blake Whitney followed that up before Scott Kobos came in, blew the save, but ended up as the winning pitcher. Like with the Iowa game, the second inning is when the action started as the Jagger Rusconi single put Birmingham in front 1-0 before seeing Matt Mervis tie things up in the bottom half.
Matt Mervis ties the game at one apiece with his fourth home run the season! pic.twitter.com/SyuB7IJw7H

— Tennessee Smokies (@smokiesbaseball) June 2, 2022
Two innings later, it was Raudy Read cashing in with an RBI single as he put the Barons back on top by one. That lead was short-lived, with Bradlee Beesley going deep for the second time with Tennessee and putting the Smokies in front 3-2 in the fifth.
BEESLEY FOR THE LEAD! pic.twitter.com/ErQirjIgIH

— Tennessee Smokies (@smokiesbaseball) June 3, 2022
What was looking like the winning run, Birmingham refused to go down without a fight using the seventh-inning RBI single from Jose Rodriguez to pull even. That was when the least likely of heroes delivered the game's big blow, with Cam Balego connecting for his first homer of the season and putting Tennessee on top 5-3.
Cam Bale-GOAT?? @CBalego95 pic.twitter.com/0PfDZGuJqc

— Tennessee Smokies (@smokiesbaseball) June 3, 2022
That hit proved to be the game-winner as Birmingham managed to pick up a bases-loaded walk in the eighth, but couldn't get any closer. Luis Vazquez led the way on offense with two hits while five other players grabbed one.
DAYTON DRAGONS 7 - SOUTH BEND CUBS 2
After nearly blowing a historic start from DJ Herz, only to score five times in the 10th to win the suspended game 8-4, South Bend was back on the field for Thursday nights contest. Looking to grab the series lead, things were looking promising as Manuel Espinoza put the Cubs in a great position by tossing six shutout innings to go with his seven strikeouts.
Things took a turn for the worse as Eduarniel Nunez, and Bailey Reid allowed seven runs in the eighth inning and handed Dayton a win they didn't deserve. With Espinoza pitching as well as he did, it was nice to see the offense pick him up early as Jake Slaughter put them on top 1-0 with an RBI double in the first.
South Bend nearly made that score hold up for the duration of the game, as it wasn't until Jordan Nwogu homer in the seventh that saw the next run score with South Bend leading 2-0.
Mr. June

Jordan Nwogu pic.twitter.com/fQiHSRMPfv

— Todd ?????? (@CubsCentral08) June 3, 2022
Holding onto that two-run lead in the eighth, Dayton embraced the better late than never mantra and went to work off the South Bend pen.
An RBI double from Allan Cerda put Dayton on the board, but the bases-clearing double from Nick Quintana shortly after putting them in front for good. Add in the Elly De La Cruz homer, and Dayton took a 2-0 deficit and turned it into a 7-2 win. Although runs were hard to come by, the Cubs did manage eight hits, with Nwogu and Scott McKeon leading the way with two.
Cubs get a split today in Dayton. pic.twitter.com/PUXXSEmUJw

— South Bend Cubs (@SBCubs) June 3, 2022
MYRTLE BEACH PELICANS 11 - DELMARVA SHOREBIRDS 5
The best about having a great team and having some poor teams in your league is that it allows you to bank plenty of wins. That is precisely what the Pelicans are doing right now: they continue to push towards a first-half division title with the 11-5 win.
Luke Little continues to look in his short spurts, allowing one hit in two innings with a pair of walks and four strikeouts. He would hand the ball to the Myrtle Beach version of Keegan Thompson as Tyler Santana gave the birds 4 2/3 innings of solid relief to improve to 5-0 on the season.
When you have an offense as explosive as the Pelicans, you can't afford to give up big innings, but after the two-run Jacob Wetzel double and Felix Stevens sacrifice fly, Myrtle Beach was up 3-0 in the first. For Delmarva, they were at least up to the task early on, with Trendon Craig tying things up in the fourth off the bases-loaded double.
That seemed to awaken the Pelicans offense again, as they would score five times across the next two innings to take the 8-3 lead. Ethan Hearn gave the Pelicans the lead for good with an RBI double in the fourth and then came home to score on the Juan Mora single.
Later, one inning saw three more runs cross home with Stevens picking up the sacrifice fly, Reggie Preciado adding an RBI groundout before Hearn raced around the bases for the RBI triple. Myrtle Beach continued to keep the pressure on, bringing two more home in the sixth off an error before the newest member of the Pelicans, Frank Hernandez, delivered an RBI single in the eighth to make things 11-3.
The Shorebirds did manage to come away with two runs in the ninth off of the Noelberth Romero homer, but it was not enough as the Pelicans improved to 35-13. Mora led an 11-hit effort with his three hits as he was one of several players with multiple hits. Kevin Alcantara, Hearn, and BJ Murray Jr were the other three, as Hearn also added a pair of RBIs.
The ship has been defended.#MBPelicans pic.twitter.com/LKiQOigC1w

— Myrtle Beach Pelicans (@Pelicanbaseball) June 3, 2022