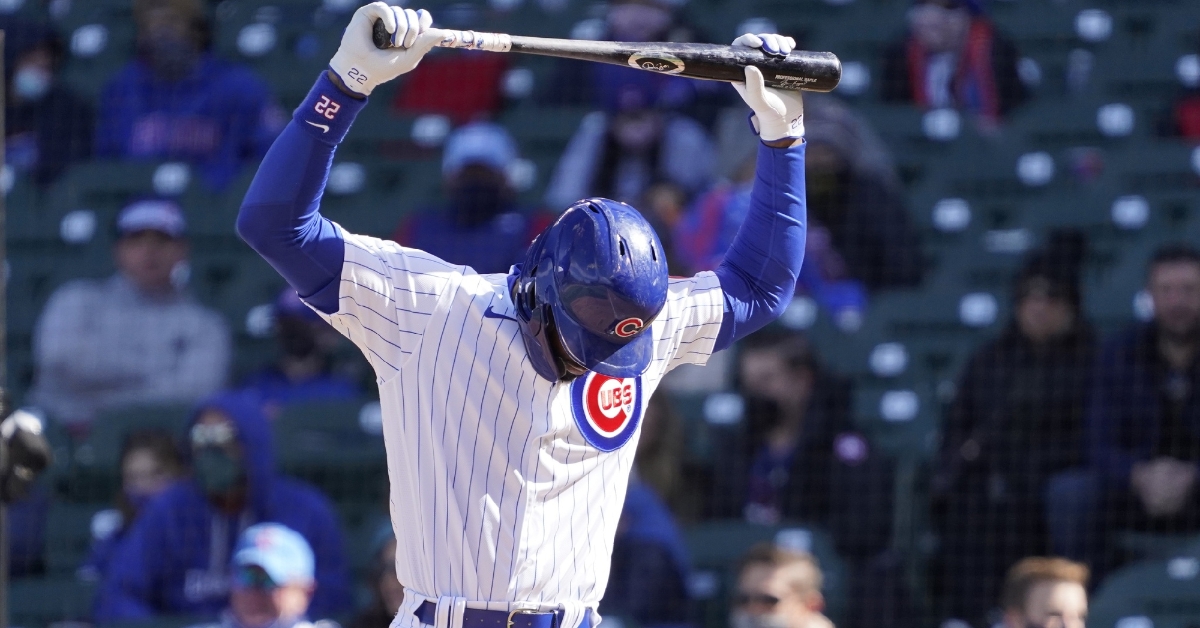 | | |
| --- | --- |
| Cubs Minor League News: I-Cubs break 9-game skid, J-Hey hitless, Jensen impressive, Zinn h | |
---
| | | |
| --- | --- | --- |
| Thursday, June 3, 2021, 5:00 PM | | |
While most of the Cubs nation watched them sweep San Diego yesterday, the Cubs farm system had a pretty good day going 2-1 with one game suspended three innings in. Most of the attention was drawn to Iowa, where a plethora of MLB roster players are rehabbing in hopes of returning to Chicago soon.
With the Cubs heading out west for the next seven games, most of their games will be at night. That will allow fans to follow some of these minor league games before the start of the Cubs contests, and they will be able to witness firsthand how good some of these prospects are.
IOWA CUBS 2 – OMAHA STORM CHASERS 0
Pitching was at a premium on Wednesday as the Cubs and Storm Chasers combined for just nine hits in the game. The Cubs fared better as they were responsible for six of those hits while pushing across both runs in the eighth inning to pick up the shutout win.
Alec Mills got the start as he continued his rehab assignment from a lower back injury. Not only was Mills brilliant, but he looked like the Mills of 2020, going six shutout innings allowing just two hits, one walk, and four strikeouts. He also needed just 60 pitches to get through those innings making quick work of Omaha. Following his great start, Mills handed things off to Kyle Ryan, who allowed just one hit to go with three punchouts in two innings of work to secure the win. Jake Jewell earned his first save.
It was nice to see Jason Heyward and Jake Marisnick back in the lineup as the two of them began their rehab assignment. Marisnick went 1-3 on the night while Heyward went 0-2 but did draw a walk. Dee Strange-Gordon continues to be the leadoff hitter the Iowa Cubs have been waiting for, going 1-4 on the night with that one hit proving to be the game-winner as his eighth-inning RBI single gave the Cubs a 1-0 lead.
After entering the game for Heyward, Vance Vizcaino came through with a single of his own to double that lead which was what the final score ended up being. Taylor Gushue, Trayce Thompson, and Andrew Romine also picked up hits in the win, while Tony Wolters and Abiatal Avelino went hitless.
We did it!! We break the nine-game losing streak with a 2-0 win over Omaha. Game three tomorrow night! pic.twitter.com/T8SEFCRBOk

— Iowa Cubs (@IowaCubs) June 3, 2021
TENNESSEE SMOKIES 0 – BIRMINGHAM BARONS 0 (SUSPENDED after 3)
Thursday will be a non-tradition doubleheader for the Smokies as they will finish up Wednesday's suspended game before the regularly scheduled contest. Luis Lugo got the start and looked good in his two innings, needing just 20 pitches to get through those innings with 14 strikes. I doubt he comes back out on Thursday, so it will be interesting to see How Mark Johnson handles the rest of this game.
Offensively, the Smokies had a rough time going nine up nine down in three innings with four retired via the strikeout. Chase Strumpf, Christopher Morel, Nelson Maldonado, and Tyler Payne were the strikeout victims the first time through, with Brennan Davis and Darius Hill also getting retired.
SOUTH BEND CUBS 4 – LANSING LUGNUTS 1
As you can see through the first three recaps, pitching was the name of the game on Wednesday, and South Bend pitched well. Led by Ryan Jensen and his near-perfect outing, the Cubs held the Lugnuts to just one run on four hits punching out 12 in the win. Back to Jensen, he was certainly on top of his game, delivering the best start of the season. Not only did he go five innings, but he also went five hitless innings allowing just one walk to go with seven strikeouts.
In honor of his great start, Delvin Zinn provided him with all the offense he needed delivering a sacrifice fly in the first to give South Bend an early 1-0 lead. That score would hold up for six innings before Zinn came through again with a two-run shot in the seventh for his first of the season. That homer gave the Cubs a 3-0 lead, and it ensured that Jensen would walk away the winner. Bryce Windham added an RBI single in the eighth to extend the lead to 4-0.
It took eight innings, but Lansing was finally able to bust through as Graham Lawson struggled with his command in the eighth. With two outs and a runner on first, Lawson walked the next two hitters bringing the winning run to the plate. However, knowing that one hit could change the game's outcome, Lawson made it more difficult as he hit Lazaro Armenteros to push in a run. Fortunately, that would be all for Lansing as Scott Kobos came into close out the inning before securing the save in the ninth.
While Zinn may have stole the show with his three RBIs, it was Tyler Durna staying hot at the plate leading the team with two of their eight hits. Seven other players recorded a hit on the night, including Zinn, Edmond Americaan, Yonathan Perlaza, and Windham, in what was a tremendous offensive approach.
Ballgame!
Cubs win, series tied.#FlyTheW #SBCubs pic.twitter.com/o1A0xEtuNR

— South Bend Cubs (@SBCubs) June 3, 2021
COLUMBIA FIREFLIES 6 – MYRTLE BEACH PELICANS 2
The lone team to lose on Wednesday was Myrtle Beach, as they fall back to .500 on the season. Scoreline aside, this game was much closer than you would think as Columbia used a pair of three-run innings to do all their damage in the win. All six of those runs were put up against starter Manuel Espinoza, but he deserved much better than he got.
Despite allowing six runs in four innings, only one of those runs was earned as the Pelicans defense committed five errors to do him no favors. Outside of that, pitching was excellent, with Gabriel Jaramillo, Jeremiah Estrada, and Jarod Wright tossing five scoreless innings to go with six punchouts. You must give credit to Columbia starter Adrian Alcantara, who struck out nine Pelican hitters in just five innings even with their performance.
The first of the two three-run Columbia innings came in the second when Juan Carlos Negret opened the scoring with a two-run shot ahead of the Diego Hernandez sacrifice fly. Two innings later saw the Pelicans defense gift Columbia a run with an error before a Darryl Collins single and Maikel Garcia double pushed the Fireflies lead to 6-0.
Myrtle Beach was on the comeback trail the rest of the game, and it took seven innings for them to finally score. The Fireflies returned the favor defensively in the seventh as an error of their own put an end to the shutout bid. Jonathan Sierra capped off the scoring in the ninth, picking up the team's lone RBI as the Pelicans settled for the 6-2 defeat.
Fireflies take game two of the series.

We'll meet for the third game tomorrow night at 7:05. #MBPelicans pic.twitter.com/L9bRMBZ9JK

— Myrtle Beach Pelicans (@Pelicanbaseball) June 3, 2021
Once again, hitting was challenging to come by unless your name is Pablo Aliendo, who collected two of the team's five hits to bring his average to 317. Matt Mervis, Fabian Pertuz, and Sierra recorded the rest of the hits for Myrtle Beach. Kevin Made tried his luck in the leadoff role for the first time going 0-4, while Yohendrick Pinango continues to struggle, going 0-4 with a strikeout.

Tags: Cubs Baseball
,
Alec Mills
,
Kyle Ryan
,
Jake Jewell
,
Jason Heyward
,
Jake Marisnick
,
Vance Vizcaino
,
Taylor Gushue
,
Abiatal Avelino
,
Luis Lugo
,
Chase Strumpf
,
Christopher Morel
,
Nelson Maldonado
,
Darius Hill
,
Ryan Jensen
,
Delvin Zinn
,
Tyler Durna
,
Edmond Americaan
,
Yonathan Perlaza
,
Jeremiah Estrada
,
Jonathan Sierra