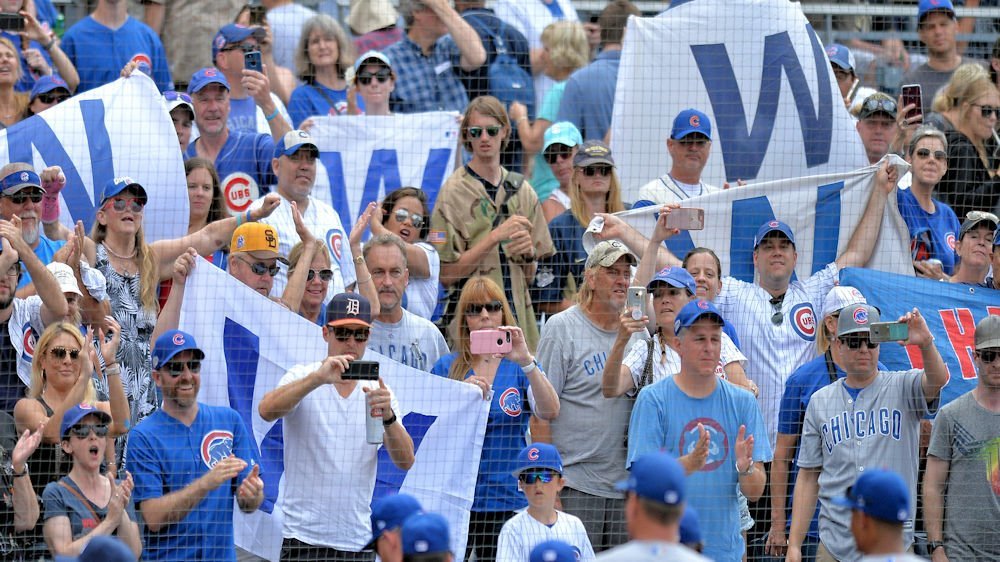 | | |
| --- | --- |
| Cubs Minor League News: I-Cubs comeback falls short, South Bend gets no-hit, more | |
---
| | | |
| --- | --- | --- |
| Friday, June 11, 2021, 2:00 PM | | |
There wasn't much that went right on the farm last night as all four teams lost, with Myrtle Beach losing both games of their doubleheader. That gave the system an 0-5 overall record as the tough week of results continues.
Cubs fans who did follow along or attend any of these games saw a no-hitter tossed against one of their farmhands, but that was the brunt of the excitement for the day. Hopefully, things begin to turn around quickly as this was not the season a lot of these teams were hoping for.
COLUMBUS CLIPPERS 9 – IOWA CUBS 7
Despite a great battle all game, the Iowa Cubs are still searching for answers, as they dropped their 11th consecutive home game 9-7. With both Alec Mills and Kohl Stewart on the MLB roster, it was another bullpen day for the team, with Scott Effross getting lit up in 3 1/3 innings of work.
Even with Michael Hermosillo giving the Cubs an early 1-0 lead in the first, the Clippers responded with eight unanswered runs across the next three innings to take an 8-1 lead. Six of those runs came off three-two run shots, with Trenton Brooks connecting for two and Daniel Johnson grabbing the other one.
Down but not out, the Cubs used the bottom of the fourth to climb back into the game, with Taylor Gushue going deep for his third homer of the season, making things 8-3. Iowa continued their comeback bid with a Tyler Ladendorf double and Dee Strange-Gordon single, closing the deficit to 8-5. Two innings later saw the red-hot Andrew Romine pick up another RBI hit as Iowa was within 8-6.
Now down 9-6 after an eighth-inning RBI by Brooks, the Cubs were down to their final at-bats looking to make something happen. A one-out Abiatal Avelino triple certainly helped the cause as he trotted home on another Ladendorf double to make things 9-7. Two out walks by Strange-Gordon and Romine kept the inning alive before a Trayce Thompson strikeout ended the game.
Hermosillo continues to hit the cover off the ball going 3-3 with two RBIs, with Strange-Gordon, Romine, Gushue, Avelino, Ladendorf, and Ian Miller all having multi-hit games. Thompson and Nick Martini were the lone players without a hit.
Couldn't get it done tonight. We'll see you tomorrow at 7:08. pic.twitter.com/vI3a2RkPF6

— Iowa Cubs (@IowaCubs) June 11, 2021
ROCK CITY TRASH PANDAS 6 – TENNESSEE SMOKIES 4
If there were a team that Tennessee would love to avoid, it would be this Rocket City. Through nine games so far, the Smokies are 1-8 against the Trash Pandas, including an 0-3 start in this series. However, one player on the Smokies who continues to play well is starter Peyton Remy.
Since getting promoted, Remy has been impressive, tossing 5 2/3 innings last night and allowing just three runs. His ERA with the Smokies is 2.31, which is the best on the team. Knowing how good he has been, the Smokies wasted no time getting him some early run support using a Christopher Morel triple and Chase Strumpf single to take a 2-0 lead in the first.
While Remy was good, the long ball was his undoing, with Izzy Wilson connecting for a solo shot in the second ahead and an Orlando Martinez third inning bomb to give Rocket City a 3-2 lead. However, that was all Remy allowed as it was up to the offense to kick it in gear. Grayson Byrd tied things up at three in the fourth, picking up an RBI groundout to get that done.
That score would hold until the seventh inning when a wild pitch gave the Smokies a 4-3 advantage. Trusting the bullpen to keep things that way, Wilson went deep for a second time in the eighth to tie things up 4-4 before Torii Hunter to Wyatt Short deep in the ninth, giving Rocket City a 6-4 lead. Tennessee was then retired in order in the ninth as they can't figure out how to beat Rocket City.
Darius Hill may be headed to Iowa before you know it, as his average is now 333 on the season after another two-hit game. Strumpf also picked up his first multi-hit effort in a while, with Morel and Tyler Payne adding the final two knocks. Brennan Davis was held hitless at the plate but continues to show a great eye in taking two walks.
Sometimes you win, and once again, it wasn't us. ?? Join us tomorrow for Tyler's Amazing Balancing Act with first pitch at 7:00pm. #SmokiesBaseball #GoSmokies pic.twitter.com/tulVszvXOj

— Tennessee Smokies (@smokiesbaseball) June 11, 2021
WISCONSIN TIMBER RATTLERS 6 – SOUTH BEND CUBS 1
After climbing above .500 for the first since late May, South Bend ran into a buzzsaw when it came to Wisconsin. Led by the pitching duo of Justin Bullock and Carlos Luna, not only did the Rattlers record 13 strikeouts with no walks, but they no-hit the Cubs on Thursday night in what was just an outstanding performance.
It didn't help that the Cubs starter Brad Deppermann couldn't even get through two innings as he gave up five runs with four of those runs earned. Two of those runs came off the first inning Jesus Lujano single, as that would have been enough to win the game. Add in a bases-loaded Hayden Cantrell walk in the second ahead of a two-run error, and Wisconsin had a 5-0 lead.
Even without getting a hit, the Cubs managed to push a run across in the bottom of the sixth. With a fielding error allowing Edmond Americaan to reach, he used his legs to steal second and steal third in the process. Americaan then came home on a wild pitch as the shutout was gone, but the no-hitter was still intact. Unfortunately, the Perfect game also went out the window on that sequence.
Wisconsin was able to pick up a ninth-inning run on a double play off Burl Carraway as they made history in the 6-1 win. Carraway pitched the ninth inning, allowing one run on one hit to go with one walk and a punchout, but the rest of the bullpen stood out. Scott Kobos, Juan Gamez, and Tanner Jesson-Dalton tossed 6 1/3 scoreless innings of relief, allowing just two hits in the process.
Good thing is we come right back tomorrow. pic.twitter.com/92SpCWFqEO

— South Bend Cubs (@SBCubs) June 11, 2021
AUGUSTA GREEN JACKETS 14 – MYRTLE BEACH PELICANS 6 (game 1)
In game one of a doubleheader, the Pelicans were blitzed by Augusta as the Green Jackers pounced on them early and often. In a rare rough outing, DavidJohn Herz suffered his worst start of the season, allowing nine earned runs in just 2 2/3 innings of work. His ERA rose from 0.84 to 4.82 with that start.
Myrtle Beach got off to a great start with Matt Mervis singling home the game's first run in the first, but a Willie Carter sacrifice Fly in the bottom half tied things at 1-1. That set the tone for a Brad Parker two-run shot in the second as Augusta led 3-1 early. Not about to fold, the Pelicans kept the pressure on in the third using a Yohendrick Pinango RBI groundout and wild pitch to pull even at 3-3.
That is when the game changed as Augusta pushed across 11 runs over their next three innings, including six runs in the third, to take a commanding 14-3 lead. Ironically, none of those runs came on homers as the Green Jackets had a great approach against Herz.
Hoping to head into game two with some momentum, Luis Verdugo and Jacob Wetzel picked up sixth inning singles as the Pelicans climbed within 14-6 before falling by that score.
AUGUSTA GREEN JACKETS 8 – MYRTLE BEACH PELICANS 7 (Game 2)
Coming off a terrible showing in game one, the Pelicans put together a much better game two effort as they were looking for the doubleheader split. Despite a fast start on offense, it was the Green Jackets rallying late as they managed to pick up the 8-7 for the sweep.
Adam Laskey got the start, and although he only lasted three innings, he kept his team in the game. Laskey allowed three runs in his three innings, but the Pelicans offense backed him with plenty of support. Mervis once again got things started in the first with a sacrifice fly, but after the Landon
Stephens homer in the bottom half of the first, Augusta held a 2-1 lead.
The Pelicans then used the next two innings to bust the game open, as all seven of their runs came in the first three innings. Ezequiel Pagan tied things up with an RBI triple before coming home on the Pinango single to make things 3-2 Myrtle Beach. The next inning saw a wild pitch extend the lead to 4-2 ahead of the Jonathan Sierra single, and just like that, the Pelicans held a 5-2 lead. Ryan Reynolds capped off the Pelicans offense with a two-run shot putting Myrtle Beach on top 7-2.
Typically a five-run lead is safe with this team, and even after a wild pitch in the third made things 7-3, the Pelicans were still in great shape. That was until the fourth when the Green Jackets started to feel it once again. It all started with a Victor De Hoyos homer, and right then, the momentum shifted. After a bases-loaded walk to Vaughn Grissom made things 7-5, Carter tied things up at seven with a clutch single up the middle.
That score held until the bottom of the sixth when Stephens took the second bases-loaded walk of the game for Augusta, putting them up 8-7. Hoping to make some noise in their last at-bats, Myrtle Beach had a golden opportunity as Sierra, Felmin Bautista, and Pagan all took walks, loading the bases with one out. Unfortunately, the Pelicans lacked the big hit they needed as all three men were stranded, resulting in the 8-7 loss.
After a two-week cold stretch, Pinango is heating up once again, picking up three more hits to go with two RBIs on the day as his average is back to .265. Pagan and Reynolds added multi-hit games of their own in-game two as nearly everyone in the lineup recorded one hit.
It's fine we're fine. pic.twitter.com/zjVpeynXTe

— Myrtle Beach Pelicans (@Pelicanbaseball) June 11, 2021

Tags: Cubs Baseball
,
Alec Mills
,
Kohl Stewart
,
Scott Effross
,
Michael Hermosillo
,
Taylor Gushue
,
Abiatal Avelino
,
Ian Miller
,
Peyton Remy
,
Christopher Morel
,
Chase Strumpf
,
Grayson Byrd
,
Wyatt Short
,
Darius Hill
,
Edmond Americaan
,
Juan Gamez
,
Jonathan Sierra
,
Ryan Reynolds