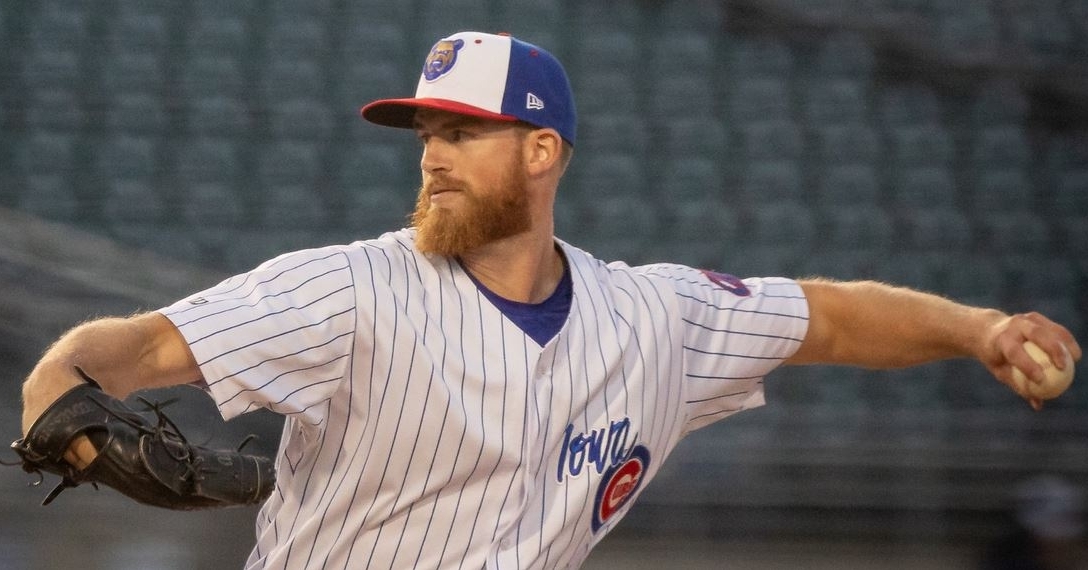 | | |
| --- | --- |
| Cubs Minor League News: Menez impressive, Ed Howard with three hits, Canario homers | |
---
| | | |
| --- | --- | --- |
| Sunday, May 1, 2022, 12:00 PM | | |
After ending up with a losing record for the first time in a week on Friday, the Cubs minor league system hoped to get back to their winning ways on Saturday. Although they only managed a 2-2 mark, it is still better than what the major league roster has been giving fans, which only bodes well for the future.
INDIANAPOLIS INDIANS 4 - IOWA CUBS 3
Despite posting a three-run inning, that was all the offense the Cubs would muster. That, mixed with a pair of two-run innings, ultimately did them in as the Cubs dropped another close one.
Robert Gsellmen continues to pitch well this season despite lasting just 2 1/3 innings of work. Command was an issue, but his 1.17 ERA shows you how strong he has been this season. Connor Menez relieved him, and all he did was strike out eight men in just over three innings.
With both teams scoreless through the first two innings, Indianapolis took the 2-0 lead in the third using an RBI groundout and a Hunter Owen single to make that happen. For Iowa, it took a while for their offense to settle in, but once they did, they started to make things happen in the fifth.
Greg Deichmann got Iowa on the board with an RBI single before Brennen Davis tied things up with a sacrifice fly. Later in that same inning, Iowa took the 3-2 lead with P.J. Higgins picking up the RBI knock.
P.J. Higgins gives us the lead with this RBI single! pic.twitter.com/1JX2LoxuS5

— Iowa Cubs (@IowaCubs) May 1, 2022
Iowa held that lead until the ninth inning, when Eric Stout was on to try and covert the save.
Despite his overall domination this season, Stout was not at his best in this one allowing the game-tying homer to Canaan Smith and then allowing the game-winning homer to Brendt Citta. Iowa managed to put the tying run on base in the ninth, but could not bring him in.
Final from Principal Park. pic.twitter.com/buPC82RzM4

— Iowa Cubs (@IowaCubs) May 1, 2022
CHATTANOOGA LOOKOUTS 3 - TENNESSEE SMOKIES 2
Entering this week's series with the Lookouts, the Smokies were playing great baseball. They have now run into a buzz saw as the Lookouts appear to have their number and took them down again 3-2.
One of the biggest surprises, and in a good way, has been Javier Assad, as the lefty continues to pitch well. Across his four innings, Assad allowed two runs on seven hits to go with four punchouts as his ERA sits at 2.29 for the season. He left with the game tied, but the bullpen could not hold it.
Assad found himself in some trouble early, allowing a second-inning RBI double to Quin Cotton that gave the Lookouts a 1-0 lead. That lead was short-lived, with Nelson Velazquez continuing to mash AA pitching as he cranked his eighth homer of the season in the third to put the Smokies on top 2-1. Little did they know it would be the only runs they would score as the pitching was excellent on both sides.
Chattanooga responded from that home run by belting one of their own, with Chuckie Robinson going deep for the first time to tie things up 2-2. That score held until the seventh inning when TJ Hopkins left the yard for the third time in this series and the sixth time overall to give the Lookouts a 3-2 lead.
Like Iowa, the Smokies were able to put the tying run on the bases in the ninth inning, but couldn't come away with the hit they needed to cash in. Christopher Morel continues his hot hitting as he had three of the team's eight hits and is not at .301 for the season.
That's back-to-back nights with a Bryce Ball, @bryceball_05, home run, but the Smokies fall to Chattanooga. pic.twitter.com/9FtkVVPwIZ

— Tennessee Smokies (@smokiesbaseball) April 30, 2022
SOUTH BEND CUBS 7 - QUAD CITIES RIVER BANDITS 2
Sparked by a massive four-run inning, the Cubs grabbed the lead and did what they needed to do to win. After winning his first game last time out, Chris Clarke was back at it again, winning his second career game and first win as a starter. Clarke gave his team five innings of work, allowing just one run on two hits to go with six punchouts.
He gave way to Max Bain, who tossed three hitless frames before Eduarniel Nunez finished things off. It took four innings for either offense to get going, but South Bend erupted in a big way pushing across four runs in the fourth.
Matt Mervis brought home the first run off an RBI double before Ed Howard delivered the game-winning hit with an RBI triple that saw South Bend grab a 3-0 lead.
All week, I've been watching Ed Howard in BP. The Cubs have been working specifically on him driving the ball back up the middle and to right field. I'm glad it's beginning to pay dividends with this triple. pic.twitter.com/97DaBPiyJC

— Todd ?????? (@CubsCentral08) May 1, 2022
Pablo Aliendo added a single before that frame was over, with South Bend up 4-0. Over the next two innings, Quad Cities was able to chip away at that lead using a Kale Emshoff homer in the fifth to get on the board before the Peyton Wilson sacrifice fly made things 4-2.
That would be as close as things would get as South Bend played long ball the rest of the way connecting for three solo shots. Alexander Canario delivered the first of those, with Mervis and Jordan Nwogu adding their own each.
I don't think you can truly appreciate Canario until you actually see him hit in person. Video does not do it justice how hard he hits the ball pic.twitter.com/1mepNJB6b5

— Todd ?????? (@CubsCentral08) May 1, 2022
It was the first homer of Nwogu's season as the Cubs made things look easy.
Nwogu heating up. He is 4 for his last 10 pic.twitter.com/rqxxx9j84r

— Todd ?????? (@CubsCentral08) May 1, 2022
Canario continues to be one of the hottest hitters in High-A, raising his average to .278 following a three-hit day. Howard joined him with three hits.
FLY THE W! pic.twitter.com/ZuQbBRptGo

— South Bend Cubs (@SBCubs) May 1, 2022
MYRTLE BEACH PELICANS 9 - COLUMBIA FIREFLIES 1
Not only have the Pelicans been winning a ton lately, but it is the way they have been winning that is most impressive. Led by a lethal offense and a pitching staff that only gets better, the Pelicans ripped off another dominating win over Columbia.
When you only allow five hits as a staff, offense is hard to come by as Luis Devers earned his first win of the season. Devers gave Myrtle Beach five innings of work, scattering two hits and punching out five.
Luis Devers faced a lineup with 8 lefties last night. He put up a line of…

5 IP, 2 H, 0 R, 1 BB, 5 K

Here is every swing and miss he got on the night, all 11 coming from lefty batters. Note the super impressive fade on his changeup varied deliveries! pic.twitter.com/pCdxxIOsYQ

— Greg Huss (@OutOfTheVines) May 1, 2022
He gave way to Jarod Wright and Sheldon Reed to finish things off.
The Pelicans didn't need a ton of time to get going as they jumped out to a 5-0 lead four innings in. The first two runs came in the second, with BJ Murray Jr going deep for his first homer of the season ahead of the Liam Spence RBI single.
See ya later ball. pic.twitter.com/MApyjqo5we

— Myrtle Beach Pelicans (@Pelicanbaseball) April 30, 2022
Later, one inning saw two more runs come across as Kevin Alcantara connected for an RBI triple before coming home on the Malcolm Quintero sacrifice fly.
Add in another RBI hit from Pete Crow-Armstrong in the fourth, and the Pelicans were out to a 5-0 lead and were showing no signs of letting up. Juan Mora continued to add to that lead with an RBI single in the sixth before the Pelicans capped off the scoring with three more runs in the seventh. The Fireflies lone run came in the seventh when Enrique Valdez drilled an RBI double.
The Pelicans tallied 11 hits, with four players finishing with two hits. Crow-Armstrong, Mora, Murray Jr, and Ezequiel Pagan had the multi-hit efforts as the Pelicans improved to 14-6.
LETS. GO.

Pelicans take the series with their fourth win of the week.#MBPelicans pic.twitter.com/9DNglhQ7sg

— Myrtle Beach Pelicans (@Pelicanbaseball) May 1, 2022