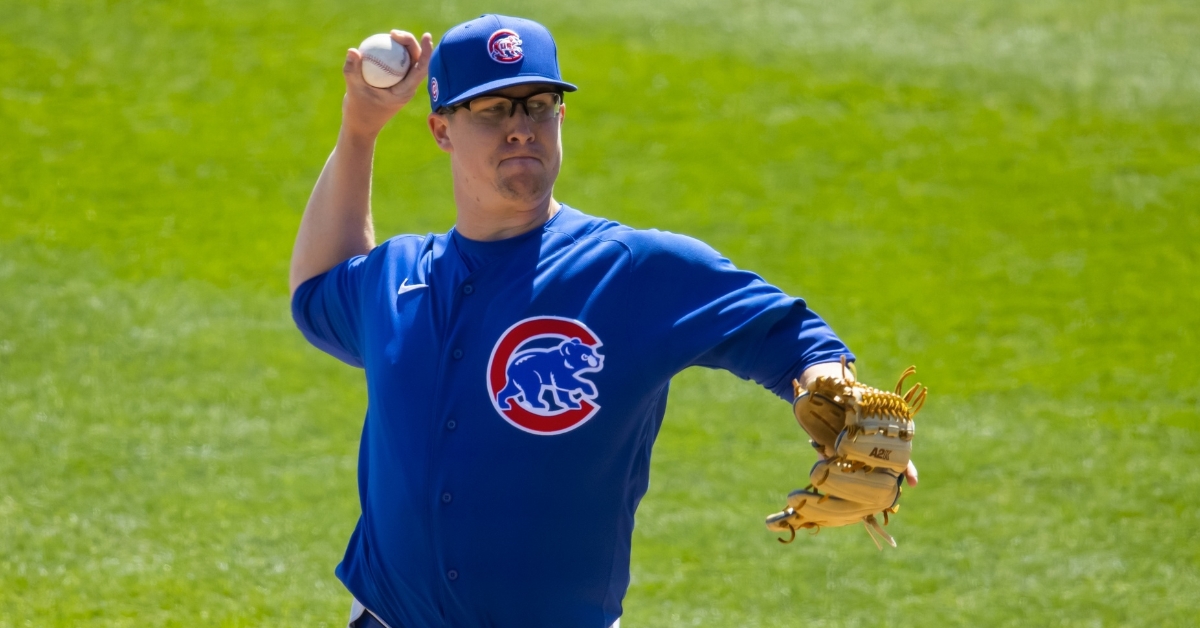 | | |
| --- | --- |
| Cubs Minor League News: Mills struggles, Morel with third homer, Davis hits first dinger, | |
---
| | | |
| --- | --- | --- |
| Monday, May 24, 2021, 3:33 PM | | |
The Cubs continue to show flashes of greatness down on the farm while playing .500 ball across the system. Cubs saw their system go 2-2 in-game action for the second day in a row, with Myrtle Beach and South Bend picking up the wins.
This season, the Cubs are three weeks into competition so far this season, with Iowa sporting the only winning record in the system. Both South Bend and Myrtle Beach are climbing towards .500, with Tennessee posting the worst record at 7-10 thus far. Those records may not stand out, but they show you how competitive the teams are, especially in Tennessee and Myrtle Beach, who struggled to win anything last season.
OMAHA STORM CHASERS 7 – IOWA CUBS 5
A lot of eyes were watching Iowa on Sunday as Alec Mills took to the mound for the start. Mills is recovering from a back injury as this was game one of his rehab assignment. While it was good to see him healthy, Mills struggled in his return to the mound allowing five runs on seven hits in just 1 2/3 innings of work. He made it difficult for the offense even though they did their best to keep pace.
With the Storm Chasers already up 3-0 in the second following an Emmanuel Rivera double and Meibrys Viloria homer, Omaha continued to hammer Mills, extending their lead to 5-0 in the second off a pair of RBI singles from Hunter Dozier and Edward Olivares. However, the Cubs responded with a big inning of their own to climb back into things as Trayce Thompson delivered an RBI double ahead of Jose Lobaton's homer to make things 5-3.
Speaking of Dozier, his fourth-inning double proved to be the game-winning run, with Omaha now leading 6-3. With just three innings to go, the Cubs offense continued to battle back, with Jacob Olsen connecting for his first homer of the season to make things 6-5. Olivares tacked on an insurance run in the ninth off Ryan Meisinger as Omaha held off Iowa 7-5.
Along with Mills and his return to the mound, Kyle Ryan continues to pitch lights out for Iowa, striking out four in just 2 1/3 innings of work. He has yet to allow a run since being sent down and is making a case to return to the bigs. Iowa got two hits each from Sergio Alcantara, Rafael Ortega, and Taylor Gushue. Patrick Wisdom and Ian Miller went hitless in the loss.
Lost the game but won the series! We'll be back in action at Principal Park on Tuesday for game one against St. Paul. pic.twitter.com/S4x0srQ9U2

— Iowa Cubs (@IowaCubs) May 23, 2021
BILOXI SHUCKERS 7 – TENNESSEE SMOKIES 3
Although the final result still shows up as a loss, the Smokies did play well enough to win this game. It took one big Biloxi inning to finish them as they used a five-run seventh inning to grab the lead and pull away.
Matt Swarmer continues to be a bright spot in the Tennessee rotation, going five shutout innings yet again to lower his ERA to 2.65. Not only that, Swarmer didn't allow a hit while striking out a season-high nine hitters. With Swarmer doing his part on the mound, Tennessee gave him some early support in the third, with Darius Hill singling on a grounder up the middle for the 1-0 lead.
That score held up until the seventh inning when Biloxi hammered the Smokies pen. After Alexander Palma tied things up with a solo shot earlier in the inning, the long ball continued to be the catalyst for the Shuckers. Then, facing a bases-loaded situation, Brent Diaz cranked a grand slam to put the Shuckers on top 5-1 as the grand slam continues to fly in minor league action.
Speaking of the long ball, Christopher Morel was able to pull Tennessee within 5-3 in the seventh as he connected for his third homer of the season. However, that would be as close as things would get as Biloxi tacked two insurance runs with bases-loaded walks in the eighth to pull away 7-3. Hill added another hit with his RBI hit as he provided two of the team's five hits.
Tyler Payne, Morel, and Andy Weber rounded out the hits for Tennessee as they couldn't generate much of anything. Miguel Amaya may have gone hitless, but he did reach base three times off of walks as he continues to see the ball well. Ben Leeper continues his impressive start to his pro career, tossing a scoreless inning of relief to bring his ERA down to 1.00 in nine innings.
Matt Swarmer had a fantastic outing, but ultimately the Smokies fall 7-3 to the Shuckers. #SmokiesBaseball https://t.co/sYp12NWcQO

— Tennessee Smokies (@smokiesbaseball) May 23, 2021
SOUTH BEND CUBS 5 – DAYTON DRAGONS 4
It has taken the Cubs a little while to get going, but they are starting to look like the team fans thought they would. With Matt Kachmar turning in a gutsy four-plus inning start, Brennen Davis stole the show. After going hitless in his only other game this season, Davis not only unloaded for his first homer of the season but worked three walks to reach base four times.
Down 2-0 in the third following the Juan Martinez homer in the top half of the inning, Davis made his presence felt with his homer as that not only was his first hit of the season but gave the Cubs a 3-2 lead, and they didn't look back from there. Even with Alex McGarry tying things up with a single in the eighth, South Bend kept the pressure on as a bases-loaded walk to Jake Washer put the Cubs back in front before an RBI fielder's choice from Delvin Zinn made things 5-3.
With Eury Ramos on for the save in the ninth, the Dragons would not go away quietly, with Jacob Hurtubise picking up a single to make things 5-4. Hurtubise was caught stealing on the next at-bat as Ramos recovered after his shaky start to finish things off. Along with Davis and his big hit, the Cubs added four other hits, with one hit coming from Zinn, Cole Roederer, Washer, and Tyler Durna. South Bend also took nine walks as a team. Chase Strumpf and Jake Slaughter combined to go 0-6 in the game, but Strumpf did take a walk.
May 23, 2021
MYRTLE BEACH PELICANS 8 – LYNCHBURG HILLCATS 3
Speaking of big innings, the Pelicans used a five-run inning of their own to surge past Lynchburg 8-3 for the win. Sam Thoresen got the start and allowed two runs in four innings, but it was the bullpen that shined late to give the offense a chance to come back.
Matt Mervis opened up the scoring with a sacrifice fly in the first only to see Reivaj Garcia pick up a single in the fourth ahead of an error as the Pelicans led 3-0 early. Following three great innings to start his outing, Lynchburg finally got to Thoresen in the fourth. Andres Melendrez made things 3-1 with a sacrifice fly before Cody Farhat ripped a single to close within 3-2. A Mervis error in the fifth led to another Hillcats run, and suddenly things were tied up 3-3.
Hoping to put that mistake behind them, the Pelicans offense exploded in the seventh as they put the game away. A costly error not only allowed Jonathan Sierra to reach but brought home the winning runs as the Pelicans now led 5-3. A Jacob Wetzel single and Flemin Bautista double followed that up as the Pelicans pushed across five runs that inning to seal the deal 8-3.
While the Pelicans did pick up eight hits, it was Bautista who stole the show going 3-4 in his debut along with those two RBI's. Edmond American, Yeison Santana, and Yohendrick Pinango added one hit from the top of the lineup, with Garcia and Wetzel picking up the other two. Ethan Hearn went hitless, striking out for two of the 15 Pelican strikeouts. He did also earn two walks as Myrtle Beach earned nine of those.
Great way to cap off the series!

Pelicans take two of six at Augusta, and will head to Salem for the next series against the Red Sox. #MBPelicans pic.twitter.com/fzUM7moiAt

— Myrtle Beach Pelicans (@Pelicanbaseball) May 23, 2021

Tags: Cubs Baseball
,
Alec Mills
,
Kyle Ryan
,
Rafael Ortega
,
Taylor Gushue
,
Patrick Wisdom
,
Ian Miller
,
Darius Hill
,
Christopher Morel
,
Andy Weber
,
Miguel Amaya
,
Delvin Zinn
,
Eury Ramos
,
Cole Roederer
,
Tyler Durna
,
Chase Strumpf
,
Jonathan Sierra