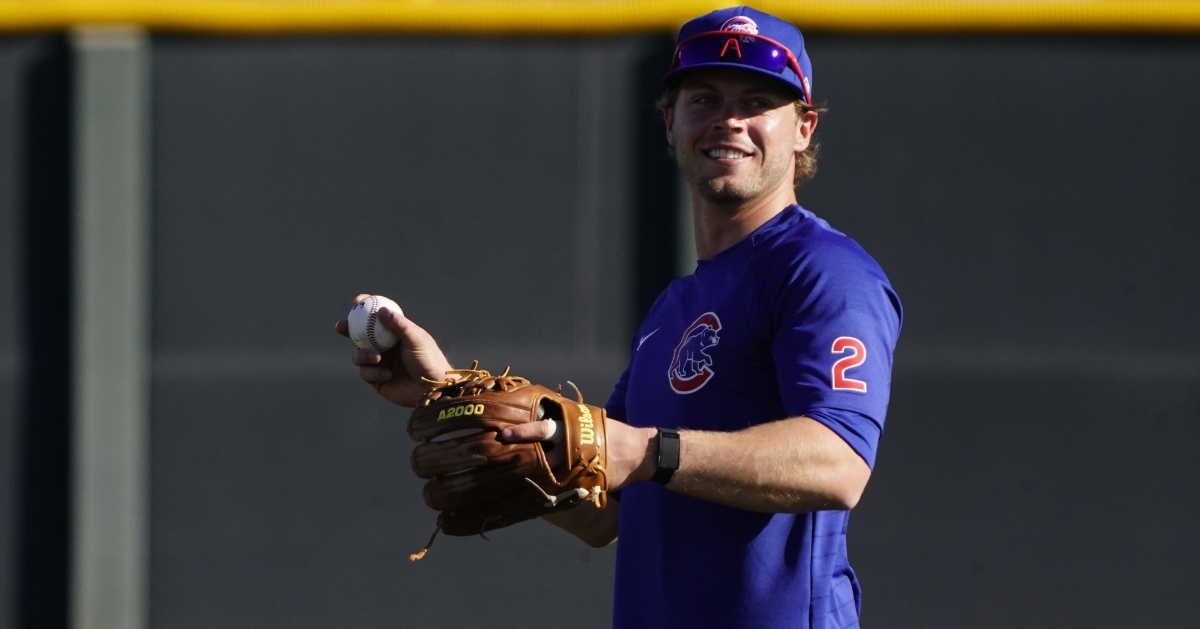 | | |
| --- | --- |
| Cubs Minor League News: Nico Hoerner's rehab start, Perlaza smacks grand slam, more | |
---
| | | |
| --- | --- | --- |
| Monday, June 28, 2021, 5:00 PM | | |
Sunday was a very important day down on the farm and not just because of the results. It was a great day overall, with the Cubs going 4-1 on the day with their only loss coming off a suspended game that was completed.
While the results are always a positive thing to look at, the most important part of the day was the players who began their rehab assignments as Nico Hoerner, Justin Steele, and Trevor Williams all started rehab assignments to return to Chicago soon. Their presence alone could translate to more wins which was the case Sunday.
IOWA CUBS 6 – OMAHA STORM CHASERS 1
The Iowa Cubs deserve a ton of credit for how they played against Omaha this week, earning a series split with a 6-1 win. Williams got the start in his first of most likely three rehab outings and looked great in his two innings. Not only did he not allow a hit, but he struck out two before giving way to Kohl Stewart.
After leaving his last start injured, seeing Stewart return was a sigh of relief, and he rewarded Iowa with four innings of scoreless relief, allowing no hits and three strikeouts. The Cubs also received scoreless outings from Kyle Ryan and Adam Morgan, while Justin Steele surrendered the lone run in his first rehab relief appearance.
Most of the Iowa offense came in the fourth and fifth innings, where they scored five of their six runs. Three of those came in the fourth when Tyler Ladendorf ended the scoreless tie with a double before Tony Wolters, and Ian Miller picked up RBI singles. One inning later saw Vance Vizcaino come through with an RBI single of his own to push across two more runs, with Iowa now leading 5-0.
With Emmanuel Rivera taking Steele deep for his 14th bomb of the season, Omaha was on the board, but they still trailed 5-1. Wolters would then cap off the scoring with his second RBI single in the bottom of the seventh lifting Iowa to a 6-1 win. While most of the rehabbing players were on the pitching side of things, Hoerner was also involved as he led off going 1-2. Five Cubs players recorded double-digit hits, including Miller, Nick Martini, Wolters, Vizcaino, and Edwin Figuera, as nearly everyone had a hit in the win.
Finished the home stand with a W! pic.twitter.com/Dprnvf4Sbv

— Iowa Cubs (@IowaCubs) June 27, 2021
TENNESSEE SMOKIES 2 – MISSISSIPPI BRAVES 1
If you are a fan of pitching, then you came to the right place as both Mississippi and Tennessee put on a pitching clinic. Peyton Remy got the start for Tennessee, and although he lasted just 2 2/3 innings, he only allowed one run on two hits. He was followed by Luis Lugo, who struck out five in 3 1/3 innings of work to secure his second win of the season.
Brandon Little and Ethan Roberts also saw time on the mound as they held Mississippi scoreless the final eight innings, which allowed for the offense to get the job done. Remy has been strong all season, and it has been rare to see him allow a first-inning run. That is precisely what happened on Sunday as Shea Langeliers picked up an RBI single in the first for lone Braves run.
Tennessee was able to respond to that run about as quick as possible using a Tyler Payne second-inning RBI double to tie things up 1-1. With the game still tied in the fifth, Carlos Sepulveda came through with an RBI single off starter A.J. Puckett to give Tennessee the 2-1 lead. That hit proved to be the game-winner as the Smokies put an end to their series against the Braves on a winning note.
Sepulveda continues to impress with Tennessee, as the 19-year-old collected two more hits to bring his average to 281 for the season. Zach Davis, Nelson Maldonado, Brennen Davis, and Payne all added hits in the game. Darius Hill and Chase Strumpf went hitless as they will look to turn things on next week.
SOUTH BEND CUBS 11 – FORT WAYNE TIN CAPS 4
After falling 3-2 in their suspended game earlier in the day, the Cubs turned the tables on the Tin Caps and ended the weekend in dominating fashion. Brad Deppermann continues to give South Bend four-plus innings of work every time out, but still needs to do a little better job putting people away. Fortunately, the Cubs offense did more than enough to shoulder the load as they routed the Tin Caps.
When you look at Deppermann's final line, it could have been a lot worse as he allowed three first-inning runs off singles by Austin Ruiz and Justin Lopez to put South Bend in a 3-0 hole. Fortunately for him and the Cubs, that was all he allowed as he not only settled in, but the team itself had the Tin Caps guessing the final eight innings.
Given the offensive challenges the Cubs have faced this season, three runs are sometimes hard to overcome. On this day, however, the Cubs responded with three runs of their own as Bradlee Beesley worked a bases-loaded walk ahead of a Yonathan Perlaza single to tie things up 3-3 in the second. One inning later saw the Cubs bats explode as they busted things wide open with a six-run third to take a 9-3 lead.
Matt Burch got the inning started with an RBI single to right before Delvin Zinn added to the lead with a sacrifice fly. As if two RBIs wasn't a good day already, Perlaza had other ideas in mind as he connected for a long Grand Slam to cap off the big innings with the Cubs now leading 9-3. Even with that massive inning, the Cubs offense still wasn't finished as Jacob Olson, and Burch added RBI doubles in the fourth to extend the lead to 11-3. Fort Wayne added a run in the fifth off a wild pitch, but that was it when it came to scoring, with the Cubs rolling 11-4.
Even though Perlaza had just two hits, he made them count as he collected six RBIs off those hits. Burch added a pair of hits and a pair of RBIs from the bottom of the order, with Zinn, Jake Slaughter, Olson, and Harrison Wenson picking up hits in the victory.
MYRTLE BEACH PELICANS 10 – COLUMBIA FIREFLIES 6
Perhaps the most exciting game on Sunday came in low A, where the Pelicans topped Columbia 10-6. What started as a pitcher's duel turned into a late-game slugfest as the teams combined for 10 ninth-inning runs, including seven from Myrtle Beach, to pick up the win.
Adam Laskey got the start and lasted just 2 1/3 innings as his command was an issue. Although he only allowed one run on two hits, he walked six hitters in his brief outing and was forced to through high-stress pitches to keep Columbia off the board. As expected, one of those walks brought in a run with Kale Emshoff working a bases-loaded walk in the second, but that came after Matt Mervis doubled home a pair earlier as the Pelicans still led 2-1.
That 2-1 score held up until the bottom of the seventh when Columbia pushed home a pair on a Herard Gonzalez sacrifice fly and Darryl Collins single, putting the Fireflies up 3-2. Mervis continued his big game with a solo shot in the eighth to draw even once again, but it was the ninth inning when the fireworks began.
A 3-3 game turned into a 6-3 Pelicans lead with Jacob Wetzel going deep for the third time this season. Myrtle Beach was just getting started as a missed catch allowed two more runs to score before the Fabian Pertuz double capped off a seven-run inning with the Pelicans comfortably in front 10-3. The Fireflies tried to make things interesting in the bottom half of the ninth, with Gonzalez picking up an RBI double ahead of a Collins single. Add in a bases-loaded Omar Hernandez walk, and Columbia was one home run away from tying the game.
Fortunately, that didn't happen as the Pelicans were able to close things out from there, picking up a much-needed 10-6 win. Mervis was one of three players to collect multiple hits as he paced the offense with three RBIs. Pertuz added two RBIs of his own with two hits, with Yohendrick Pinango grabbing another multi-hit effort. Ryan Reynolds and Wetzel added hits, with Jordan Nwogu collecting his first career pinch-hit as a pro.
Series = salvaged.

Pelicans move to 6-1 on Sundays and split the series with Columbia.

We'll be back home for a week full of 4th of July celebration. #MBPelicans pic.twitter.com/9D3zkg1a9z

— Myrtle Beach Pelicans (@Pelicanbaseball) June 28, 2021

Tags: Cubs Baseball
,
,
Justin Steele
,
Trevor Williams
,
Kohl Stewart
,
Kyle Ryan
,
Ian Miller
,
Vance Vizcaino
,
Peyton Remy
,
Luis Lugo
,
Ethan Roberts
,
Carlos Sepulveda
,
Zach Davis
,
Nelson Maldonado
,
Brennen Davis
,
Darius Hill
,
Chase Strumpf
,
Yonathan Perlaza
,
Delvin Zinn
,
Jacob Olson
,
Ryan Reynolds