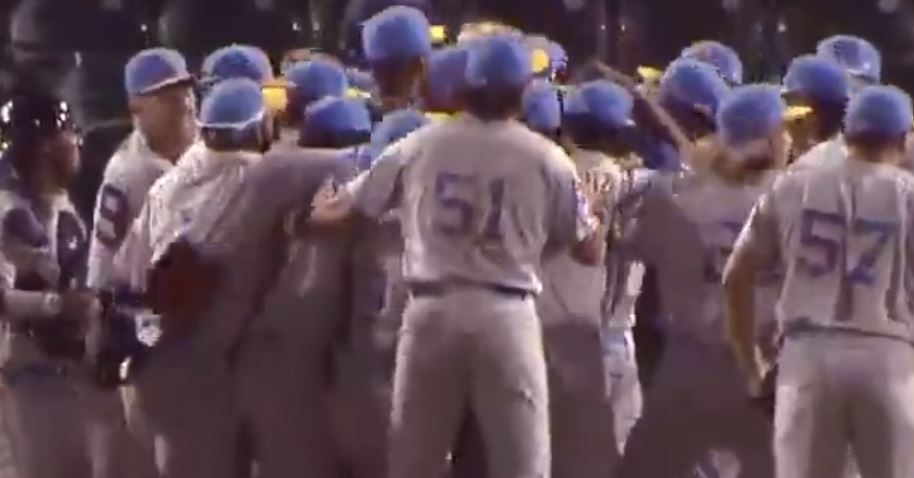 | | |
| --- | --- |
| Cubs Minor League News: Pelicans with 1st no-hitter since 2012, Martini homers, Bain with | |
---
| | | |
| --- | --- | --- |
| Thursday, June 24, 2021, 5:00 PM | | |
It was a jam-packed night on the farm last night as all four teams were in action, compiling five total games. While the results were not as good as the organization would like, going just 2-3, there was a no-hitter thrown for Myrtle Beach as that now makes two no-hitters in the Cubs system this season.
For a team desperate for future pitching, that is a promising sign.
OMAHA STORM CHASERS 12 – IOWA CUBS 4 (game 1)
In a make-up game from an earlier series in Iowa, the league-leading Storm Chasers took it to the Cubs in game one 12-4. Needing length out of their starter, Matt Swarmer had to wear this one on the chin as he was touched up for nine runs, eight of them earned in five innings of work.
Those runs started happening immediately in the first inning, and Omaha never looked back. With Iowa trailing 1-0 in the bottom of the first, Trayce Thompson took it upon himself to give Iowa the early 2-1 lead as he cranked his team-leading eighth homer of the season. However, that lead was short-lived, as Omaha pushed across seven runs the next two innings to take an 8-2 lead. Gabriel Cancer Cancel played a monster role in that connecting for a two-run shot in the second before bringing home two more with a triple in the third.
Thompson added an RBI groundout in the bottom of the third to pull within 8-3, only to see Meibrys Viloria homer in the fifth, followed by RBI doubles from Ryan McBroom and Cancel in the seventh. Dee Strange-Gordon capped off the scoring with an RBI groundout in the bottom of the seventh.
IOWA CUBS 8 – OMAHA STORM CHASERS 5: (game 2)
After getting bludgeoned in game one, the Cubs turned the tables in game two using a huge third inning to take the lead and hold on for the doubleheader split. Adrian Sampson got the start in game two and allowed four runs in five innings of work. That doesn't sound too impressive, but he did what he needed to do to earn the win, with Trevor Megill and Jake Jewell closing things out in relief.
Iowa is no strangers to early leads this season as Taylor Gushue powered one out for his fourth homer of the season, giving Iowa an early 1-0 lead in the second. While grabbing early leads hasn't been an issue, holding on to them has, but the Cubs had no interest in letting this one slip away. On the strength of a Tyler Ladendorf single and Michael Hermosillo double, Iowa raced out to a 3-0 in the bottom of the third. Nick Martini put an exclamation point on that inning, belting a three-run shot to put Iowa in front 6-0.
Nick Martini with a 3-run jack for the @IowaCubs!

??: https://t.co/2DXazJtVdp pic.twitter.com/MggUavSWjE

— Marquee Sports Network (@WatchMarquee) June 24, 2021
That homer proved to be crucial as it provided the game-winning run in the process. Over the next several innings, Omaha did a great job fighting back, climbing to within 6-5 following five unanswered runs. However, Erick Castillo put an end to that with a sixth-inning sacrifice fly, while the newest Cubs shortstop Edwin Figuera added another RBI to secure the 8-5 win.
Back in the win column for game two! We'll be back again tomorrow, first pitch at 7:08. pic.twitter.com/HCwx5J2xG8

— Iowa Cubs (@IowaCubs) June 24, 2021
MISSISSIPPI BRAVES 3 – TENNESSEE SMOKIES 0
You got to feel for the Smokies as they continue to struggle to find wins despite playing strong baseball. The Smokies wasted another strong pitching performance by Cam Sanders, who allowed just three runs in five innings of work. While his command wasn't where he wanted it to be, he was able to pitch in and out of trouble, but it was the offense that lacked in a 3-0 loss.
All three of the Braves runs came in one inning as the third proved to be their undoing. It started with a Braden Shewmake double that brought home a pair, giving the Braves a 2-0 lead, and they never looked back. Trey Harris would add a sacrifice fly later as Tennessee was held to just six hits in the losing effort.
Loss aside, the Smokies are the youngest team in all of AA, so they will only continue to improve with more experience on the diamond. One player who does appear ready for AAA is Darius Hill, as he collected two more hits to bring his average to 312. Chase Strumpf, Tyler Payne, Carlos Sepulveda, and Connor Myers added hits in the loss, with Christopher Morel and Brennen Davis going hitless. Davis had a rough night going 0-4 with four strikeouts.
These fans are having fun inside Smokies Stadium. Be like these fans and have fun inside Smokies Stadium too. #SmokiesBaseball #GoSmokies
?? https://t.co/zoAOUp4sPV pic.twitter.com/Q1XW9tT00f

— Tennessee Smokies (@smokiesbaseball) June 24, 2021
FORT WAYNE TIN CAPS 8 – SOUTH BEND CUBS 0
This was a classic case of one of those games where the scoreline doesn't tell the whole story. Despite being held to just two hits, South Bend was right with Fort Wayne, keeping them off the board for the first six innings. All it took was one inning and, in this case, one big innings as the Tin Caps scored all eight of their runs in the seventh to cruise to an easy win.
After a rough start to his season, Max Bain is starting to figure things out and delivered his best outing of the season. In six innings of work, not only did Bain not allow a run, but he held the Tin Caps hitless walking only three and striking out eight. It was an impressive performance, to say the least, as it was up to the Cubs bullpen now to keep things close.
Once the seventh inning arrived, Fort Wayne looked like an entirely different team as their offense went to work on the Cubs pen in a big way. A Justin Lopez double not only gave the Tin Caps the lead, but proved to be the winning run in the process. Add in a Jawuan Harris single and bases-loaded walk, and just like that, the Cubs trailed 4-0.
Agustin Ruiz picked up a double of his own to bring home a pair before a Cubs error allowed two more runners to score with the bases still loaded. All in all, eight Tin Cap runners came home to score, and that was more than enough for them to take down South Bend 8-0. Despite Bain tossing six hitless innings, Fort Wayne was equally as good as Gabe Mosser, and Felix Minjarez combined to allow just two hits with two walks and 10 strikeouts. Nelson Velazquez and Josue Huma were responsible for the hits, with Yonathan Perlaza and Jake Washer earning walks.
An eight-strikeout no-hit gem from Max Bain isn't enough as the Cubs fall again to Fort Wayne. pic.twitter.com/0OPq0TFHLZ

— South Bend Cubs (@SBCubs) June 24, 2021
MYRTLE BEACH PELICANS 5 – COLUMBIA FIREFLIES 0
History was made last night in Columbia as the Pelicans no-hit the Fireflies en route to a 5-0 win. DJ Herz got all the fun and games started as he got the start and tossed the first five innings. Despite walking four, Herz struck out seven and notched his first career win for the Pelicans.
Following Herz, the Pelicans trotted out Jeremiah Estrada, Bailey Reid, and Danis Correa. The quartet of arms finished off the no-hitter walking seven batters in the game but striking out 16. With the Pelicans doing their thing on the mound, all it took was one run to secure the win, and that came off the bat of Luis Verdugo as his RBI force play in the second gave Myrtle Beach a 1-0 lead.
That lead continued to grow in the fourth inning when Jonathan Sierra picked up a sacrifice fly before seeing Fabian Pertuz add an RBI single in the seventh to push the lead to 3-0. Even with a 3-0 lead and no hits allowed through eight, the Pelicans still weren't comfortable with their lead and were hoping for more support. That support came from Pertuz as he capped off a big night with a two-run shot in the ninth to give the Pelicans a 5-0 win.
Pertuz was the man of the hour for the Pelicans offense as he not only collected a pair of hits from the ninth spot, but drove in three runners too. The rest of the lineup saw plenty of hits from top to bottom, with only Ed Howard coming away hitless in the win.
NO-HITTER!@Cubs DJ Herz, Jeremiah Estrada, Bailey Reid and Danis Correa combine for the first @Pelicanbaseball no-no since 2012.https://t.co/mqm9f7ePyO pic.twitter.com/2EkHN7IhwP

— Minor League Baseball (@MiLB) June 24, 2021

Tags: Cubs Baseball
,
Trevor Megill
,
Jake Jewell
,
Taylor Gushue
,
Michael Hermosillo
,
Erick Castillo
,
Cam Sanders
,
Darius Hill
,
Chase Strumpf
,
Carlos Sepulveda
,
Connor Myers
,
Christopher Morel
,
Brennen Davis
,
Nelson Velazquez
,
Josue Huma
,
Yonathan Perlaza
,
Jeremiah Estrada
,
Jonathan Sierra