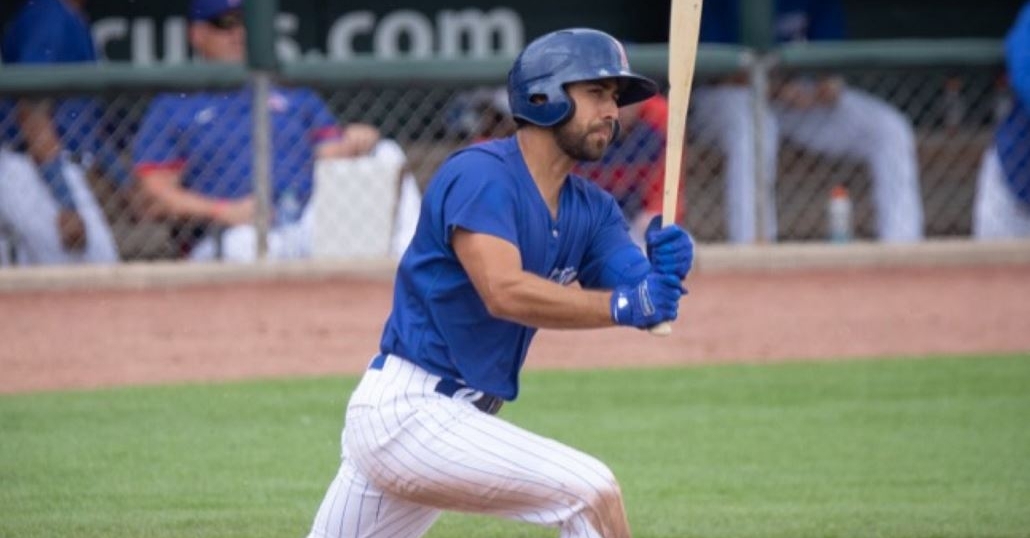 | | |
| --- | --- |
| Cubs Minor League News: Rivas with four hits, Smokies smokin' homers, Hertz perfect, more | |
---
| | | |
| --- | --- | --- |
| Friday, April 22, 2022, 12:00 PM | | |
Winning is fun. While the Cubs MLB team has been struggling their past three games, the minor league system hasn't, as wins have come more frequently. Even though there weren't as many wins last night as in the past, the Cubs organization still managed to play .500 ball, going 2-2 on the evening.
LOUISVILLE BATS 7 - IOWA CUBS 6 (10 innings)
Despite outhitting the Bats 15-9, sometimes it is about quality, not quantity. That is precisely what the case was on Thursday as the Bats walked off the Cubs in 10 innings.
All eyes continue to be on Iowa every time Caleb Killian takes the ball. Listed as the organization's No. 3 prospect and top pitching prospect, Killian continues to make a name for himself, getting through five innings and allowing just one run. He walked one and struck out four as his ERA fell to 1.54. Outside of him, the pitching struggled as the Cubs bullpen surrendered six runs.
While Killian was strong on the mound, Bernardo Flores JR was not as he allowed five runs on 12 hits in just 3 2/3 innings. Iowa wasted very little time getting on the scoreboard, pushing across a pair of first-inning runs on the Brennen Davis sacrifice fly, and John Hicks ground out to take a 2-0 lead. Two innings saw Hicks add to that lead as his RBI single made things 3-0.
Not ready to pack it in yet, Alfonso Rivas extended the lead to 5-0, ripping an RBI double in the fourth. It took Louisville until the bottom of the fourth to cash in off Killian, with Allen Cordoba adding an RBI double. At that moment, the momentum began to shift as the Michael De Leon homer in the seventh brought the Bats within 5-3.
Down to their last at-bat, Cayne Ueckert helped the Bats out with a wild pitch before the Lorenzo Cedrola single tied things up and sent the game into extras. In the extra frame, P.J. Higgins gave the Cubs a 6-5 lead courtesy of a sacrifice fly. That set the stage for the Bats, and an old friend in Albert Almora Jr as RBI double tied things up 6-6. Almora would later come around to score the winning run as Cristian Santana ripped a game-winning double to secure the win.
Tough loss in extras tonight. pic.twitter.com/gBh3QP8Wq5

— Iowa Cubs (@IowaCubs) April 22, 2022
TENNESSEE SMOKIES 10 - ROCKET CITY TRASH PANDAS 3
Talk about a team starting to peak on both sides of the ball. The Tennessee Smokies have been on fire lately. Led by a strong pitching staff and anchored by a six-run second inning, the Smokies dominated Rocket City for an impressive 10-3 win.
Cam Sanders got the ball for the Smokies, and although he allowed three runs in 4 2/3 innings, only two were earned. Sanders walked zero and struck out seven, but didn't go long enough to get a win. That went to Bryan Hudson, who is now 4-0 in relief this season.
The earned runs Sanders allowed came in the first inning when Trey Cabbage and Preston Palmiero connected for solo shots. Looking to erase that deficit, Christopher Morel cut the lead in half with a homer of his own in the first before Rocket City extended the lead to 3-1 off, a second-inning error.
Looking to keep pace, the Smokies not only did that, but exploded for a huge inning as they took the lead and never looked back. Luis Vazquez got things started with an RBI single to pull Tennessee within one. That set the stage for Darius Hill, who delivered the big hit with a grand slam giving the Smokies a 6-3 lead.
Darius Hill grand slam! pic.twitter.com/fDDYE9xpgb

— Todd ?????? (@CubsCentral08) April 21, 2022
Nelson Velazquez capped off a six-run frame with his third homer in two days as the Smokies were off and running.
Nelson Velasquez just hit his third home run in two days pic.twitter.com/MSNBXykR0b

— Todd ?????? (@CubsCentral08) April 21, 2022
Following that six-run frame, the Smokies kept their feet on the gas, with Chase Strumpf and Nelson Maldonado adding solo shots to extend the lead to 9-3.
Nelson Maldonado dinger. I can't keep up with all these home runs in Tennessee pic.twitter.com/wvYUjeiQ8j

— Todd ?????? (@CubsCentral08) April 21, 2022
Morel capped off the scoring in the fourth with an RBI double as Tennessee continues to dominate in all facets. The Smokies connected for 10 hits, with Hill, Morel, Strumpf, and Maldonado grabbing two.
How about an easy 450 to center field for Christopher Morel? pic.twitter.com/IMc6V9vFaM

— Greg Huss (@OutOfTheVines) April 21, 2022
When five different Smokies batters hit home runs, you celebrate accordingly. Enjoy your slumber Smokies fans, your favorite baseball team is in first place.#CubTogether #SmokiesBaseball #Cubs pic.twitter.com/g8uMfTWEjj

— Tennessee Smokies (@smokiesbaseball) April 22, 2022
BELOIT SKY CARP 4 - SOUTH BEND CUBS 2
Despite another strong pitching performance, the offense struggled to get going falling to the Sky Carp on Thursday. DJ Herz, although abbreviated outing, was perfect through four innings, striking out four to lower his ERA to 0.82.
He was locked into a battle with Hunter Perdue, who gave up just one run in his five innings of work, with that run coming off an Ed Howard homer in the third for his first of the season.
Ed Howard
That ball gets out in a hurry in the last pic.twitter.com/bMZceY3Ppf

— Todd ?????? (@CubsCentral08) April 21, 2022
That score would hold until the sixth inning until Beloit finally got to Eduarniel Nunez, who relieved Herz.
Cody Morissette tied things up with an RBI single in the sixth, but the wild pitch by Bailey Reid put Beloit on top for good with that run charged to Nunez. One inning later saw Reid uncork a second wild pitch leading to another run with the Cubs trailing 3-1. Looking to battle back in the eight, South Bend pulled one-run closer, with Howard pushing home another run off a double play. That would be as close as they would get as the Sky Carp added a ninth-inning run to prevail 4-2.
The Cubs managed just six hits in the game from six different players as Howard, Bradlee Beesley, Yohendrick Pinango, Caleb Knight, Fabian Pertuz, and Pablo Aliendo recording those hits.
MYRTLE BEACH PELICANS 8 - DELMARVA SHOREBIRDS 3
Myrtle Beach is another team starting to play very well, as the Pelicans improved to 7-5 with another impressive win. Flame thrower Luke Little got the start allowing two runs in just over two innings, but Walker Powell stole the show. Not only did he give the Pelicans 4 plus innings of relief, but he allowed just one run to go with seven punchouts.
Both of the runs Little allowed came in the second inning when Luis Valdez picked up an RBI single to put Delmarva in front 2-0. That lead didn't last long as the Pelicans responded two innings later and pushed across all eight of their runs in a four-inning stretch.
The first of those runs came in the fourth inning as Miguel Fabrizo tripled to make things 2-1 before coming home on the Malcolm Quintero single. Later, one inning saw the Pelicans take the lead for good, with Jacob Wetzel delivering the go-ahead hit before a wild pitch made things 4-2.
Moving to the sixth and it was starting to become duces wild as the Kevin Alcantara single and Fabrizio double made things 6-2.
A great night gets better for Miguel Fabrizio!

His second RBI of the night comes on a double and moves the Pelicans first baseman a homer away from the cycle.

Pelicans 6, Shorebirds 2 in the bottom of the sixth. pic.twitter.com/LleJ4A2S6H

— Myrtle Beach Pelicans (@Pelicanbaseball) April 22, 2022
Myrtle Beach added a pair of seventh-inning sacrifice flies from Liam Spence and Ezequiel Pagan as the Pelicans rolled to the 8-3 win.
Fabrizio paced the offense on Thursday as he finished with three hits and two RBIs. Wetzel and Alcantara added multi-hit efforts as the Pelicans picked up 10 hits in the win.
Keepin' it goin'.

Pelicans win their second straight. #MBPelicans pic.twitter.com/7oBWBkpeiV

— Myrtle Beach Pelicans (@Pelicanbaseball) April 22, 2022

Tags: Cubs Baseball
,
Brennen Davis
,
Alfonso Rivas
,
Albert Almora
,
Cam Sanders
,
Bryan Hudson
,
Christopher Morel
,
Luis Vazquez
,
Darius Hill
,
Nelson Velazquez
,
Chase Strumpf
,
Nelson Maldonado
,
Eduarniel Nunez
,
Caleb Knight