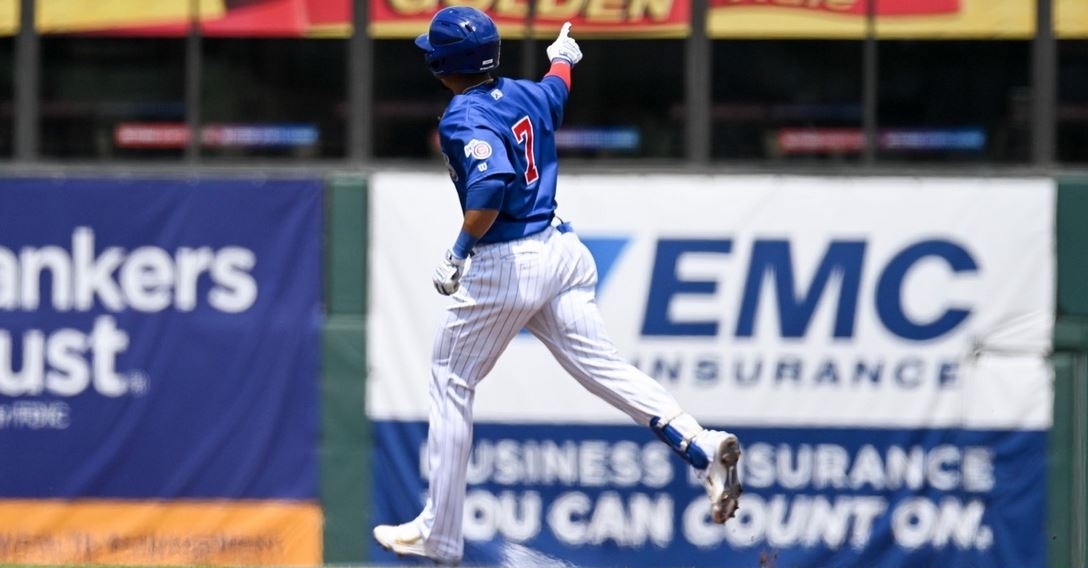 | | |
| --- | --- |
| Cubs Minor League News: Robel Garcia on fire, Canario homers, SB with two-hitter, more | |
---
| | | |
| --- | --- | --- |
| Thursday, May 19, 2022, 10:16 AM | | |
After enduring their first losing night on the diamond in over a week, all four teams were back in action Wednesday as a trio of afternoon games set the tone.
The theme of those afternoon games was not only winning baseball, but winning in a big way, as the Cubs were 3-0 before the nightcap got underway. Even with the Smokies coming up short, it was another 3-1 showing for an organization focused on winning Minor League games.
IOWA CUBS 8 - COLUMBUS CLIPPERS 1
The best way to bounce back from a rough outing the day before is to return the favor. That is what Iowa had in mind as they took down the Clippers 8-1 to even up the series. Since returning to the Cubs, Luke Farrell has looked good and continued that with five innings of one-run ball. He gave way to Erich Uelmen, Ben Leeper, and Brendon Little, who all pitched scoreless relief outings.
The same luck can't be had for Tobias Myers, who was roughed up for six runs in four innings. That tends to happen when you have four walks to just two strikeouts, as the command was not his specialty.
Farell not only allowed his lone run early, but got it out of the way in the first inning when Will Benson went deep for No. 6. Apart from that, the Clippers offense was quiet as Iowa was set to get rolling. Clint Frazier managed to tie things up with an RBI groundout in the third, but it was that man again, Robel Garcia launching another Robel bomb in the fourth to put the Cubs on top for good 2-1.
Later, one inning saw Garcia come through again as he ripped an RBI double to make things 4-1. Garcia now has 10 homers and 24 RBIs on the season, and you have to wonder if a call-up is in his future. Still in the fifth, it was P.J. Higgins cashing in as his two-run RBI single capped off a four-run frame with the Cubs on top 6-1.
Higgins day wasn't quite over as an RBI double in the seventh capped off his three-RBI afternoon with Iowa in front 7-1. Narcisco Crook capped off the scoring with an eighth-inning solo bomb as Iowa rolled to an 8-1 win. Garcia is the hottest hitter on the planet right now as he led the way with three more hits to go with his three RBIs. Dixon Machado and Higgins added multi-hit efforts, with Higgins adding three RBIs himself.
Back in the win column! pic.twitter.com/THASKUH4dH

— Iowa Cubs (@IowaCubs) May 18, 2022
CHATTANOOGA LOOKOUTS 6 - TENNESSEE SMOKIES 5 (10 innings)
The lone team to take a loss on Wednesday was the Smokies. For the second time this season, the first time at home, the Smokies were locked into an extra-inning game with the Lookouts as they continue to play them tough. Even with a great chance to rally late, it wasn't enough as the Lookouts claimed the first two games of this series 6-5.
Javier Assad was hoping to build off his last few showings on the mound, but didn't quite deliver. Sure, he gave the Smokies five innings, but he was lifted in favor of Dalton Stambaugh after allowing four runs on six hits. In his best outing of the season, Stambaugh allowed an unearned run before settling down to give his team a chance.
It was nice to see the Smokies score first again, with Bryce Ball unloading for a second inning and a 1-0 lead.
Bryce Ball cannot be stopped or contained. pic.twitter.com/4y0eTJg5pe

— Brad (@ballskwok) May 18, 2022
With the Lookouts now hitting, things started to turn gold for them, with Quincy McAfee tying things up with an RBI double before the Quin Cotton single made things 2-1. Tennessee was not about to go away quietly as they used a Darius Hill homer in the third to pull even 2-2.
Both teams continued to exchange blows in the fourth. McAfee connected for the two-run double in the top half of the inning before Alexander Canario went deep for his first AA homer to bring things back to even again, 4-4.
Alexander Canario HR #1 at AA. pic.twitter.com/RUe1c0Xn4a

— Itsacon (@thats_so_cub) May 19, 2022
That 4-4 score would hold until the later innings when both bullpens allowed runs.
First, it was the Lookouts scoring in the eighth, with Francisco Urbaez delivering with a sacrifice fly. Moving to the ninth, you had Levi Jordan come up huge as his RBI single things up again and forced extras. Looking to get out of the 10th without allowing a run, Isiah Gillham ripped an RBI single off of Eury Ramos to give his team a 6-5 lead. Tennessee had the tying run at third in the bottom half of the inning, but couldn't cash in as they fell by the 6-5 score.
A close contest goes in favor of Chattanooga. pic.twitter.com/NYIrIpaFHd

— Tennessee Smokies (@smokiesbaseball) May 19, 2022
SOUTH BEND CUBS 8 - WISCONSIN TIMBER RATTLERS 2
Sparked by a four-run inning early in the game, the South Bend Cubs were able to cruise to an 8-2 win against Wisconsin to even up their series. Daniel Palencia gave the Cubs a brief, but successful three-inning start as he kept Wisconsin off the board.
Palencia gave the ball to Riley Martin, who allowed both runs in four innings of work and struck out six. Eduarniel Nunez took care of the final two innings as South Bend racked up 13 punchouts in the win.
Facing off against Palencia was Ryne Moore, whose start didn't go as planned. After getting through the first with no damage, the South Bend bats came to life in the second as a four-spot was enough to pick up the win. A Greyson Byrd RBI double started things off before an error doubled the lead. Jordan Nwogu added an RBI single later in that frame to put the Cubs in front 4-0.
Two innings later, and same story as the suddenly hot Owen Caissie ripped an RBI double to left ahead of a Nwogu sacrifice fly to make things 6-0. Add another sacrifice fly in the fifth, and the Cubs were in complete control at 7-0.
The bottom of the fifth is when the Timber Rattlers were able to cash in off Martin as Ashton McGee connected for his third double of the season to make things 7-2. The Cubs would bring home an additional run late to win by an 8-2 score. Yeison Santana was the only player in the lineup with multiple hits as all, but one player tallied a hit.
2-hitter. Fly the W. Series tied. pic.twitter.com/g4pWa5NbdI

— South Bend Cubs (@SBCubs) May 18, 2022
MYRTLE BEACH PELICANS 13 - COLUMBIA FIREFLIES 2
I know overall records don't mean a ton in Minor League baseball, but the Pelicans have to feel a sense of relief seeing someone other than Charleston this week. After putting up 15 runs in game one, the Pelicans offense continued to play well as they took game two of the series 13-2.
Despite this not being one of his better ones, Porter Hodge continues to make a name for himself on the mound. The two runs allowed and five strikeouts were nice, but lasting just 3 2/3 innings was not good. Seeing Luis Rodriguez and the bullpen toss 6 1/3 scoreless frames was all this team needed with the Pelicans dominating again.
Both runs surrendered by Hodge came in the first inning, with Carter Jensen giving the Fireflies the lead with an RBI double before the Darryl Collins single made things 2-0. Even at that, the Pelicans offense took a while to get going using a Felix Stevens homer in the fourth to tie things up before getting going in a big way.
Felix goes YARD.

Second home run of the season for Felix Stevens is a two-run shot to tie the game 2-2 in the top of the fourth. #MBPelicans pic.twitter.com/EBYe3MSuyE

— Myrtle Beach Pelicans (@Pelicanbaseball) May 18, 2022
In the fifth, RBI singles from BJ Murray and Malcolm Quintero gave the Pelicans the lead for good, but the offense was just getting started. The sixth inning was the biggest inning for the Pelicans as four runs came home on three RBI singles. James Triantos(2), Quintero, and Jacob Wetzel grabbed those hits to push the lead to 8-2.
One inning later, the same story with Juan Mora picking up another RBI single to stretch the lead to 10-2. With the game well in hand, the Pelicans continued to keep the pressure on, bringing home three more runs in the ninth. All three came on bases-loaded walks, with Murray Jr, Wetzel, and Stevens earning the RBIs in a 13-2 win.
With 17 hits, there was plenty of offense to go around, with Pete Crow-Armstrong leading the way with three hits as Mora joined him. Ezequiel Pagan, Triantos, Quintero, and Kevin Made had multi-hit days as the Pelicans offense has Columbia guessing through two games.
Hey,

Birds win again.#MBPelicans pic.twitter.com/lFrdqG3Tlt

— Myrtle Beach Pelicans (@Pelicanbaseball) May 18, 2022

Tags: Cubs Baseball
,
Erich Uelmen
,
Brendon Little
,
Clint Frazier
,
Robel Garcia
,
Dixon Machado
,
Javier Assad
,
Darius Hill
,
Alexander Canario
,
Levi Jordan
,
Eury Ramos
,
Eduarniel Nunez