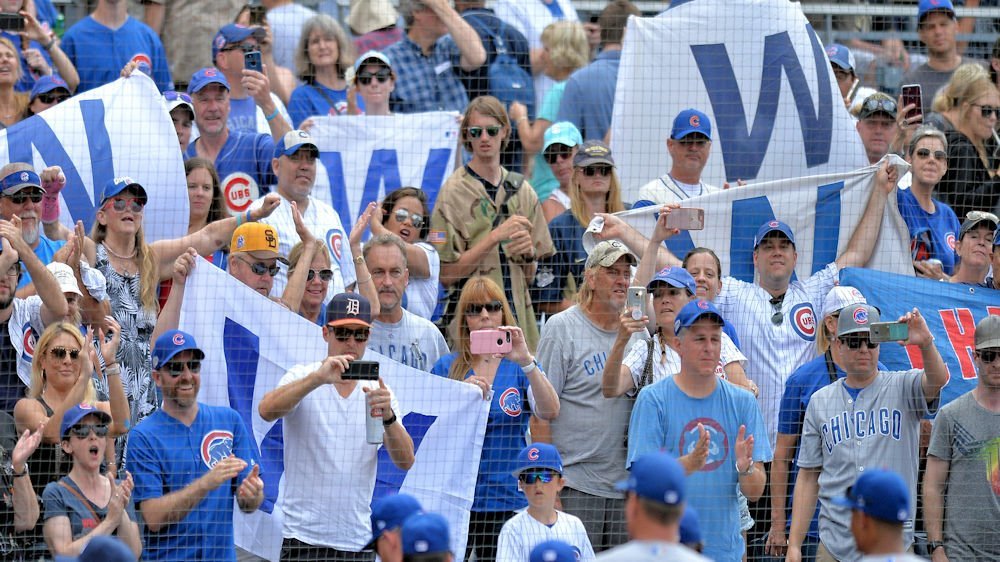 | | |
| --- | --- |
| Cubs Minor League News: Thompson with homer, Mekkes impressive, Pelicans lose in extras, m | |
---
| | | |
| --- | --- | --- |
| Wednesday, June 2, 2021, 2:30 PM | | |
The Cubs struggled to get much going on the farm last night, coming away with a 1-3 record. In the process, fans were treated to another extra-inning game, some great pitching across the board, and witnessed two of the Cubs major League outfielders begin a rehab assignment to return to the field.
While most of the organization eagerly awaits the season debut of Brailyn Marquez, whenever that will be along with several others who could wind up in either Arizona or Dominican for the rookie league. Until then, some of these prospects' overall growth and development have been nice to see thus far, and the future is bright in Chicago.
OMAHA STORM CHASERS 5 – IOWA CUBS 3
After Adrian Sampson failed to make it out of the fifth after allowing three earned runs, the Iowa bullpen stepped up, giving their offense a chance. Guys like Dakota Mekkes and Trevor Megill were impressive in their three innings of work, but it was Ryan Meisinger serving up the game-winning runs in the night as Omaha walked off Iowa 5-3.
After a scoreless first two innings, the Cubs offense struck first in the third using an Ian Miller sacrifice fly to grab the early lead. Dee Strange-Gordon followed that up with his first RBI off a single, giving the Cubs a quick 2-0 lead.
Unfortunately, that lead didn't last long as all the Sampson runs allowed came in the bottom of the third.
The first of those runs came off a Strange-Gordon throwing error after he attempted to complete a double play. That allowed Ryan McBroom to tie things up with an RBI single before a bases-loaded walk to Sebastian Rivero put Omaha on top 3-2. Still down by a run in the sixth, Trayce Thompson took matters into his own hands, tying things up with his second homer of the season as it now became a battle of the bullpens.
Trayce Thompson ties it in the sixth with a HUGE home run! pic.twitter.com/jwveazyo2I

— Iowa Cubs (@IowaCubs) June 2, 2021
Iowa had a chance to retake the lead in the eighth with a pair of two-out walks but could not cash in with the crucial hit they needed. Instead, Omaha got the clutch hit with Ryan O'Hearn delivering the walk-off homer for his first of the season, giving Omaha a 5-3 win. Iowa was held to four hits on the night, with Tony Wolters responsible for two of those hits. Strange-Gordon and Thompson added the other two go with their RBIs. All eyes will be on Iowa the rest of the week as Jason Heyward and Jake Marisnick are set to make a rehab appearance this weekend in hopes of returning to Chicago soon.
Omaha took game one. Game two of the series is set for tomorrow night at 7:05 pm. pic.twitter.com/5dGYLguvXV

— Iowa Cubs (@IowaCubs) June 2, 2021
TENNESSEE SMOKIES 6 – BIRMINGHAM BARONS 4
The lone team to pick up a victory on Tuesday was, oddly enough, the one struggling the most in Tennessee. They were able to not only make their fast start hold up but added three crucial insurance runs late to hold off the Barons 6-4. Javier Assad continues to show flashes of brilliance on the mound getting through five innings and allowing three runs in the process. His command was much better as he didn't walk a single hitter to go with four punchouts.
Even though Assad took a no-decision, the offense gave him some early support as the recently promoted Chase Strumpf went deep in the first for his first AA homer, giving the Smokies a quick 2-0 lead. Darius Hill added to that lead in the second with a groundout backing Assad with three runs of support early.
It took four innings for Birmingham to break through on Assad, but they started to chip away at the lead once they did. Romy Gonzalez and Jameson Fisher collected RBI singles in the fourth to close within 3-2 before chasing Assad in the sixth after allowing the leadoff man to reach. Gonzalez would then come around to score on the Carlos Perez single, tying things up 3-3 and closing the book on Assad.
Visibly frustrated, they let the lead get away, Tennessee was back on the attack in the seventh, using a Tyler Payne single to retake the lead. One inning later, Levi Jordan and Hill worked bases-loaded walks, putting the Smokies in front 6-3 with one inning to go. Looking to secure his first AA save, Ben Leeper ran into trouble, allowing three hits in the ninth, including a JJ Muno single to make things 6-4. However, Leeper did settle in, striking out the side and secure the one-run win.
Payne had a big night offensively, going 3-4 with an RBI to lead the Smokies offense. Grayson Byrd and Jordan collected a pair of hits, with Hill, Strumpf, and Erick Castillo rounding out the 10 hits. Along with Strumpf, Brennan Davis was also promoted to AA, going hitless in his debut. He joined Christopher Morel, and Miguel Amaya as neither one of them added a hit.
LANSING LUGNUTS 3 – SOUTH BEND CUBS 2
It was great to see a pitchers' duel for South Bend for a change, even if they ended up on the wrong side of things. With Strumpf and Davis recently promoted to AA, things will look slightly different for South Bend the rest of the way, but that is Minor League baseball.
Derek Casey took the ball and, despite allowing three runs in five innings, didn't pitch terribly. He walked one and struck out four, but a quartet of Lugnuts pitches held the Cubs to just five hits while striking out 11 as South Bend couldn't get much going offensively. Two of the three runs Casey allowed came in the bottom of the first when William Simoneit grounded out to bring home the first run before Austin Beck singled home the second run to make things 2-0.
Recently promoted Edmond Americaan picked up where he left off for Myrtle Beach in the third, smoking a triple to center field to close within 2-1. Speaking of triples, Lansing had a triple of their own in store for Casey in the bottom of third as Jake Suddleson extended the Lansing lead back to 3-1. Looking to mount a comeback, Jake Washer brought South Bend within 3-2 with an RBI single in the sixth.
Unfortunately for South Bend, that single was the last of their runs as they could not push anyone past second in the final three innings, falling 3-2 on the road. There wasn't a ton of offense for South Bend with just five hits, but Washer did pick up two of those hits to go with his RBI. Now that Davis is in AA, look for Americaan to fill his role, and he did that, picking up his first High-A hit of 2021 to go with an RBI.
Tyler Durna and Bryce Windham added the final two hits in the loss, with Delvin Zinn going hitless but adding a pair of walks. Nelson Velazquez and Yonathan Perlaza were also hitless.
Bullpen tosses three shutout innings to keep South Bend within striking distance late, but ultimately Cubs drop series-opener by a run to the Lugnuts. pic.twitter.com/pHHFoxAErv

— South Bend Cubs (@SBCubs) June 2, 2021
COLUMBIA FIREFLIES 5 – MYRTLE BEACH PELICANS 3 (11 innings)
Extra inning games are becoming all too common for the Cubs system as Myrtle Beach was the next to play extras. Much like Tennessee played extra baseball countless times, they came up just short, falling to Columbia 5-3 in 11.
The Pelicans used four pitchers in the game, all of who tossed two innings or more. While most fans wouldn't expect that in low-level ball, that was very common in short-season leagues, which is how Buddy Bailey has managed his staff this season. Joe Nahas, Jake Reindl, Tyler Suellentrop, and Bailey Reid may have allowed five runs in the game, but they also struck out 18, with Reindl responsible for seven of those in three innings.
Nahas allowed the first two runs of the game in the second inning as Herard Gonzalez and Maikel Garcia collected RBI singles for the quick 2-0 lead. Two innings later, Reindl served up his lone earned run with Darryl Collins going deep for the second time this season, making things 3-0 in favor of Columbia. As Reindl settled in, the offense began to adjust, and the Pelicans started to find their groove.
It may have taken until the seventh inning to break through, but better late than never as Jacob Wetzel connected for his first homer making things 3-1. Myrtle Beach continued their comeback effort the next inning using a Flemin Bautista RBI double and Jordan Nwogu RBI single to tie things up 3-3 before the game was sent into extras.
It was in extras when Columbia was able to pick up the winning hit as Garcia ripped a two-run single off Reid to take a 5-3 lead. Not only were the Pelicans set down in order in the bottom of the 11th, but all three went down via the strikeout as Myrtle Beach falls to 13-12 after a 5-3 loss. Kevin
Made continues his hot start to the season, picking up two more hits along with Pablo Aliendo. Bautista, Nwogu, and Fabien Pertuz collected the remaining four hits in the loss. Yohendrick Pinango and Jonathan Sierra combined to go 0-8 with a walk while Yeison Santana and Ed Howard remain out of the lineup.
Final in 11 innings.

We'll be back tomorrow at 7:05. #MBPelicans pic.twitter.com/SbLYZpvtGI

— Myrtle Beach Pelicans (@Pelicanbaseball) June 2, 2021

Tags: Cubs Baseball
,
Brailyn Marquez
,
Dakota Mekkes
,
Trevor Megill
,
Ian Miller
,
Jason Heyward
,
Jake Marisnick
,
Javier Assad
,
Chase Strumpf
,
Darius Hill
,
Levi Jordan
,
Grayson Byrd
,
Erick Castillo
,
Christopher Morel
,
Miguel Amaya
,
Derek Casey
,
Edmond Americaan
,
Tyler Durna
,
Delvin Zinn
,
Nelson Velazquez
,
Yonathan Perlaza
,
Jonathan Sierra