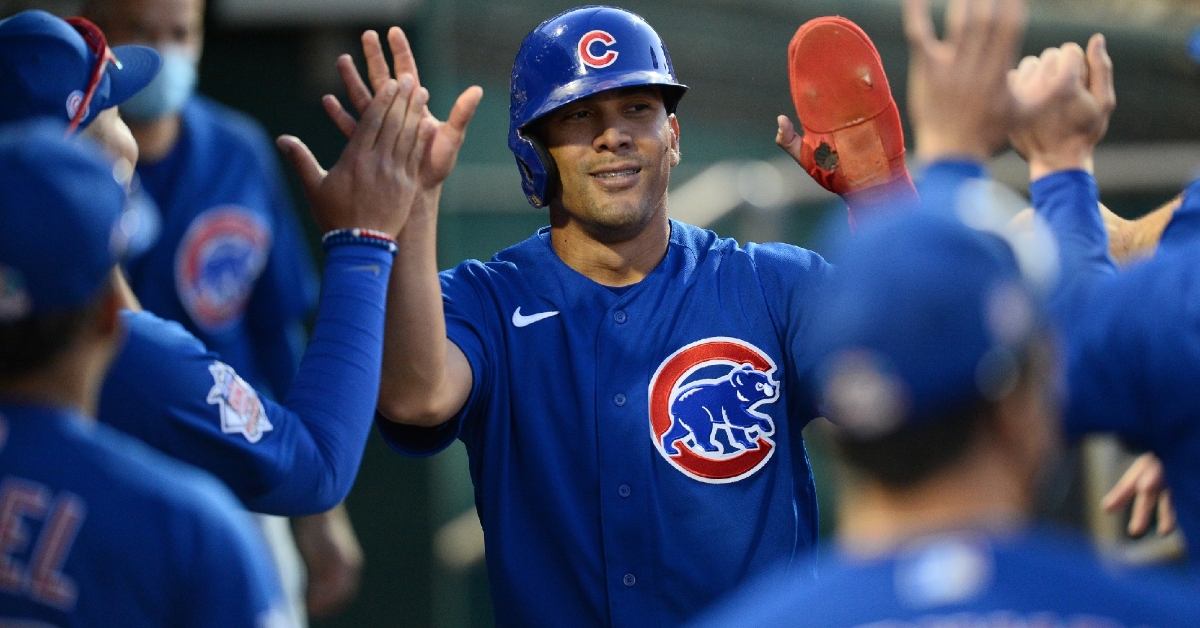 | | |
| --- | --- |
| Cubs News: 2021 Season Report Cards: Rafael Ortega, Jake Marisnick | |
---
| | | |
| --- | --- | --- |
| Tuesday, October 12, 2021, 3:26 PM | | |
We continue to move across the outfield, where we get into center field. What looked to be Ian Happ's position to open the year turned into a small platoon area up until an unlikely hero emerged as the everyday centerfielder. That man would be Rafael Ortega, who was one of many unsung heroes for the Cubs this season.
Given the age of Ortega and looking at his past track record, it seems very unlikely that he can produce at the level he did this season for an entire 162 game set. However, after watching what he did in 103 games, Ortega gave the Cubs a big enough sample size to consider at least adding him to this roster again next season.
Here are our season report card grades for the Cubs center fielders:
Rafael Ortega
Signed as a minor league free agent last offseason, the 30-year-old veteran journeyman put on quite a show during spring training. If it wasn't for a few guaranteed major league contracts, Ortega most likely makes this team out of camp. Instead, he was sent to Iowa, where he didn't see a ton of time appearing in just 16 games while hitting .250 with four homers and 11 RBIs.
The Cubs needed to fill some injury holes, and given the work he did across Spring Training, they felt it was necessary to bring him up and at least give him some at-bats. Not only did he get those at-bats, but he was a godsend for the Cubs this year, playing an above-average role as an everyday center fielder while providing the Cubs with the leadoff hitter they have been missing since Dexter Fowler departed following 2016.
For the season, Ortega played in a career-high 103 games, surpassing his previous high of 66. Not only did he emerge as the team's best pinch hitter early on, but all he did once inserted into the everyday lineup was hit, batting north of .300 most of the season before finishing at .291 for the year. Keep in mind, that was with an average under .100 against lefties, so imagine where he would have been had he been able to hit southpaws.
His 11 homers were not only a career-high but a pleasant surprise in the power department while driving in 33 runners in the process. Ortega also showed off the speed factor of his game, totaling 12 stolen bases and making several things happen on the bases. He was a great pickup by the Cubs, and it will be nice to keep him around.
Season Grade A: If Ortega could hit lefties at all, he would get an A+. Despite that, Ortega deserves a strong A grade for the job he did this season. Not only was he looked at as just a role player to open the season, but he emerged as an everyday center fielder and a quality one at that. Ortega also provided the Cubs with a much-needed leadoff hitter after trying out several other options that failed. He is someone who deserves at least a shot to hold down the leadoff role again next season because he has done everything to keep that position.
One of the more intriguing signings by the Cubs this offseason was adding Jake Marisnick to the mix. The right-handed hitting Marisnick has never been known for his offense but has been known to have a ton of speed while playing excellent defense in center field. Essentially, he was brought in to replace Albert Almora, who signed with the New York Mets.
After being slowed in camp by a nagging calf injury, Marisnick showed the Cubs enough to earn an opening day roster spot over the final two weeks of spring. Once the regular season started, Marisnick would primarily play a bench role or against left-handed starters as he got off to a great start.
Much like Ortega, Marisnick was not only hitting the ball but also showing an increase in power, which the Cubs never expected out of him. As always, injuries have always been his most significant issue, and that was once again the case for him this year as a hamstring injury limited him to just 99 games, including just 65 with the Cubs.
During his time on the North Side, Marisnick saw his average plummet after the hot start hitting just .227 for the season to go with five homers and 22 RBIs. While he offered great defense, he didn't stay on the field long enough and was eventually traded to the Padres for Anderson Espinoza in July.
Grade D-: Marisnick was flat-out bad after the first month of the season as the only good that came out of his time with the Cubs was acquiring Espinoza at the deadline, as he appears to be someone the Cubs can count on in the rotation going forward.
The Cubs also used Johneshwy Fargas and Michael Hermosillo in center field, but neither logged enough games or innings to earn a grade.