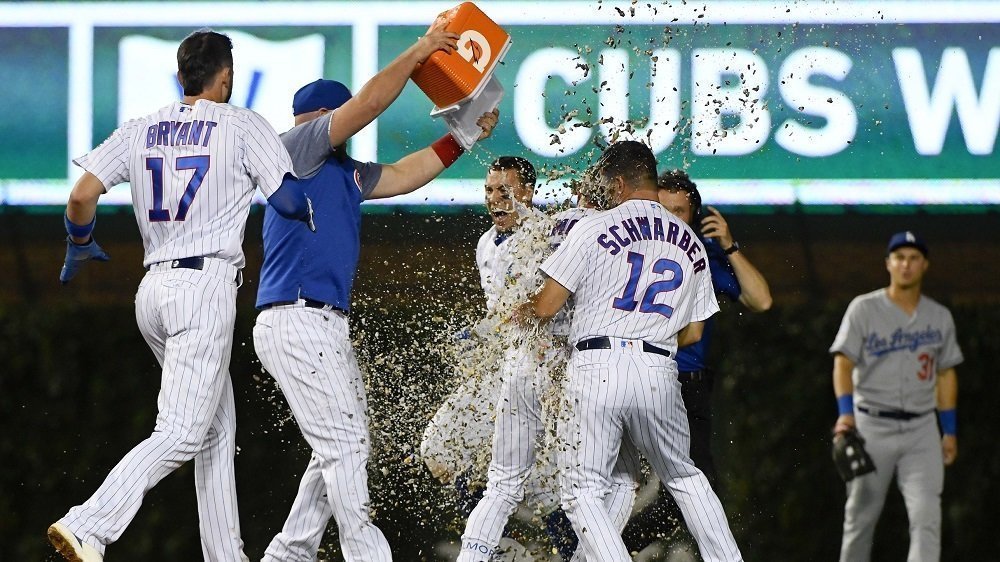 | | |
| --- | --- |
| Cubs News: The Case for Albert Almora Jr. to make the All-Star game | |
---
| | | |
| --- | --- | --- |
| Monday, July 2, 2018, 7:40 PM | | |
With just a couple of days left to vote, there isn't a single Cubs player who is a shoo-in to start in this year's All-Star Game. Something just doesn't seem right…in fact, a lot of "somethings" don't seem right.
Javier Baez still trails Albies by almost 300,000 votes for his bid at the second-base spot, and in today's ballot update, Scooter Gennett has now taken over place for second base. You'd think that with the announcement of Baez being named the NL Player of the Week, he'd see some sort of surge in votes, but this wasn't the case as Gennett has now overtaken hi1m. Baez isn't the only nominee making me scratch my head…
Willson Contreras is currently trailing Buster Posey by almost 145k votes, and the weirdness doesn't stop there… How is Freddy Freeman running away with the first base spot? Freeman now leads second place, Anthony Rizzo, by an astounding 1.73 million votes. Second place, Kris Bryant trails first place, Nolan Arenado, by almost a million votes. Addison Russell is currently in third place for the shortstop position, lagging behind the first place spot (currently owned by Brandon Crawford) by almost 1.3 million votes. Moving to the outfield, Heyward, Schwarber, and Zobrist is in 7th, 8th, and 9th place respectively, and all are trailing the top spot by no less than 1.34 million votes (Heyward). Third place in the balloting for outfielders is good enough for a start, as there are three outfield positions, but even still, the Cubs' outfielders need to make up a minimum of 659,000 votes before Bryce Harper would lose third place.
Maybe the biggest pink-elephant surrounding this year's All-Star balloting is the absence of Albert Almora, Jr. from the ballot. Yes, you can write him in, and yes, I do that daily, but he still doesn't even rate 15th place so far.
When asked about Almora, Jr., Cubs skipper, Joe Maddon had this to say, "The fact that his name does not appear on the ballot hinders or discourages voting there unless you are a real fan of the game," Maddon further stated, "I don't know what extent that can be improved upon. He is definitely having an All-Star caliber season."
Unarguably, he should have made the ballot over Zobrist, as Zo is a utility man and not dedicated to the outfield. He also, in my humble opinion, should have made the ballot over Kyle Schwarber not that Schwarber isn't deserving as well, but there is no question that Almora supersedes both Zo and Kyle, both offensively and defensively so far this season.
Let's take a look at how THE top five outfielders in the All-Star balloting stacking up against Almora, Jr.:

Let me sum that up for you… Almora leads the pack in batting average and he ranks second in OBP. Although he trails the field in other batting statistics, his defensive prowess unquestionably makes up for that.
I can only hope that Joe Maddon uses a manager's pick to send Almora, Jr. to the All-Star game, but with every single Cubs player trailing in the voting, who knows what will happen?