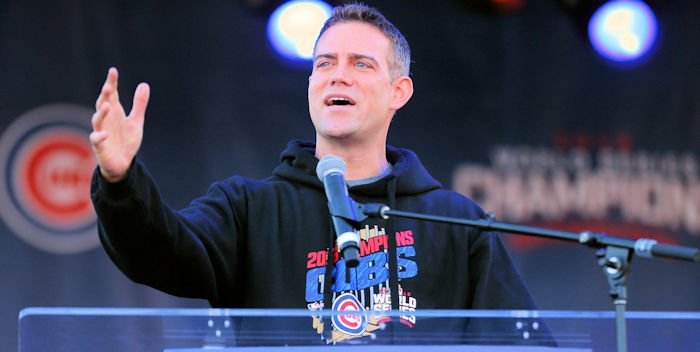 | | |
| --- | --- |
| Cubs News: What's next for Theo Epstein? | |
---
The world will never forget when the Cubs broke their 108 championship drought by winning the 2016 World Series in epic fashion over the Cleveland Guardians game 7. What nobody else will ever forget was the man calling the shots: Theo Epstein.
Epstein's brilliant career as a baseball executive is highlighted by breaking two historic organizations' championship curses by bringing both the Boston Red Sox and the Chicago Cubs their first championship in what adds up to be nearly two centuries of combined losing.
The Cubs brought Theo on in 2011 ahead of the 2012 season. He came into Chicago with a plan — and while it began unpopular with three straight historically bad losing seasons, the plan was brought to fruition with the Cubs' success from 2015 on.
Epstein made brilliant decision after brilliant decision. From hiring Joe Maddon to trading for Kyle Hendricks and Jake Arrieta, and Anthony Rizzo to hanging on to Javier Baez and drafting Kris Bryant and Kyle Schwarber — and it all led to the Cubs becoming World Series Champions in 2016.
With that, Epstein's name is forever synonymous with the biggest championship win in history — and his legacy is forever immortal in Chicago Cubs lore.
Like any executive, Epstein wasn't perfect. He made some moves that generated a lot of PR fuss for good reason in Addison Russell and Aroldis Chapman. He also made some just flat out bad baseball moves like sighing Jason Heyward or trading Eloy Jimenez and Dylan Cease for Jose Quintana — but the good, which included a championship, will always outweigh the bad.
Epstein also did a lot of work in the community with his own charity and doing work for Jon Lester, Anthony Rizzo, and Joe Maddon's charity as well.
Epstein's tenure was set to end after the 2021 season, the same year Bryant, Rizzo, Baez and Schwarber were set to be free agents. It looked like the Cubs window would collectively close at that time. But, seeing the writing of the wall of a rebuild coming and potentially not wanting to be the face of another rebuild and/or protect his legacy, Epstein left the Cubs and let Hoyer take the keys. Epstein let Hoyer take the heat of being the guy who traded away the World Series legends despite it being a few of Epstein's decisions that led to another rebuild having to be done
But Epstein moved on from the organization after the tumultuous 2020 season, and eventually became a consultant with MLB.
Epstein is now in charge of helping the MLB regain younger fans' attention and speeding up the game. He has played a big role in some of the recent rule changes like pitch clocks, bigger bases, a limit on defensive shifts, a three-batter minimum for relievers, and universal DH, among others.
But, Epstein has always wanted to conquer challenges. So what could be next? Would he want to take another team to a championship as a general manager — or something bigger?
Well, the rumor of a few years ago was that Epstein wanted to be a part of an ownership group, and win that way.
We'll keep an eye on what's next for Epstein, but his spot in baseball's Hall of Fame should be waiting for him. Nonetheless, Epstein has a place in Chicago baseball immortality forever.

Tags: Cubs Baseball
,
Kyle Hendricks
,
Jake Arrieta
,
Anthony Rizzo
,
Kris Bryant
,
Kyle Schwarber
,
Addison Russell
,
Aroldis Chapman
,
Jason Heyward
,
Jose Quintana
,
Jon Lester
,
Joe Maddon
,
Theo Epstein