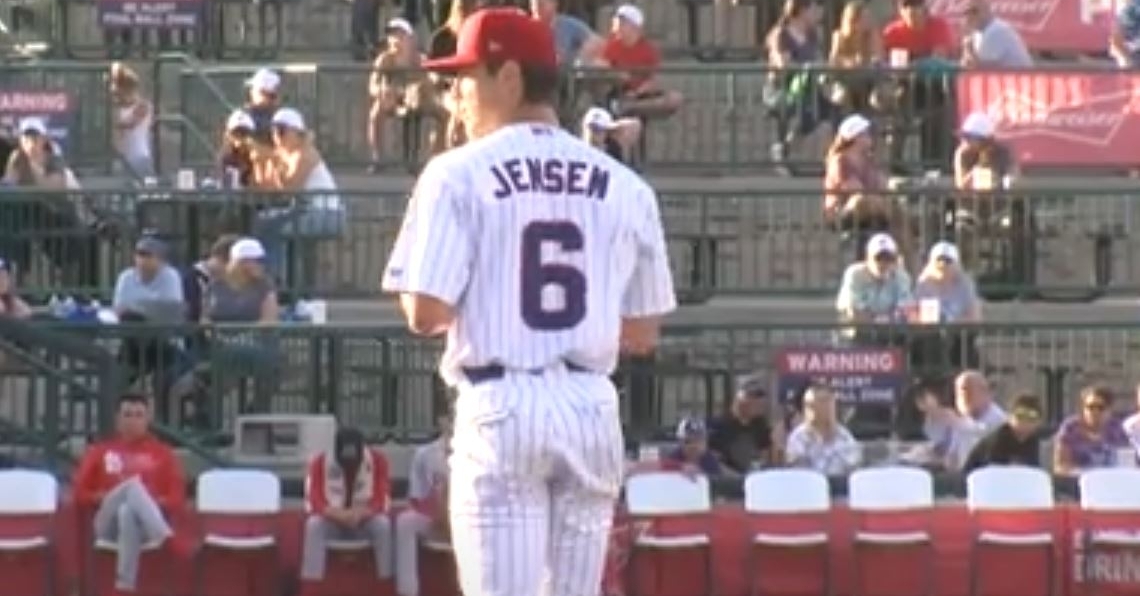 | | |
| --- | --- |
| Cubs Prospect Focus: Ryan Jensen | |
---
| | | |
| --- | --- | --- |
| Sunday, January 29, 2023, 10:00 AM | | |
When you look at the current top prospect list for the Chicago Cubs, two things immediately come to mind. The first is obviously the overall depth in this system, as they may have as much depth as anyone across the board. Considering where things stood three years ago, you have to give Jed Hoyer and the front office for investing in the tools necessary to improve the system.
The second and perhaps most important thing you notice is the number of top-flight pitching prospects this organization has. That is refreshing to see when you consider it was the one thing Theo Epstein struggled to do, and we all know pitching wins championships. The Cubs now have the pitching put in place for the future, as it will be up to them to develop it the right way this time.
As we continue to move through the Cubs' top prospect list, pitching remains the focus as Ryan Jensen checks in at No. 28. Another former first-round pick back in 2019, Jensen has had an interesting go of things thus far, but might be coming into his own as a pitcher.
When the Cubs drafted him, they had visions of him being a front-line starter based on his overall stuff on the mound. You saw some of those hopes in 2019 when Jensen made six starts and compiled a 2.25 ERA across those six starts spanning 12 innings. Jensen struck out 19 that summer but did walk 14 as the command was undoubtedly an issue.
Following the COVID year in 2020, Jensen was back on the mound in 2021, where he was looking to step into a more profound role. He went on to make 20 starts that season but only threw 80 innings, as the Cubs wanted to make sure he was going to be well-rested.
From a performance side of things, Jensen was up and down that season as he went 3-7, but did post a respectable 4.16 ERA. However, the command stood out the most as he made significant improvements with 31BB and 90K, showing that he had all the makings to be a starter at the next level.
Expecting to build off that strong showing in 2021, Jensen ran into plenty of struggles this past season, and it all started with his command going south again. Jensen appeared in 17 games this season, all coming as starts, but once again was limited in innings.
He finished the season with under 60 innings and went 2-4 on the year with a 4.25 ERA. His strikeout numbers continued to be good with 60, but with 31 walks, his command started to waiver again. Expected to start in AAA this season. We still don't know the plan for Jensen, which needs to be figured out sooner rather than later.
From a stuff side, Jensen has all the makings of being a starter in this league, but he also can be a late-inning reliever. That tends to happen when opponents are hitting just a .197 against you through three seasons, as he has been very tough to measure up thus far.
When you look at his command history, it shouldn't come as a surprise as he did struggle to throw strikes with Fresno St. Eventually, he got on track, and the Cubs have seen him do that already in the minors. What made him the first-round talent he was happened to be his fastball which was arguably the best in the draft that summer.
While at Fresno St., Jensen averaged 94-96 MPH with his heater, but was seen hitting 98-99 plenty of times. Fast forward to his professional career, and that average fastball continues to sit in the 95-97 MPH range while offering plenty of sink with it. Pair that fastball with a 90 MPH hard-breaking slider, and Jensen has two great pitches that would make him an ideal relief candidate.
However, his improvement with his 87 MPH change and 82 MPH has given him a four-pitch mix and has the Cubs confident he can remain in the rotation. Despite a funky delivery, the Cubs still believe Jensen can translate his athleticism into enough control and command to be an effective starter.
Most scouts outside the organization believe he's destined for the bullpen, where he could focus on his fastball and slider and become a closer. For that to happen, his command has to get better, and one way he could do that is by simplifying his delivery. Expect 2023 to be a massive year for Jensen as the Cubs will figure out where he fits best inside the organization.