| | |
| --- | --- |
| Cubs, Reds combine for 10 home runs, 30 hits as North Siders lose in extras | |
---
| | | |
| --- | --- | --- |
| Sunday, May 2, 2021, 6:28 PM | | |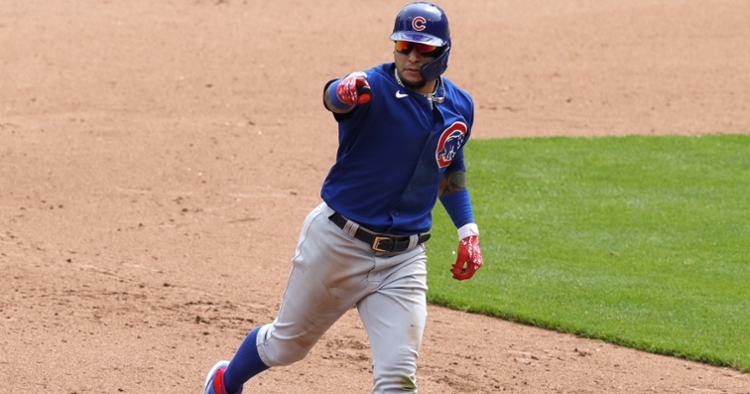 CINCINNATI — A grand total of 10 home runs and 30 hits were amassed in a slugfest between the Chicago Cubs (12-16) and Cincinnati Reds (13-14) at Great American Ball Park on Sunday. The action-packed duel featured plenty of excitement and an unfortunate injury, as Ian Happ was carted off the field not long after hitting a game-tying three-run jack. The Cubs eventually ran out of position players and were forced to use Jake Arrieta as a pinch hitter in the 10th inning. Former Cub Nicholas Castellanos amassed a game-high five hits at the plate and smacked a walkoff single in the bottom of the 10th, giving the Reds a 13-12 victory.
The Cubs took the lead just two pitches into the game, as Tyler Mahle gave up back-to-back doubles to Happ and Kris Bryant, respectively, to begin the ballgame. Bryant's RBI two-bagger plated Happ and put the Cubs up 1-0. Trevor Williams was not great out of the gate, either, as he walked the first batter he faced and then gave up two straight singles. An RBI single by Joey Votto scored Jesse Winker, and Castellanos scored on an ensuing double play. Williams drove in the tying run in the ensuing inning, as he followed up consecutive singles from Nico Hoerner and Tony Wolters with an RBI groundout that scored Hoerner.
An overturned call at the plate ended the top of the second. Wolters, who advanced from second to third on Williams' groundout, caught the Reds off guard by attempting to steal home with two outs. He darted to the plate, but catcher Tucker Barnhart had plenty of time to tag him out. However, Barnhart, perhaps because he was stunned that Wolters was attempting to steal home, dawdled in applying the tag, and Wolters was initially called safe after sliding between Barnhart's legs. However, a Reds challenge revealed that Wolters never touched the plate before Barnhart tagged out, so he was called out.
The bottom of the second ended in "strike 'em out, throw 'em out" fashion, as Williams struck Barnhart out swinging before Wolters fired a bullet to Javy Baez at second base, where Baez applied a slick tag on a stealing Nick Senzel. Bryant and Anthony Rizzo hit solo shots just two plate appearances apart in the top of the third, with Rizzo's rainmaker carrying 410 feet out to center and placing the Cubs ahead 4-2. However, the Reds answered with three homers in the bottom half of the inning. Castellanos plated Winker with a two-run jack, and Mike Moustakas and Eugenio Suarez batted back-to-back solo blasts with two outs. Suarez's bomb traveled 426 feet over the center field wall.
.@KrisBryant_23 is an XBH machine!#KBoom pic.twitter.com/KtcAyn75m5

— Chicago Cubs (@Cubs) May 2, 2021
Tony's turn! #TeamRizzo@ARizzo44 #CubTogether pic.twitter.com/CJW1bz7nqu

— Chicago Cubs (@Cubs) May 2, 2021
Kentucky Derby yesterday. Dinger Derby today. pic.twitter.com/MZC7LRRCvj

— Cincinnati Reds (@Reds) May 2, 2021
Williams was pulled after walking two Reds in a row in the wake of the Suarez long ball, which made the score 6-4 in favor of the Reds. Dillon Maples finished the inning on the mound, with Tyler Naquin getting tagged out at the plate on a play that featured Baez recovering from a fielding error and helping to record the inning-ending out. Bryant powered out his second long ball of the game with a solo blast in the fifth. Keegan Thompson made his MLB debut by pitching the bottom of the fifth, and, despite allowing multiple Reds to reach base, prevented Cincinnati from adding to its lead.
With 2 HR and a 2B today, @KrisBryant_23 is now tied for the @MLB lead in home runs (9) and extra-base hits (19)! #KBoom pic.twitter.com/PXguzhx8st

— Chicago Cubs (@Cubs) May 2, 2021
Mahle was relieved by Sean Doolittle once Matthew Duffy led off the sixth with a double. Doolittle went on to give up an RBI double to Hoerner, which enabled Duffy to score. Hoerner was subsequently caught stealing third, and the Reds retook the lead in the bottom of the sixth. Alec Mills beaned Moustakas with two outs and the bases loaded, thereby scoring Barnhart. An ensuing base knock by Suarez scored Winker and Castellanos. Baez pulled the Cubs within one via a 434-foot two-run blast off Lucas Sims in the top of the seventh. Happ scored on the play. Justin Steele was taken for a pair of homers in the bottom of the seventh, with Barnhart ushering Senzel across with a two-run shot and Castellanos swatting a solo dinger for his second home run of the afternoon.
.@javy23baez makes it a 1-run game with a big blast!#CubTogether pic.twitter.com/4Fk6ZWUuhn

— Chicago Cubs (@Cubs) May 2, 2021
Boom, bam, bop, badabop boomp, POW! pic.twitter.com/nnE7cf02dJ

— Cincinnati Reds (@Reds) May 2, 2021
Nick in red > Nick in blue pic.twitter.com/3epo2AGZxM

— Cincinnati Reds (@Reds) May 2, 2021
Chicago rallied with two outs and Tejay Antone on the mound in the top of the eighth. Following a two-out walk of Wolters that moved Jason Heyward to second, Jake Marisnick pinch hit and drove home Heyward with a bloop single. Happ then tied the game 12 runs apiece by smacking a three-run tater off Antone. Unfortunately, Happ suffered an injury that resulted in him being carted off the field in the bottom of the eighth. He collided with Hoerner while Hoerner was in the process of making a difficult catch of a popup. Happ was unintentionally kneed in the right side by Hoerner and appeared to bloody his nose after sliding into Hoerner's right forearm. After lying down in obvious pain, Happ was able to get to his feet and was then carted off the field.
Scary collision in Cincinnati as Ian Happ and Nico Hoerner collide, leading to Ian Happ being carted off the field. Hope for the best ??pic.twitter.com/98c8bhVER4

— Around The Diamond (@_AroundDiamond) May 2, 2021
Neither team put a man on in the ninth frame, and Amir Garrett, who sparked a bench-clearing confrontation in Saturday's tilt, returned to the mound in the 10th and struck out a pair, this time without angering the Cubs. In between strikeouts, Wolters, who began extras at second, and Hoerner, who was intentionally walked, pulled off a double steal. Following Happ's injury, a slew of defensive changes took place for the Cubs, including Willson Contreras returning from a brief injury layoff to catch and Wolters moving to second base. As a result, Arrieta was forced to pinch hit with two outs in the 10th, when Ryan Hendrix struck him out swinging.
Craig Kimbrel pitched the bottom half of the 10th, and Winker started the half-inning as the runner at second base. Winker was able to advance to third base soon afterward, as Contreras got crossed up and suffered a passed ball. Soon afterward, Castellanos put an end to the high-scoring battle by sending an RBI single to center field, scoring Winker with ease and granting the Reds a walkoff win. The 13-12 thriller came in the rubber match of the three-game affair, with the Cubs dropping 2-of-3 in the series. The North Siders wrapped up a 2-5 road trip by way of Sunday's loss and will now return to Chicago for a six-game homestand.
NickCastellanosBeingGoodAtBaseballPart1000000.mp4 pic.twitter.com/oQi5u8PTfc

— Cincinnati Reds (@Reds) May 2, 2021

Tags: Cubs Baseball
,
Ian Happ
,
Jake Arrieta
,
Kris Bryant
,
Trevor Williams
,
Nico Hoerner
,
Javy Baez
,
Anthony Rizzo
,
Dillon Maples
,
Keegan Thompson
,
Matthew Duffy
,
Alec Mills
,
Justin Steele
,
Jason Heyward
,
Jake Marisnick
,
Willson Contreras
,
Craig Kimbrel