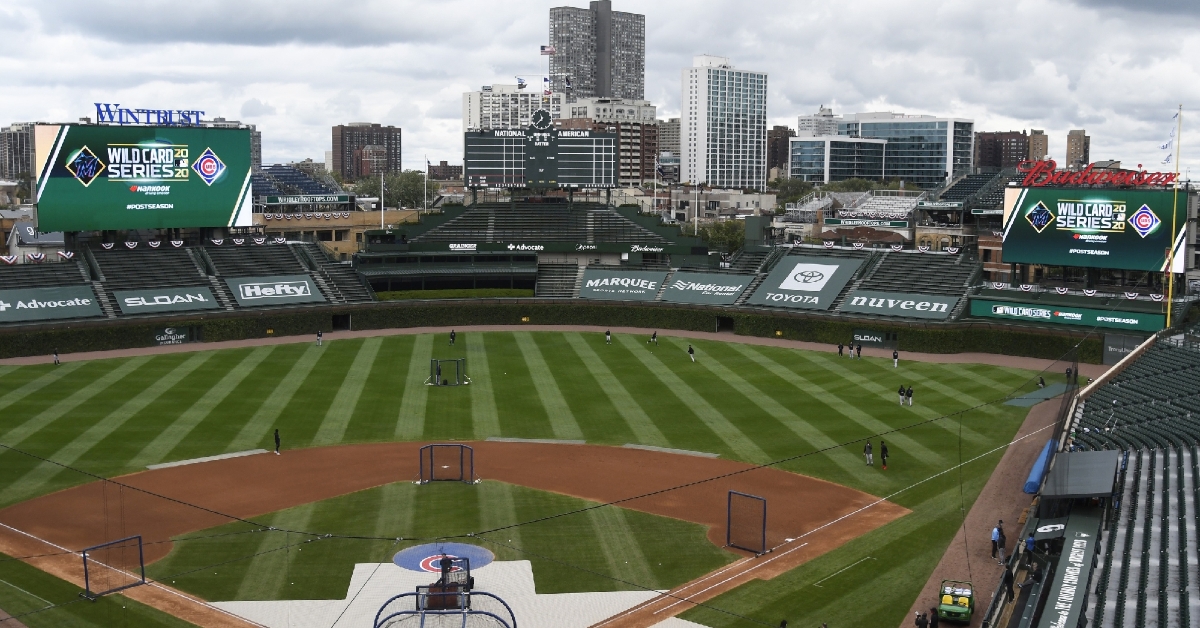 | | |
| --- | --- |
| Cubs sign four international pitching prospects | |
---
| | | |
| --- | --- | --- |
| Tuesday, November 16, 2021, 9:50 AM | | |
Typically the month of November is one of the quieter months of the MLB offseason as not much happens. Yes, you have the GM meetings and whatnot, but outside of qualifying offers and a few free-agent signings here and there, baseball fans tend to forget about November as December is when the fun begins.
However, the month of November does have a bit more going on than what many fans realize, and the bulk of the movement happens in the international market known as international free agent signings. The Cubs continue to do their homework on not just pitchers, but international pitchers as they have reportedly agreed to terms with four international arms.
This may seem like odd timing, especially when you consider that the international free agent period historically opened in July, but it has now been moved up to January. Going back to the history of the IFA, most of the signings are tentatively in place before the IFA period begins making it highly unlikely that anyone would be available this late in the game.
Whatever the reason for the Cubs' decision to go after these guys now may come with criticism, but the bottom line is four players from the Dominican Republic are about to latch onto the Cubs organization and will most likely be with the DSL Cubs next year.
Three of these pitchers are teenagers, and the other one is just 20 years old as the Cubs are going with youth and potential above all with these signings.
#Cubs have signed the following International Free Agents:

RHP Jensi Ramirez
RHP Eligio Paredes
RHP Yafrerlyn Vasquez
LHP Kevin Valdez

— MiLB-Transactions (@tombaseball29) November 14, 2021
Eligio Paredes
One of the older pitchers of the batch is 19-year-old Eligio Paredes. The Dominican native has not only been signed to the Cubs, but has already been assigned to a team in 2022, where he will begin his professional career with the DSL Red squad. The 6-1 190 pound Paredes will join an already decorated cast of 2021 IFA free agents by the Cubs as they have linked 33 total IFA players this year.
Considering how Paredes and the rest of these signings have signed a futures contract (2022 deal), they will not count against the 70-man International Reserve List roster until opening day. That is good news because it allows the Cubs to sign more than just these four players across the next several weeks and once again after the IFA period opens in January. There isn't a ton of info out there on Paredes, so it is hard to break him down at this point, but he is another young arm worth keeping tabs on next summer.
Kevin Valdez
Kevin Valdez is the oldest of the four pitchers whom the Cubs recently inked to contracts, who comes in at 20 years of age. At 6-4 185 pounds, Valdez has the frame and structure not only to fill out as he matures, but someone who could pack quite a punch when it comes to high-velocity pitching.
Once again, there isn't a lot out there to break down, but I found something that points to him in the 92-93 MPH range with his heater. That alone is worth noting, as he should be able to add some velocity to that frame once he fills out in the coming seasons. He is also the lone lefty of the four pitchers signed, so that alone makes this worth noting.
Jensi Ramirez
One of the babies of the recent signings is 17-year old Jensi Ramirez. At 5-11 and just 170 pounds, Ramirez has a lot of filling out to do as he looks like a typical 17-year old teenager. As things sit right now, he is signed, but has no placement upon next season. Taking a chance on 17-year-old pitchers is always a risky gamble, but one the Cubs can afford to take if they are going to spend money on lower-tier International Free Agents at this point.
Yafrerlyn Vasquez
The final pitcher of the group is perhaps the most intriguing in Yafrerlyn Vasquez. Yes, he is only 17 years old, but he doesn't look it as he stands 6-1 and weighs 190 pounds. There is no doubt that his body will fill out more when he gets to the DSL League, where he will be participating with DSL Blue this season.
Typically when I discuss stories and acquisitions like this, I tend to watch some video first to pick out things that may or may not translate at the next level. When it comes to signings like this, there is minimal if any video to go off of, making it difficult to decipher. We know that the Cubs are no strangers to the international market and haven't been for quite some time.
They tend to have a lot of success in the international market, and should that trend continue with even just one of these pitchers, and you are looking at a positive showing from this team once again. These are just a few of the long list of Rookie League players to keep tabs on as the Cubs could essentially control all these men for several years.