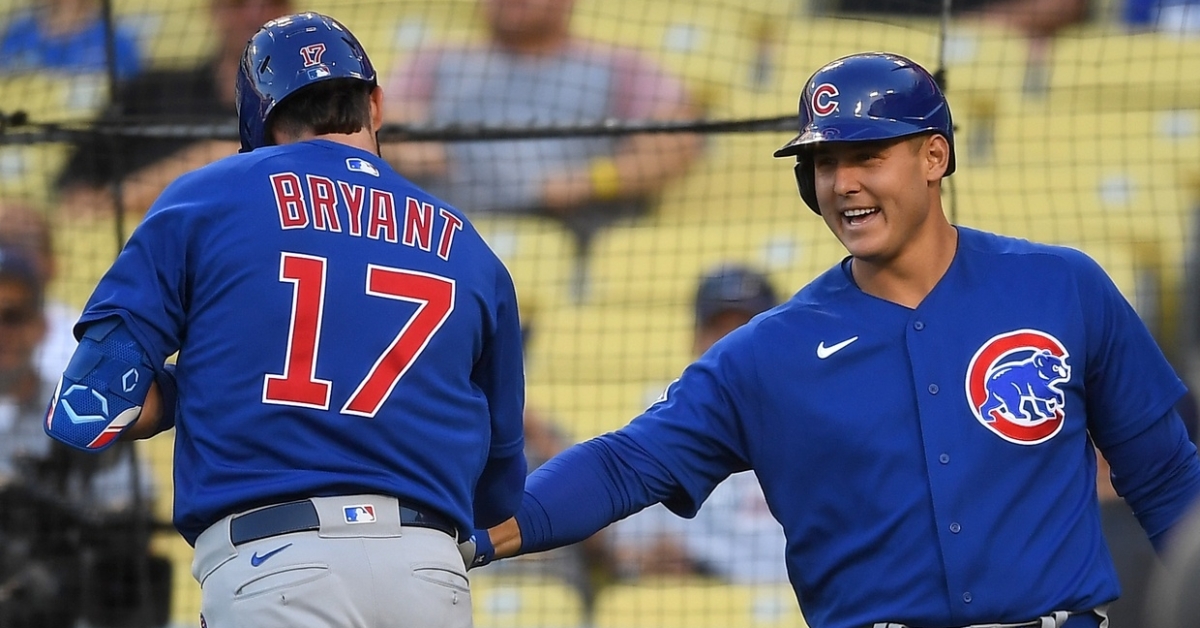 | | |
| --- | --- |
| Cubs Trade talk: Who might stay and who might go? | |
---
| | | |
| --- | --- | --- |
| Tuesday, July 27, 2021, 8:28 PM | | |
For years, Cubs ownership has threatened to make changes following disappointing endings to what were promising seasons. In 2021, the Cubs displayed flashes of a playoff team before an 11-game losing streak sunk their chances of contending for a second consecutive NL Central title.
Quickly, the conversation then moved to what this team — that has over half the roster in walk years — can get back for these players at the trade deadline.
Finally, the promised reckoning has arrived. Joc Pederson, Kyle Schwarber's replacement through free agency, was dealt to the Braves right after the All-Star break for minor league first basemen Bryce Ball.
Set up man Andrew Chafin was next, being traded to the Oakland Athletics for minor league OF Greg Deichmann and minor league RHP Daniel Palencia.
And they're not done yet.
Here's a look at the Cubs, other likely trade candidates, and some teams that might be interested.
Kris Bryant: These rumors have swirled for years, but it seems apparent that Bryant's playing days as a member of the Chicago Cubs are numbered. The Cubs have been unable to extend Bryant and could not trade him over the last couple of offseasons, mostly due to his injury history. However, his versatility on the diamond defensively (10 plus starts at 5 positions) and his excellence at the plate (17 HR, 50 RBI, .856 OPS) make him a wildly attractive piece for the Cubs to dangle as the deadline nears.
While his contract is up at the end of the season, Bryant may not garner the return some expect because he is a rental — he should net the Cubs a nice haul of prospects.
WHO MIGHT BUY: Tampa Bay Rays, New York Mets, Philadelphia Phillies, Atlanta Braves, San Francisco Giants, Los Angeles Dodgers, Boston Red Sox, Chicago White Sox
Anthony Rizzo: While it seems painful to think of Rizzo in a different uniform than Cubs pinstripes, there is a very real possibility he could find himself donning different colors by the weekend. Rizzo's character is unquestionable, paired with his gold-glove defense and ability to provide a professional at-bat, and you have yourself a solid first baseman to add to any contender. While Rizzo's offensive numbers are not where they usually are (only hitting .248 with 13 homers), he is hotter as of late and has been one of the league's most consistent hitters over the course of his career.
Like Bryant and most on this list, Rizzo's contract expires at the end of the 2021 season as well.
WHO MIGHT BUY: Boston Red Sox have been the team most strongly linked to Rizzo, a potential trade to the New York Yankees if they buy or an AL West team would not shock me.
Javier Baez: 'El Mago' is a player who is just hard to picture playing for any other team, but his flair for the game and the excitement he brings makes it understandable why another team would want him. His gold-glove caliber defense, flashy base running, and of course, ability to crush the baseball are the most attractive parts of his game — and by now, you know what you are getting with his strikeouts. Baez sits near the lead in the National League in home runs and RBIs with 22 and 65.
Add Baez to the list of players whose contract is up come November.
WHO MIGHT BUY: The New York Mets, Seattle Mariners, or the Chicago White Sox make the most baseball sense. The Giants and Phillies are potential options as well.
Craig Kimbrel: Kimbrel has been absolute gold for the Cubs in 2021 and might just be the most coveted arm on the market this trading deadline. The 33-year old has a 0.49 ERA and 23 saves this season to pair with 64 strikeouts in less than 37 innings pitched. Any team trying to win a World Series should be interested in renting Kimbrel.
WHO MIGHT BUY: On paper, the Red Sox, Houston Astros, and Phillies make the most sense. But the Blue Jays, Mets, Braves, Giants, Dodgers, Padres, and more may call to check his services.
Ryan Tepera: Like Chafin and Kimbrel, Tepera has been a dominant piece of the Cubs' successful bullpen in 2021. Tepera signed a one-year deal before this season and has a 2.91 ERA in 43 appearances out of the bullpen this year. He could transition to closer if need be, but the to-be free agent should slot in to pitch some valuable innings down the stretch for a contender.
WHO MIGHT BUY: Phillies are desperate for relief help, Rays and A's should be in the mix, as well as the Red Sox, Astros, Blue Jays, Giants, Braves, Mets, Dodgers, etc.
Zach Davies: Davies is the only rental the Cubs have to offer in the starting rotation, and lucky for the Cubs, he has been much more sellable as of late. Davies is 6-6 with a 4.30 ERA this season, but dating back to June 3rd, he has allowed more than three runs in an outing only once.
WHO MIGHT BUY: The Mets, Rays Dodgers, and Yankees seem to be looking for starting pitching, as well as the Blue Jays, A's Mariners, Braves, Phillies, or even the Brewers as they look to add depth.
Matt Duffy, Dan Winkler, Adam Morgan, and Robinson Chirinos:
This quartet of players has flown under the radar and has not been mentioned in many trade rumors but set to become free agents at the end of the season. Teams looking for bullpen depth may call about Winkler or Morgan as they should be cheaper than Tepera or Kimbrel — and Chirinos could be a viable backup catcher for a contender. Duffy is a super-utility man who could also provide depth for a team looking for help.
Kyle Hendricks / Willson Contreras:
These two Cubs are probably most likely to netback the biggest haul of prospects in return. Hendricks is set to be a Cub through 2023 and Contreras through 2022 — and both have displayed the ability to be excellent players.
Hendricks is an ace, as he leads the NL in wins with 12 and sports a 3.85 ERA. Hendricks has also displayed the ability to pitch under pressure, as he started the Cubs' clinchers of the NLCS and World Series game 7 in 2016.
Contreras is one of a kind, playing a premium position in catcher. The energy he brings to the diamond is unmatched, his defense is constantly improving, and there's not a better power-hitting catcher in the game right now.
WHO MIGHT BUY: Any team with even a glimmer of a chance this season would be interested in either of these two players, and if the Cubs made them available, Jed Hoyer's phone would never stop ringing. However, I find it unlikely either of these two Cub standouts gets traded.
Stay tuned as we break any potential news as we hear it.

Upgrade Your Account
Unlock premium boards and exclusive features (e.g. ad-free) by upgrading your account today.
Upgrade Now

Tags: Cubs Baseball
,
Joc Pederson
,
Kyle Schwarber
,
Andrew Chafin
,
Kris Bryant
,
Anthony Rizzo
,
Craig Kimbrel
,
Ryan Tepera
,
Zach Davies
,
Kyle Hendricks
,
Willson Contreras