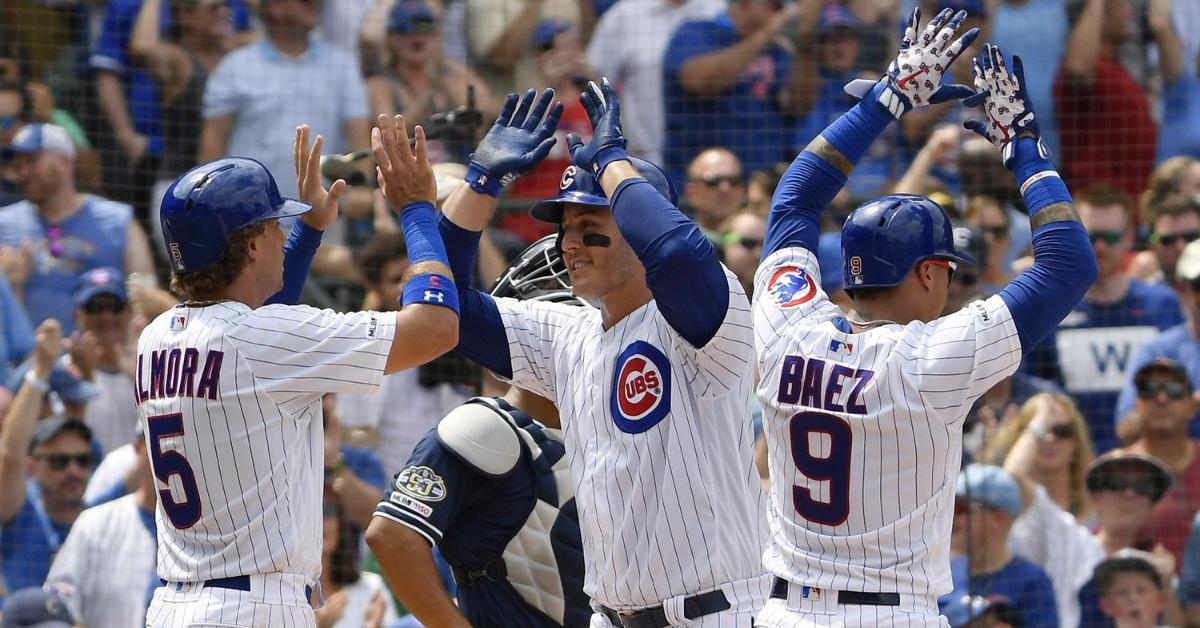 | | |
| --- | --- |
| Cubs vs. Phillies Series Preview: TV times, Starting pitchers, Predictions, more | |
---
| | | |
| --- | --- | --- |
| Tuesday, August 13, 2019, 2:26 PM | | |
The Cubs and Phillies have only met once thus far in 2019, and the teams split a four-game series at two apiece.
"The Chicago Cubs continue their road trip Tuesday by opening a three-game series against the Philadelphia Phillies as betting favorites on the baseball odds."
That was the headline I woke up to this morning (SB Nation), as I started researching things for this preview. The Cubs 25-35 (.417) road record, along with Philadelphia's 34-26 (.567) home record tops the list of reasons why the Phillies should win the series, but in a must-win situation for both teams, anything is possible.
The Cubs have been playing better for the most part recently, though Cincinnati certainly pounded some of the new-found confidence out of them over the weekend. Despite those losses, the Cubs have gone 7-3 over their last ten (including sweeping Milwaukee), but you must also consider that six of those games were played at Wrigley Field. Once they hit the road on Thursday, they settled for a split with the Reds.
Philly has, however, struggled over their last ten games, going 3-7 with a pair of losses at home (vs. White Sox), but the remaining seven games (2-5 record) on the road. The Phillies are back in their own house now, and just 2.0 game out of a wildcard spot.
Injury Report:
CUBS: Willson Contreras (hamstring); Craig Kimbrel (knee); Daniel Descalso (ankle): Brandon Kintzler (pectoral); Steve Cishek (hip); Allen Webster (arm); Ben Zobrist: Day-to-day, as he attempts a comeback.
PHILLIES: Jake Arrieta (elbow); Andrew McCutchen (knee); Odubel Herrera (suspension- domestic violence); Seranthony Dominguez (elbow); Jay Bruce (arm); Victor Arano (elbow); Jerad Eickhoff (bicep); Tommy Hunter (forearm); Adam Morgan (hip flexor); Pat Neshek (hamstring); Edubray Ramos (shoulder).
*** Reportedly on Tuesday, the Phillies have fired their hitting coach John Mallee and replaced him with Charlie Manuel.
The Pitching
The Cubs starting rotation has fallen into that rut of recurrent bad starts again, with Jose Quintana remaining the only guy who has- thus far- been unaffected. A bad outing doesn't bother me so much- those happen to every pitcher- but this is the second time this season that the rotation has fallen victim to bad starts in succession by just about every guy who takes the hill.
So far as the bullpen is concerned, injuries have changed the landscape, so the Cubs will be relying on the experience of Pedro Strop and Tyler Chatwood, with a bunch of newer (and in some cases younger) faces to fill in the voids. Joe Maddon commented the other day, that this may be the time for one of his newer pitchers to step-up and grab some of the spotlight. Duane Underwood Jr.'s name comes to mind, as he was amazing during the blowout game vs
Oakland a week ago (Final: Oakland 11; Cubs-4), as do the names Kyle Ryan and Rowan Wick. Derek Holland has carried a 1.35 ERA over six games (6.2 IP) with the Cubs, and while not quite as glamorous, David Phelps has contributed with a 2.70 ERA over his 3.1 innings.
Joe Maddon has a plethora of talent in that bullpen, even if some of it is relatively untested. Will he use it efficiently and effectively?
The Offense
Despite adding names like Bryce Harper and Andrew McCutchen, the Phillies offense failed to ignite as planned. You'd think that for 330 million dollars (Harper), the Phils may ranks better than 11th in terms of homeruns in the NL, but this isn't the case. Harper is currently slashing just .250/.372/.472 with 22 homers (but 80 RBI), trailing his bestie- Kris Bryant, who happens to be slashing .292/.391/.532 with 23 dingers.
The Phillies took another offensive blow when they signed free-agent outfielder, Andrew McCutchen this year. Although Cutch had hit several fewer home runs than Harper (just 10), his .256/.378/.457 slash line was comparable to Harper's but was also far below McCutchen's career averages. McCutchen is now out for the season, after tearing his ACL while trying to field a routine pop-fly to shallow right field. Cutch is the kind of guy who's great for the game of baseball, and I'd like to wish him a speedy and successful recovery.
The Cubs have a fantastic offense one minute, and then it's virtually non-existent the next. This should come as no surprise to anyone (and certainly not to the team), as it's been a recurrent theme all year. This team has no less than a half-dozen men (and that's being conservative) who should be able to win Silver Slugger Awards year after year, yet they seem to get hot for several games, then get cold for weeks.
The acquisition of Nicholas Castellanos seems to have breathed life into the offense, however, as the Cubs have been producing hits (we won't talk about those couple of days in Cincinnati). Although the sample size is still small, Castellanos' 11 games as a Cub have netted him a .370/.408/.761 slash line, a 1.169 OPS, 17 hits, six doubles, four homers, and 6 RBI. The best part is, he's just one of a few "newcomers" who've contributed in a big way during a short amount of time.
Jonathan Lucroy: Three games, two singles, a double, two RBI, and a walk- not to mention his catching experience. Tony Kemp: Nine games, .263 average, four singles, a double and two RBI (20 plate appearances).
Then there's Ian Happ. If there are two things I hate in life, they are admitting I was wrong, then apologizing for it. The sample size is still small for this year, but based on Happ's performance last season, I'll meet Happ halfway and say, "I think I may have been wrong- sorry." In Happ's 16 games as a (Chicago) Cub this season (46 plate appearances, 40 official at-bats), Happ is slashing an incredible .300/.391/.650, with an OPS of 1.041. His four homers, two doubles, and six singles have netted the Happ and the Cubs 11 RBI, and I'll also point out that Happ started this mid-summer adventure by going 2 for 15 with a handful of walks, so the kid has poured it on lately.
Despite going a combined 0 for 6 in two of the games vs. Cincinnati, in the last week, Happ has slashed .316/.316/.842 with a 1.158 OPS, three homers, a double and two singles with just four strikeouts. I'm seriously impressed and certainly hope this continues, as this is the sort of spark the Cubs need.
Mound Matchups
Tuesday: LHP José Quintana (10-7, 4.23 ERA) vs LHP Jason Vargas (6-6, 4.09 ERA). Game time 6:05 PM CDT; NBC Sports Chicago, MLB Network (out of market only).
Q is the only remaining Cubs starter who's not suffered a lousy outing lately, and the Cubs are certainly hoping that continues. The Team has gone 7-0 in Q's last seven starts, while Quintana has posted a 6-0 record with a 3.67 ERA over that span.
Corey Dickerson and Sean Rodriguez seem to know how to attack Quintana, but the remainder of the Phils' offense has been able to produce next to nothing against him. Bryce Harper and JT Realmuto are each 0 for three against Q; Hoskins is just 1 for 5 and Miller is 1 for 9.
Unfortunately, for as well as Q does against the Phils, Vargas does even better against the Cubs. The guy who's seen Vargas the most is Castellanos, and he's only been able to produce a .227 average in 22 at-bats against him. In seven previous starts against Chicago, Vargas has posted a 3-0 record with a 3.95 ERA. However, in his one start against Chicago this season (June 21), he lasted only 4.2 innings, while giving up a total of four runs, two of which were unearned.
Note: Vargas was with the Mets when he faced Chicago this year.
Wednesday: LHP Cole Hamels (6-3, 3.09 ERA) vs RHP Aaron Nola (10-3, 3.67 ERA). Game time 6:05 PM; NBC Sports Chicago, ESPN, ESPN (out of market only).
Hollywood Cole Hamels was pounded for five runs (four earned) in his outing against the Reds last weekend, but prior to that, he'd posted a 1.07 ERA in his previous seven starts, the Cubs can ill-afford to have Hamels underproducing, so let's hope he just had a bad day at the office.
Cole has performed well against his former team, though Realmuto (.364 average in 11 at-bats) and Segura (.389 average in 18 at-bats) have caused Hamels some trouble. Hamels did face the Phils on May 22 this year, but despite the Cubs winning the game by a final of 8-4, Hamels last just four innings, giving up nine hits, two walks and a trio of earned runs, while fanning six.
For as good as Nola has been over the years, he's posted a 2-1 record against the Cubs (four starts) with an ERA of 5.11. Nola has managed to silence Castellanos (1 for 9), though Anthony Rizzo has pounded him for a .444 average in nine at-bats, while Kris Bryant has tagged him for a .286 average in 7 at-bats.
Nola did win his only contest against the Cubs this year (May 23), despite allowing three earned runs in 5.1 innings. During that matchup, Nola gave up just four hits, but he did issue four walks and plunked a batter while fanning six.
Thursday: RHP Yu Darvish (4-6, 4.43 ERA) vs RHP Drew Smyly (2-6, 6.96 ERA). Game time 6:05 PM CDT; WGN, MLB Network (out of market only).
Yu Darvish has been amazing, but he took a giant step backwards in his last outing, getting hammered for four earned runs (all via homers). Yu did manage to rake the Ks in that game (9 total), and he only walked one, so at least that trend has continued. In Darvish's last seven starts, he's fanned a whopping 53 batters while only walking two, which is amazing, considering for a while at the start of the season he led the NL in walks.
So far as the Phillies are concerned, Darvish saw them on May 20, in an outing that saw him give up three earned runs over six innings. Yu did manage to fan seven that day, but he also added three walks and four hits to his stats, in an effort that resulted in a 5-4 win for the Phils.
Now with his second team this season, former Cub, Drew Smyly, gets the nod to face Darvish and the Cubs. Smyly has never faced the Cubs, but he has dealt with Castellanos this year, and Nick has clobbered him- .375 in eight at-bats. He's also faced Jonathan Lucroy, though he has gone just 1 for 5. Smyly got rocked in his last outing (vs. SF), allowing six runs (4 ER) in five-and-two-thirds innings.
Series Prediction:
The Cubs are the favorites in this series, but I think this time I'll have to bet against the odds.
The Phils are hot at home and due for a winning streak, while the road games for the Cubs spell nothing but trouble. The Cubs last won a road series on May 19, and they're not able to "split" a three-game series. Considering that Cubs are just 33-31 against teams who are above .500, I think the Phils get the best of Chicago this time around winning two of three.
The Cubs best shot at a win in this series will be on Thursday (vs. Smyly), though I'd love to be surprised (and wrong) if they'd win vs. Nola or Vargas as well.
The Postseason push continues tonight on #MLBNShowcase!

Check out @MLBTheShow's prediction and watch the @Cubs & @Phillies square off at 7pm ET. pic.twitter.com/C51snjzldm

— MLB Network (@MLBNetwork) August 13, 2019

Tags: Cubs Baseball
,
Willson Contreras
,
Daniel Descalso
,
Brandon Kintzler
,
Steve Cishek
,
Ben Zobrist
,
Jake Arrieta
,
Jose Quintana
,
Pedro Strop
,
Tyler Chatwood
,
Duane Underwood
,
Kyle Ryan
,
Rowan Wick
,
,
,
Cole Hamels
,
Anthony Rizzo
,
Yu Darvish
,
Joe Maddon