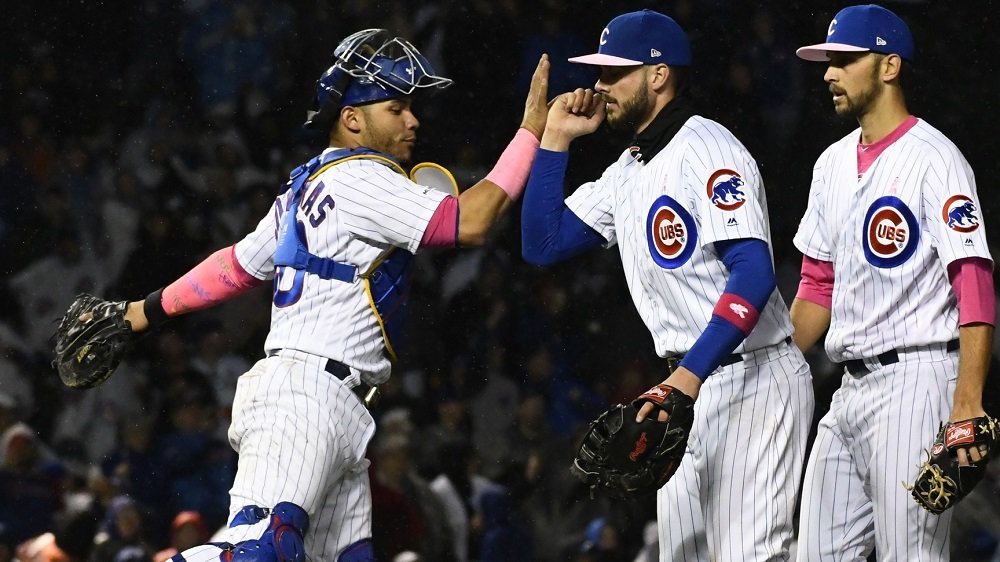 | | |
| --- | --- |
| Cubs vs. Reds Series Preview: TV times, Starting pitchers, Predictions, more | |
---
| | | |
| --- | --- | --- |
| Friday, May 24, 2019, 10:31 AM | | |
I said in my last Cubs/Reds series preview that no matter how down and out Cincinnati (22-27) was in the standings, they always played the Cubs (29-19) tough. After ending the Cubs 8-series win streak in Cincinnati just over a week ago, the Reds will now face the Cubs at Wrigley Field for a three-game set, and this time will be no different.
The Pitching
Although the Cubs will be sending the same three men to the mound who faced Cincinnati just over a week ago (Kyle Hendricks, Yu Darvish, and Jose Quintana), the Cubs' offense will see a couple of different faces this time (Anthony DeSclafani, Tyler Mahle), in addition to facing Tanner Roark again.
The Cubs' rotation has hit a bit of a rough patch lately, seeing every member of the group (except, ironically, Yu Darvish) have at least one bad start in their last two outings. Since last seeing the Reds, the Cubs have gone just 4-3, despite outscoring their opponents 44-36. Since last seeing the Cubs, the Reds have posted a record of only 2-3.
The Reds' starting rotation this series will consist of DeSclafani, Mahle, and Roark, who have collectively pitched to a 6-10 record with a group ERA of 3.87. Although the trio has struggled some in 2019, they never seem to play the Cubs hard. DeSclafani had a little something extra for the Cubs last summer, as he also blasted a grand-slam against them.
The Offense
There's little question that the Cubs offense is far superior to that of Cincinnati's. The question is whether or not the Cubs offense can support the number of runs being given up by Chicago's starting rotation. Somehow, despite a ton of runs being given up by their starters, the Cubs still sit second in the NL with a run differential of +61 (the Dodgers lead the NL with their +62). Meanwhile, Cincinnati continues to languish in that department (+25), but, believe it or not, they rank third in the National League, just behind Chicago.
I don't even know where to begin with how potent the Cubs' offense has been. They're getting homers, and clutch hits from unlikely sources such as Albert Almora, Jr. and Addison Russell, while the "power hitters" (Javier Baez, Anthony Rizzo, Kris Bryan, Kyle Schwarber and Willson Contreras have been producing like crazy in any and every possible scenario. Jason Heyward continues to slump terribly at the plate, but increased patience had led to a ton of walks lately. While J-Hey should be stroking homers, walks are undoubtedly preferable to strikeouts or grounding into double plays.
If the Reds offense wasn't already struggling, they've now lost Yasiel Puig to a shoulder injury. While Puig hasn't put up the numbers that the Reds would have liked to have seen by now, his 25 RBI and seven homers have at least helped some. What the team does still possess is a front-five (Senzel, Votto, Suarez, Iglesias, and Winker) who can create problems for any pitching staff.
Mound Matchups
Friday: RHP Kyle Hendricks (4-4, 3.21 ERA) vs RHP Anthony DeSclafani (2-2, 4.60 ERA). Game time 1:20 PM CDT; Televised on NBC Sports Chicago, MLBN (out of market) and MLB TV.
Kyle Hendricks is coming off his worst outing in a month, but with some help from his offense, still managed to grab his fourth win of the season against Washington on Sunday night. No pitcher can sustain the numbers that The Professor had been putting up, but fear not, Sunday's game was more of an exception than the rule.
When it comes to facing the Reds, only three batters have posted a .250 batting average or better against Hendricks: Jesse Winker: .300 (10 at-bats); Joey Votto .429 (21 at-bats); and Jose Iglesias: .250 (8 at-bats). In the last meeting between Cincinnati and Hendricks (May 14th), the Reds were held to a .100 batting average (3 for 30), one run and were given just one free-pass. Coincidentally, Votto and Iglesias accounted for two of the Reds three hits. The Professor racked up a total of 7 strikeouts in that game and lasted 8.0 innings.
The Cubs have not seen DeSclafani yet this year, but in five career starts at Wrigley Field, he's posted a 2-1 record with a 3.19 ERA. The Dodgers clobbered him in his most recent outing, managing three homers against him, and following that game, DeSclafani said that he didn't feel any of his pitches were working right.
His previous record at Wrigley sure doesn't line up with the numbers that the Cubs have posted against him, but you have to take into account the Cubs' issues with pushing runs across last year. Kris Bryant has smoked this guy (.333 in 15 AB), as have Heyward and Russell (each batting .286 with 14 at-bats apiece). Baez is 2for 5 against him (.400), and Victor Caratini and Contreras have gone 1 for 3 and 2 for six (.333 each) respectively. The only two guys that do struggle against DeSclafani are Rizzo (.167 in 24 at-bats) and Schwarber (.200 in 10 at-bats).
Saturday: RHP Yu Darvish (2-3, 5.06 ERA) vs RHP Tyler Mahle (1-5, 3.51 ERA). Game time 1:20 PM CDT; Televised on ABC-7, MLB Network (Out of market) and MLB TV.
Darvish received no-decision in his last outing vs. the Reds (May 15th), but he pitched a good game. Although he only lasted 5.1 innings, Darvish raked 11 Ks, walked no one, and allowed only 2 earned runs on five hits. His last outing (Monday night vs. Philly) was perhaps his best of the season, again resulting in no decision. Over his previous three starts, Darvish has posted a 3.52 ERA with 25 punch-outs.
Darvish has managed to hold the Reds (career) to a .194 average (total 38 at-bats), but the more important takeaway is that he's held critical players to low averages: Votto- .125 in 8 at-bats; Suarez- .143 in 7 at-bats; Peraza- .000 in 3 at bats. Darvish appears to be gaining more and more confidence, and I'd look for another strong start.
Tyler Mahle is the other Reds' starter who hasn't faced Chicago yet this season, but he's been solid in limited starts against them in the past (2-1, 2.41 ERA vs. Cubs). In his last outing at Wrigley, Mahle lasted 6.1 innings and allowed only one run on five hits (Reds won 7-6). Mahle has much improved this season, improving his ERA to 3.51 from what was a 4.98 in 2018.
In the past, Russell, Bryant, and Heyward have gone a collective 0 for 16 against him, and Rizzo has been held to a .125 average (1 for 8). Baez (4 for 8, 1 HR), Schwarber (3 for 7, 1 HR), and Contreras (2 for 8) have done the most damage against him.
Sunday: LHP Jose Quintana (4-0, 3.13 ERA) vs Tanner Roark (3-3, 3.51 ERA). Game time 1:20 PM CDT; Televised on WGN, SAP WGN, and MLB TV.
Q last faced Cincinnati on May 16th, taking the loss in what was not one of his best starts this year. He lasted 5.0 innings, allowed six hits and gave up a walk, allowing three earned runs and a homer.
The Reds have had a ton of experience with Quintana, and they've done well against him. The team average stands at .289 for a total of 125 at-bats, with Iglesias (.269, 26 at-bats), Suarez (.263, 19 at-bats), Votto (.471, 17 at-bats) and Peraza (.250, 16 at-bats) doing the most damage against him.
When the Cubs last faced Roark (5/14), they collected a W, winning 3-1 in the opening game of the series. In that outing, Roark allowed three earned runs in that outing on eight hits and a walk. He struck out a total of 6 and failed to give up a homer.
Historically, the Cubs have done reasonably well against Roark, posting a team batting average of .247 against him in a collective 108 at-bats. Bryzzo has hit the hell out of Roark, posting a .382 average in a combined 33 at-bats. Russell has hit him well (.300 in 10 AB), as have Contreras (.333 in 9 AB) and Schwarber (.250 in 8 AB).
Series Prediction:
I think the Cubs take 2 out of 3 in this series, but some things are working against them. (1) The Reds never fail to surprise Chicago; (2) The recent string of bad starts has me a little more than concerned; (3) The Cubs offense, while powerful, seems to be "all-in" or "all-out" with no in between, and this group of Reds starters isn't exactly cooperative. If the Cubs come out with solid pitching and a booming offense, a sweep isn't out of the question, but a lot will rest on how deep Chicago's starters go, and how the bullpen performs when needed.

Tags: Cubs Baseball
,
Kyle Hendricks
,
Yu Darvish
,
Jose Quintana
,
Addison Russell
,
,
Anthony Rizzo
,
Kyle Schwarber
,
Willson Contreras
,
Jason Heyward
,
,
Victor Caratini