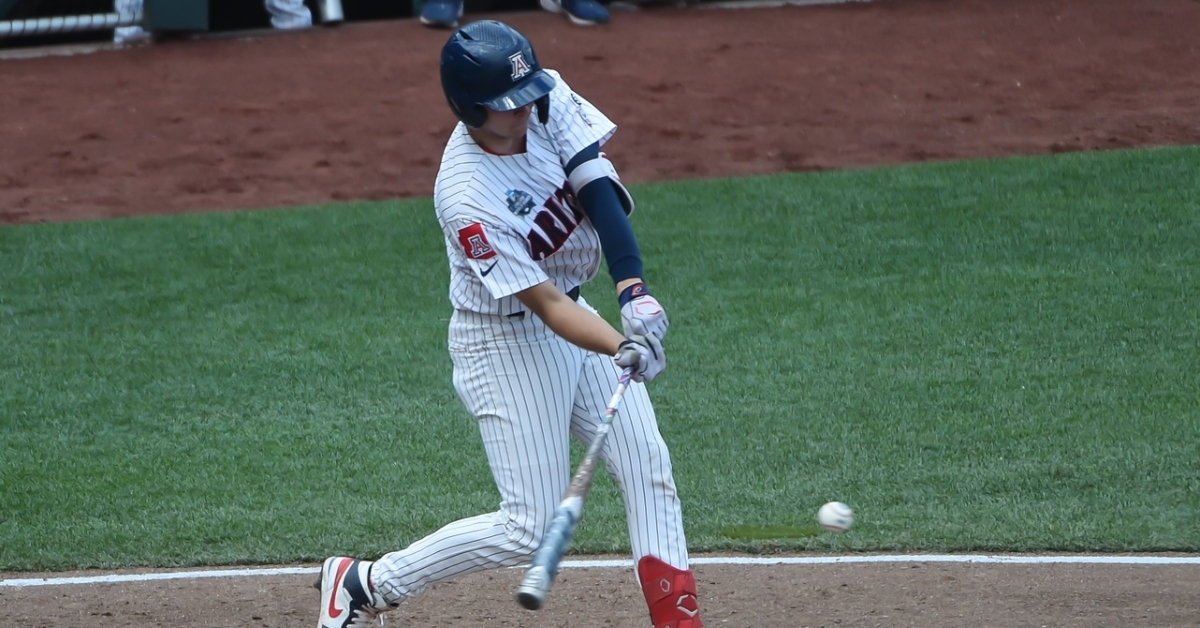 | | |
| --- | --- |
| Daniel Susac is an intriguing draft option for Cubs | |
---
For those of you who feel the Cubs are a few years away from playoff contention, allow me to keep you updated on this year's draft class. Since the start of the off-season, the Cubs have been linked to one of the best-pitching arms when they pick seventh overall.
While pitching has been on their mind for quite some time, taking a prep arm that high comes with some risks, so it is unclear what the Cubs may be thinking at this point. However, if you look at the most recent mock draft, the Cubs are not only being linked to a pitcher, but now to one of the fastest moving prospects in the 2022 draft class in Daniel Susac.
Dylan Lasko, who the Cubs have been linked to, has moved up some, too, as many experts feel he will be taken in the No.3 through No. 5 range. That is before the Cubs pick, which is why you see Susac falling to them at seven. Although not a pitcher, Susac is a catcher with plenty of upside, and that is something the Cubs need to consider right now.
Originally listed as the nation's third-best catcher and 23rd best prospect overall, Susac has skyrocketed up the rankings list and has made a case to be the first catcher taken. Given the uncertain future of Willson Contreras and the injury to Miguel Amaya, the Cubs need to plan for the future when it comes to catcher, and Susac would help.
At 6-4 and 218 pounds, Susac is very big for a catcher as the little brother of Andrew Susac is trying to make a name for himself at the University of Arizona. The Northern California native was considered a top prospect out of High School, but after going undrafted in the COVID shortened draft elected to enroll at Arizona.
That may have been a good thing for helping his draft status as he earned Freshman of the year honors and several other awards that have put his name on the map. Now draft-eligible once again, Susac has a chance to make a massive impact on both sides of the ball, which is rare for a catcher.
Once a switch hitter, Susac has committed to primarily hitting right-handed, but most scouts felt that was always his better side. Susan is big and physical and has shown the ability to drive the ball all over the field with ease. According to some scouts out there, if you want a top-flight catcher, drafting Susac is a no-brainer.
If he is sitting at No. 7 and the Cubs are on the clock, they would be foolish not to take him. Not only has he improved behind the dish and as a defensive catcher, but his offensive upside alone is what makes him nearly impossible to pass upon. He is certainly not a plus defender at this stage of his career, but his offensive numbers will warrant a top 10 selection.
Susac has already shown plenty of power, but most scouts feel that even more power can come from him, given his frame and physicality. Also, as a former high school QB, Susac is more athletic than people give him credit, which bodes well for anyone behind the dish.
Although not the best defensive catcher, being a former QB plays well for him as he has a cannon for an arm. His receiving skills are inconsistent, but he has improved those over the past year and should only get better.
Even before his recent rise in the rankings, Susac was one of the three best catchers of this draft class and was almost certainly a first-round pick. Now, he is starting to become a lock where he could be a top 10 pick, typically unheard of for catching prospects.
I know the Cubs fans around the world want this team to invest not only in pitching but in young pitching. If you look at their minor league system, that is the one thing they have done exceptionally well in recent years. Now they need to have more impact bats to balance out the system. Susac is an impact bat and one the Cubs would love to have for years to come.