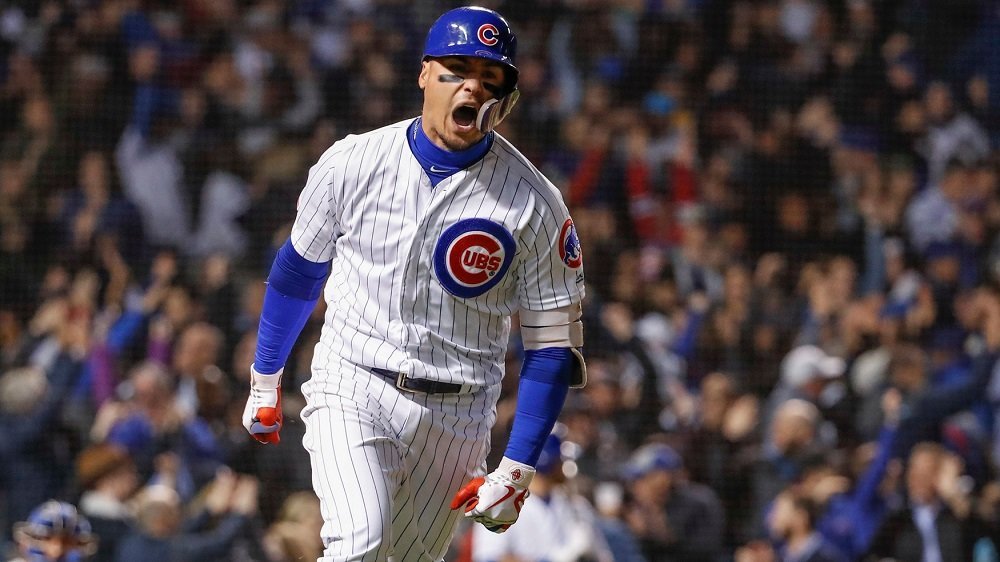 | | |
| --- | --- |
| Cubs News: Fly the walk-off W, Maddon on Zo's situation, Walk-off mania, roster moves, moves | |
---
| | | |
| --- | --- | --- |
| Sunday, May 12, 2019, 8:37 AM | | |
Next Game: Today, 6:05 PM CDT: Brewers vs Cubs. Jhoulys Chacin (3-3, 5.03 ERA) vs. LHP Jon Lester (2-1, 1.41 ERA).
CUBS NEWS AND NOTES:
Saturday's Game Recap: The Cubs loss to Milwaukee on Friday left the two teams tied for first in the NLC. The Cubs got a little help from the Pirates who beat the Cards on Friday, helping to keep them in check, but as of game time yesterday, it was solely up to the Cubs as to whether or not they'd retain first place.
Brewers righty Zach Davies took the mound for Milwaukee, to face off against veteran lefty, Hollywood Cole Hamels. Hamels has struggled a bit in his last two starts, while Davies has remained focused and on point. Good thing both hurlers were ready, as this game would become a 15-inning pitcher's duel.
The scoring would start in the fifth, with the Brewers' Hernan Perez tallying a home run off of Cole Hamels to put the Crew up 1-0. The Cubs tied it in the fifth, beginning with David Bote's single, followed by Almora's double, that sent Bote from 1st to home. A Javy-esque slide by Bote punctuated the run.
Both teams would see scoring opportunities come and go, with the Cubs' best chance to win coming in the 14th. Tyler Chatwood struck out to end the threat, but in the fifteenth, Willson Contreras launched a bomb, through the rain, over the left field bleachers, and onto Waveland Avenue.
Both Davies and Hamels were brilliant, with Davies going 6.1 innings and Cole Hamels lasting a full seven frames. Tyler Chatwood earned the win, while Burch Smith took the L for Milwaukee. Final score: Cubs-2; Milwaukee-1.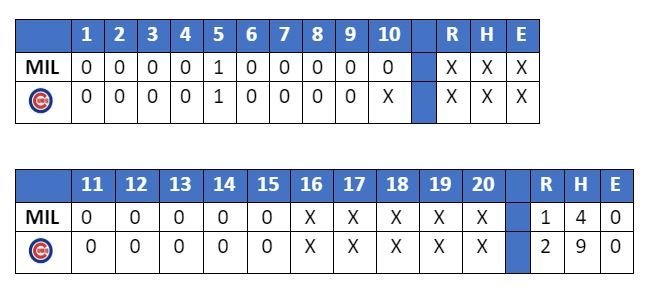 Walk-off mania: I'd rather not have to see the Cubs needing to win by a walk-off, but hey, in every dark cloud there's a silver lining. With Contreras' walk-off dinger last night, the Cubs have now hit three walk-off homers in the previous five games.
Chatty's W: The Cubs would use a total of seven bullpen arms yesterday, but Tyler Chatwood would prove to be the key to success, going 4.0 scoreless innings without allowing a hit, which earned him the win. Chatwood walked three, but fanned a total of seven in this outing, lowering his ERA to 3.10. Commenting on Chatwood after the game, Joe Maddon said, "That command is getting better and better and better. You'll still see out of the zone once in a while, but he's able to get it back, and man, it's electric stuff."
Roster Moves: Yesterday, the Cubs activated LHP Xavier Cedeno from the 10-day IL (hand injury dating back to spring training) and placed RHP Allen Webster on the 10-day IL (radial nerve inflammation).
Make it a double: The Cubs and Brewers combined for ten double-plays in Saturday's game- the longest game ever played at Wrigley Field between these two teams.
Run differential dropping: Not that run differential means a damn thing in terms of standings, playoffs, etcetera, but it's interesting to note just what a toll the Marlins and Brewers have taken on the Cubs in that department. Before the series with Miami, the Cubs run differential was +51 and tops in MLB. After grinding out four games with Miami and now two with Milwaukee, the Cubs have dropped back to second, behind Tampa who is (again) leading with a +57.
Maddon on Ben Zobrist: Though the details have not been released (and shouldn't be, as this is Zobrist's business), it has been reported that Zo is dealing with a family matter. Joe Maddon weighed in on Ben and the situation: "Yes, he would be the first to admit that he wasn't quite himself [this year]. We are just wanting this to work out for him obviously and be patient with the whole thing. I will stay in touch with him in a different way and being a good ear for him when it is necessary. Those are the things you do in these moments. You think about your internal relationships with your family. You never run away from your folks, from your people. Regardless of how awful the situation is, or seems, you need to be there for them." There is currently no timetable for Ben's return.
Cubs/Reds Probable Pitchers: TUESDAY: RHP Kyle Hendricks (2-4, 3.19 ERA) vs RHP Sonny Gray (0-4, 4.15 ERA); WEDNESDAY: RHP Yu Darvish (2-3, 5.40 ERA) vs RHP Tanner Roark (3-1, 3.27 ERA); THURSDAY: LHP Jose Quintana (4-2, 3.50 ERA) vs RHP Luis Castillo (3-1, 1.97 ERA). As always, I'll have a series preview for you, prior to game time.
Yesterday's Cub Birthdays: Happy birthday to ex-Cubs Trent Hubbard (55), Jerry Martin (70), and posthumously, Milt Pappás (80), Mel Wright (91), Gene Herma?ski (99), Dewey Adkins (101), and Jim Connor (156).
NL CENTRAL SCHEDULE (May 5 – May 11, 2019)
(Wins are in green, losses in red)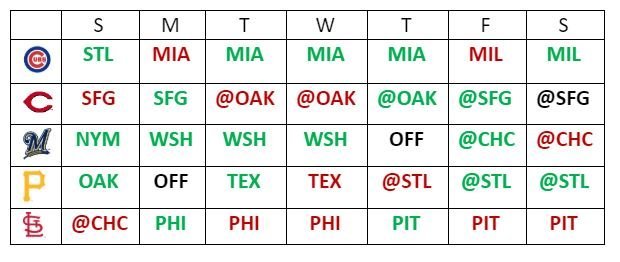 YESTERDAY'S NL CENTRAL SCOREBOARD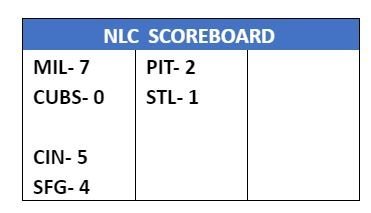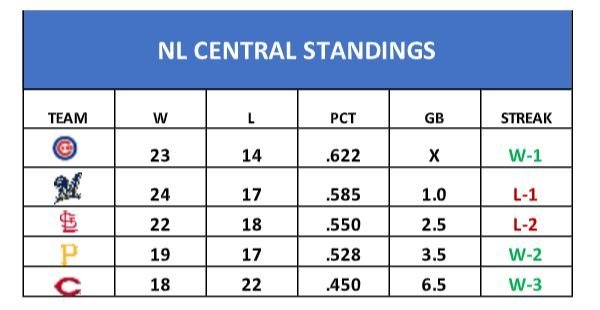 Tags: Cubs Baseball
,
,
Cole Hamels
,
David Bote
,
Tyler Chatwood
,
Willson Contreras
,
Xavier Cedeno
,
Ben Zobrist
,
Kyle Hendricks
,
Yu Darvish
,
Jose Quintana
,
Joe Maddon