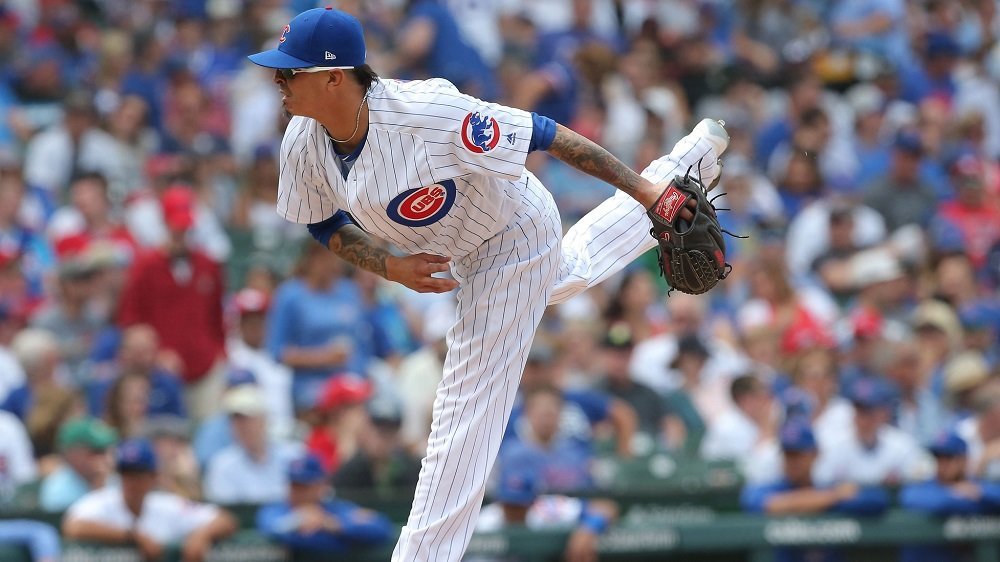 | | |
| --- | --- |
| Cubs News: Latest news and rumors: Chavez, Jansen, Archer and more | |
---
| | | |
| --- | --- | --- |
| Wednesday, November 28, 2018, 2:08 PM | | |
Cubs 2019 Opening day: 120 days.
Does Jesse Chavez's departure prompt a trade? Ian Happ, Addison Russell and perhaps Kyle Schwarber have been the names floated this off-season as possible trade bait for pitching, and with Jesse Chavez's decision to sign with Texas, those names may be getting tossed around a lot more shortly.
Chatting with David Kaplan this morning via Twitter, I asked a question: Do the Cubs now buy an upscale, free-agent reliever to replace Chavez, or do they end up trading for a brand-name reliever? When I suggested that the likelihood of Happ and Russell now being traded increased immensely, Kapman replied, in part, "I believe all options are on the table."
I think all options are on the table. Trust me, Theo and Jed will add to this roster. They know the window to win is wide open and it is right now.

— David Kaplan (@thekapman) November 28, 2018
Chris Denorfia: Currently serving as the Cubs' Quality Control Coach, Denorfia may find himself in the running to replace Andy Haines as assistant hitting coach. Haines accepted a job as the Brewers' hitting coach earlier this month.
Chris Archer: Pittsburgh Pirates right-hander, Chris Archer has undergone surgery to repair a bilateral hernia. Archer is expected to be down for approximately six weeks. The operation is not likely to pose any threat to Archer's career
Kenley Jansen: The Dodgers' closer came out of his heart surgery without a hitch and is doing well. Speaking to media, Jansen said, "It was a 5 1/2 hour procedure. Everything went fantastic. They found the problem." Cubs News: Latest news and rumors: Chavez, Jansen, Archer and more
MLB Player's Association: The MLB Players Association has voted to extend executive director Tony Clark through 2022. He will remain in the union's top seat for the next round of CBA negotiations.
Jay Bruce: The Mets' right-fielder may be on the trading block, but not just anyone can get him. Bruce has an updated, five-team no-trade clause, prohibiting him from being traded to Detroit, Miami, Oakland, Tampa Bay, and Toronto.
Astros: Nathan Eovaldi has been window-shopped by Houston this off-season, but it now appears as though Houston is looking harder at the 28-year-old right-hander.
Braves: Does Atlanta have a shot at landing Bryce Harper? Not according to ESPN's Buster Olney who suggested in an article that the "Braves more likely to land LeBron [James] than Bryce Harper." In the article, Olney says in part, " But no Braves fan… should bother jumping on social media every five minutes over the next three months to check for a Harper/Atlanta update, because it's not how the franchise does business."
Brewers: Milwaukee avoids arbitration with catcher, Erik Kratz. Kratz signed a deal that guarantees him $300k and provides him a $1.2M salary in the majors. Milwaukee is also reportedly interested in trading with SF for LHP Madison Bumgarner, but while the Brewers may be looking to buy, SF isn't necessarily ready to sell (see below).
Giants: Buster Olney now reporting that "Some evaluators who've been in contact with the Giants don't think SF will seriously entertain and weigh offers for Madison Bumgarner."
Marlins: Outright RHP Ben Meyer to Triple-A New Orleans, OF Braxton Lee to Double-A Jacksonville.
Mets: Mets are making addition moves in their FO. Per Ken Rosenthal: "Big move for Mets' front office: Team hiring Allard Baird, Red Sox senior VP of player personnel, as VP of scouting and player development, sources tell The Athletic."
Tigers: Detroit and LHP Matt Moore agree to a one-year, $2.5M deal, with an additional $1M in potential incentives.
This morning has been slow with regard to trades and free-agent signings, but with the non-tender deadline rapidly approaching, things are bound to start happening. Look for more updates on transaction, news, and rumors tonight at 6:00 PM eastern.