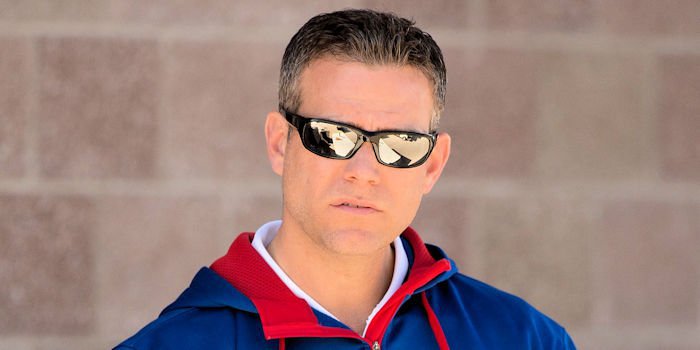 | | |
| --- | --- |
| Cubs News: Latest news and rumors: Epstein says don't bet against us, team injuries, and more | |
---
| | | |
| --- | --- | --- |
| Monday, January 7, 2019, 11:31 AM | | |
Cubs' news and notes
Cubs' Opening Day: 81 days.
Pitchers/Catchers Report: 36 Days.
First Spring Training game: 49 Days. (Saturday, February 23, Brewers vs. Cubs at Sloan Park)
In a radio interview on 670 The Score on Saturday, Theo Epstein had plenty to say to fans regarding injuries, the luxury tax threshold and about the roster as it stands now.
Theo on Darvish and Morrow: "They're both doing well. Darvish is farther ahead, he's on a traditional buildup with his throwing program and is in really good shape," Epstein said. "He'll be full-go on a normal schedule in spring training."
"Morrow doesn't think he's going to be too far behind at all. If you asked him, he'd probably say he's going to be ready for Opening Day. But, probably, that's unrealistic.
"If we do the right thing and build him up slowly, he'll probably miss it by a few weeks. But we'll see."
Theo in the luxury tax threshold: "The CBT threshold is not dictating any of our actions or inactions this winter at all," he said. "We're not governed by that. There are times when strategically you want to make sure you're under it or where you don't mind going above it."
"I've said that all offseason, from the first press conference on. This is not an offseason where anyone should be fixated about the tax," he said. "It's like any business- there are budgets. You can't ignore them. You can't spend what you don't have."
"You should spend everything you do have. There will be off-seasons when being very, very mindful of the CBT and not going just a touch over it, for example, and then hurting yourself with respect to future tax rates or draft positions and those things. That matters."
"This is not one of those off-seasons. So, I wouldn't waste a lot of time thinking about the tax as you try to assess what's going on."
Theo on the current roster: "They're a motivated and determined bunch," he said. "I wouldn't bet against us."
Justin Wilson: Former Cubs' left-hander, Justin Wilson, is now being viewed as the most desirable lefty reliever still on the market, in part, due to Zach Britton signing yesterday. Reports now ay that six or seven teams are showing interest in Wilson, though the Mets are the only team that has been
tied directly to him.
On this date: It was seven years ago Sunday that the Cubs' acquired 1B, Anthony Rizzo. Happy anniversary, Rizz.
Latest news and rumors from around the league
Giants: SF acquires IF/OF Breyvic Valera from the Orioles for cash.
Indians: Cleveland has acquired catcher, Kevin Plawecki from the Mets in exchange for RHP Walker Lockett and infielder, Sam Haggerty.
Mets: The Mets have acquired INF/OF JD Davis and minor league infielder, Cody Bohanek from the Astros in exchange for minor leaguers Ross Adolph, Luis Santana and Scott Manea.
Yankees: NY re-signs Zach Britton to a three-year deal with an option for the fourth year. The contract is reported to have an AAV of $13M.