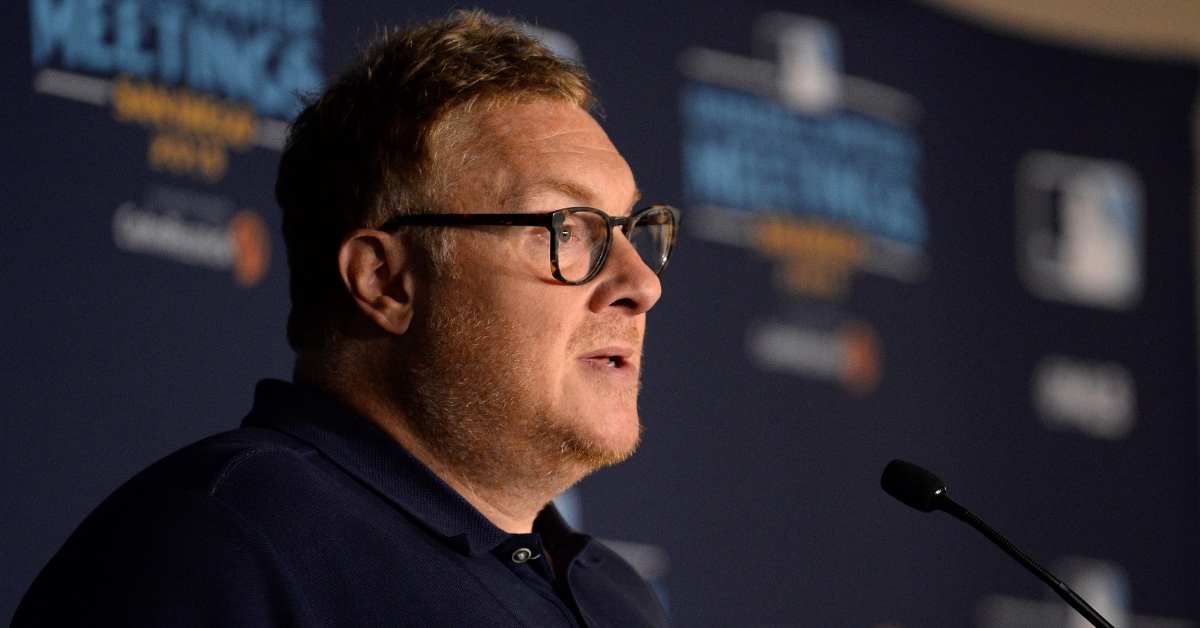 | | |
| --- | --- |
| Cubs News: Len Kasper on hire of 'Boog' Scambi: "They hit a grand slam" | |
---
| | | |
| --- | --- | --- |
| Tuesday, January 26, 2021, 8:25 AM | | |
The dust surrounding Marquee Sports' Network's newest hire has settled, and the rest of the offseason has been filled with departures and disappointment for Cubs fans.
Understandable, for an organization that laid out a rebuild, promised sustained success and that rebuild being the road to get you there — and it also promises that it won't need to happen again, literally watching it happen again.
Cubs fans have gone from financial juggernaut to having to say goodbye to Theo Epstein, Kyle Schwarber, Albert Almora, Yu Darvish, Victor Caratini, Jon Lester, Tyler Chatwood, Jose Quintana, and even announcer of 16 seasons, Len Kasper — and most, if not all (but Kasper) of those moves made with saving money, not winning baseball games in mind.
However, one massive gain this offseason has been Marquee Sports Network hiring Jon "Boog" Sciambi to replace Len Kasper as the Chicago Cubs' TV voice.
Boog comes with an extensive history in baseball as a broadcaster. His experience includes working with Len Kasper and the Marlins in the early 2000s and spending the last decade with ESPN as the radio voice of Sunday Night baseball and TV voice of Wednesday night baseball, among other duties.
Sciambi has spent parts of his time announcing baseball, sharing the broadcast booth with current Cubs manager David Ross and has the respect of the entire league.
It certainly appears, at least early on, that the Cubs nailed the hire. Even Kasper agrees.
"I thought Marquee and the Cubs absolutely nailed it; they hit a grand slam," Kasper said on my podcast the Cubs Corner. "I think Jon Sciambi is maybe the best in the business."
But what seems to make the hire really seem like a good one is Sciambi's understanding of what baseball means to the fans, maybe something the organization has forgotten.
"I want to be where baseball matters," Sciambi said in his introductory press conference. "And baseball matters on the North Side of Chicago."
And part of what makes baseball matter so much is the legacy of broadcasters that Sciambi is entering into.
When the Cubs were one of the only teams to have their games on television — and the only team on a Super Station like WGN, their games were broadcasted to many people in the country and around the world.
Jack Brickhouse was the voice of the Chicago Cubs then and told the stories of those Northside teams that originally capture fans from all over and turned them into Cubbie faithful. Brickhouse announced Cubs games from 1948-1981 and was awarded the Ford C Frick Award from the Hall of Fame.
*Brickhouse was known for his excitement, his "hey, hey," and more.*
Harry Caray took over in 1982, and did the unthinkable, outshined Brickhouse. Caray's legacy made even losing baseball fun, and he was loved in the city for it. Caray covered Cubs games and graced Cubs fans' homes until 1997 — continuing to grow the brand that was Cubs baseball. Caray has restaurants in the city, a statue outside the stadium, and a no brainier Hall of Famer.
*Caray was known for the entertainment he brought to the booth, drinking Budweiser beer, singing the seventh-inning stretch, "Holy Cow," and more.*
Then after seven years of Harry's grandson Chip Caray calling Cubs games on TV, Len Kasper took over and spent the next 16 seasons calling Cubs games and providing the summer soundtrack for the newest generations of Cubs fans.
*Kasper was known for his baseball/ pop culture knowledge, storytelling, humor, and more.*
"It's amazing, and it gives me chills to even think about," Kasper said of his longevity as apart of this legacy. "I don't take that responsibility or that honor lightly."
And now, it's Sciambi's turn to be the voice of our summers. A job a select few have handled, and an even smaller number understand the importance of.
"We're confident he'll add to the incredible legacy of Cubs broadcasters and quickly become a trusted friend to our amazing fans," said Crane Kenney, Cubs president of business operations, in a statement released when Sciambi was hired.
Boog now joins a group of just a few broadcasters who have graced our ears and told our stories.