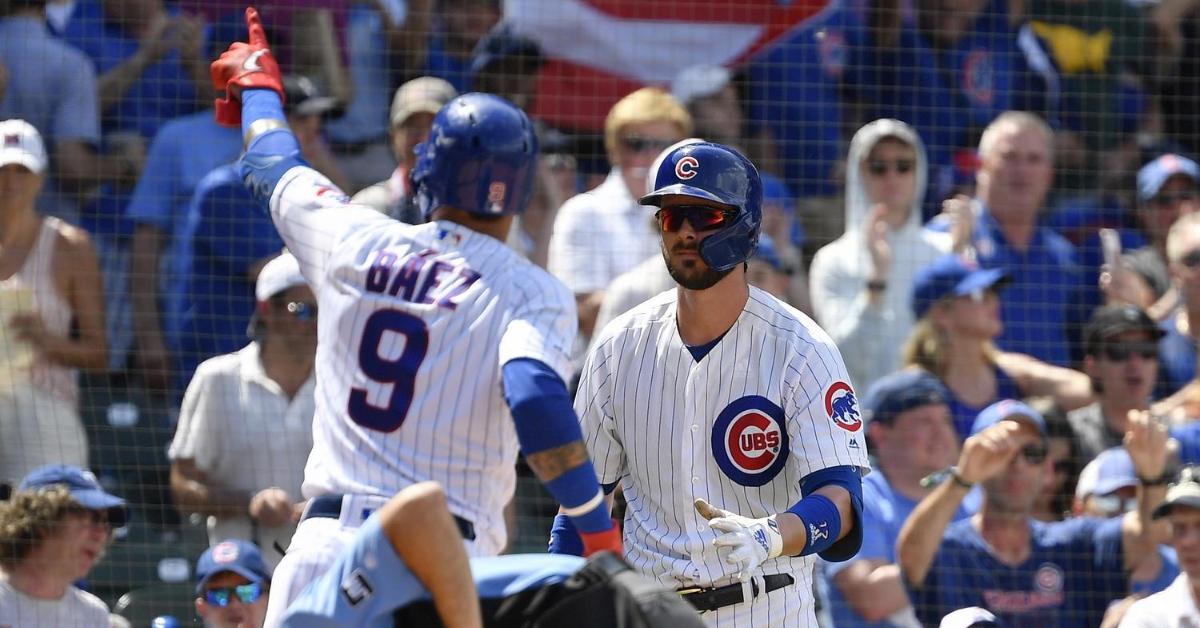 | | |
| --- | --- |
| Maybe Next Year- Part-4: Retaining the Rest of the Cubs' Roster | |
---
| | | |
| --- | --- | --- |
| Thursday, October 3, 2019, 7:49 AM | | |
In Part-3 of this series, I outlined which way I think the Cubs will go as they rebuild a team that's slowly eroded for the past three years. I mentioned earlier that the Cubs would be changing the scene without removing all of the scenery, and I believe that this all starts with signing Javier Baez to a multi-year extension this winter. There were rumors from credible sources less than two months ago, stating that this was among the things on the top of Theo Epstein's to-do list, and ironically, this whisper came in nearly the same breath as the rumors which stated that the Cubs would entertain offers on Kris Bryant.
The Cubs would be wise to reach a mutually beneficial deal with Baez, as it would ensure them (ahead of the upcoming CBA) one of the best shortstops in the business, along with a strong bat, while allowing Baez to protect himself from the uncertainties of a very unpredictable free agency market. Javy has some room to improve, especially when it comes to falling prey to sliders, but not so much so that the Cubs can afford to risk not signing him to a 7-10-year deal while they have the chance. Every player on this team refers to Baez as "the heart and soul," and it would be criminal not to form a much-needed overhaul around him and a couple of others. Offer him a longer-term with a slightly lower AAV, and include the standard opt-out clauses toward the end of the deal, which have become so commonplace.
Much like Javy, Rizz brings an energy and a presence that can't be found anywhere else, and I think the next step would almost have to be revamping Anthony Rizzo's deal. Rizz signed a very team-friendly, seven-year, $44M deal back in 2013, and it's time to extend him if the Cubs want him to remain in Chicago after they run out of team options on him in 2021. Rizzo has reached the point where he can provide the veteran leadership to this team, and he needs to do so, as most of the Cubs' "experimental leaders" have failed.
Asked Tony Kemp if there was anything leadership can do or say at this point:

"Without saying it, I think what Anthony Rizzo is doing (by playing) right now speaks volumes. That's leadership right there."

— Jesse Rogers (@ESPNChiCubs) September 22, 2019
The Cubs locked David Bote into a very team-friendly, 5-yr/$15M deal last winter, and I think that contract (which starts in 2020) is going to pay huge dividends for Chicago next year. With Bote's ability to cover every infield position (and allegedly the entire outfield and catcher's spot as well), I think he's going to become the newest version of Zobrist 2.0. If Bryant gets traded- as I suspect he will, Bote is in a position to become the Cubs' everyday third baseman, while possessing the ability to float around the field, as necessary. If KB stays, third base will be his, but he'll cost a pretty penny this year, as his $12.9M salary is due for arbitration.
Theo Epstein said almost a year ago that the Cubs wouldn't rush things with Nico Hoerner, nor would fans see him in Chicago in 2019; well, circumstances necessitated change, and Hoerner has capitalized on the unforeseen opportunity. It's hard to envision Hoerner going to Iowa after his showing in 2019, and even he thinks it would be a waste of time. When asked about where Nico believes he'll be in 2020, he provided the following reply: "I'm thinking about this year, it's where my feet are, where I am right now. I'm having an amazing time and learning a lot at the same time. So far as being in the big leagues hurting my development or things like that, I don't really believe in that at all. I believe in learning at the highest level I can play at, and for me, that's here."
In my opinion, Hoerner will undoubtedly stay with the major league team. He's a phenomenal ballplayer, he's extremely grounded for a 22-year old, and he's never once carried himself like a giddy or awkward rookie. I'm sure the Cubs would like to get him at least a little time in Triple-A next year, but I think with a solid finish to 2019 in the majors, and a little time in the Arizona Fall League, Hoerner will be primed and ready to break camp with the major league team, late next March. This also makes sense from a business standpoint, as the Cubs would have a kid at league minimum replacing Russell- a controversial (though accomplished) player- for about 10% of the cost, as Russell's arbitration this year will undoubtedly net him $5M+.
Willson Contreras will own the starting catcher's spot in Chicago for as long as the Cubs can keep him, but I don't see them trying to extend him until next year (unless attempts to extend Javy fail). Look for Willy to sign another one-year deal to avoid arbitration.
Victor Caratini played for the league minimum this season, but the Cubs will undoubtedly sign him to a one-year deal worth more. Caratini was invaluable this season during the absences of Contreras and Rizzo, and his bat has become a welcome sight in the lineup.
Moving to the outfield, the Cubs can't re-sign Nicholas Castellanos fast enough. Castellanos is going to be the youngest free agent in this year's class, and his solid offense is going to let him rake in the cash.
Castellanos is now hitting .338/.375/.677 (1.052 OPS) with 36 extra-base hits, 35 RBI, 40 Rs in 48 games with the Cubs, yet they are just 25-22 as a team in that time (plus the result of Saturday's game).

Where would they be right now if they didn't pull that trade off?

— Tony Andracki (@TonyAndracki23) September 21, 2019
Castellanos played for just under $10M this season, and while I thought he'd be seeking almost Harper-like money, MLB insider, Jon Morosi, says he'd likely settle for somewhere between $20-21M a year for a five to six-year deal. I think that almost seems low, despite doubling (and then some) what Nick made this year. Especially considering Boras is his agent, I'd guess $21-23 million on a seven-year deal, but even still, I think the Cubs can afford this. Maybe the better way to phrase that is that the Cubs cannot afford not to afford this.
Will Theo & Ricketts re-sign Nicholas Castellanos?

— ESPN 1000 (@ESPN1000) September 21, 2019
I think Kyle Schwarber dodges the Russian-roulette game for determining which outfielder leaves the Cubs, signing a one-year deal to avoid arbitration. Schwarbs played for $3.39M in 2019, and I'd venture to say that you'll see him in the $5.25M range next season. His defense has improved, and although sporadic at times, his bat yields a lot of home runs, and the Cubs certainly benefit from that power.
For the last three years, Jason Heyward's 8-year/$184M deal has been something the Cubs probably wish they'd never signed, but it is what it is. Heyward does have a modified no-trade clause for this year, but it's unlikely the Cubs can dish him without eating a ton of cash. Finding a buyer would certainly help matters financially (Heyward is still owed $96M over the next four years), but while they'd be losing a perpetually lagging bat, they'd also be losing J-Hey's Gold Glove defense. I think the best the Cubs can hope for is an offensive improvement, while they bite the bullet and bide their time.
Whether it's Albert Almora's defense or Ian Happ's switch-hitting and utility status the Cubs decide to keep, I think the other one packs for a new home. Almora ($615.5k in 2019) gets arbitration this year, while Happ ($603.5k in 2019) is finishing a one-year deal, with another year of team control, before his first arbitration. I think the Cubs would do better by keeping Almora, as his defense is stronger, but Happ's versatility is also worth something- maybe in terms of trade value. Whichever one stays, it'll be another one-year deal, with no arbitration in Almora's case.
The Cubs got quite the deal when they sent Martin Maldonado to Houston, in exchange for Tony Kemp in July, though I don't think many people see the upside. Kemp's bat may have suffered this year in Chicago, but he had limited at-bats. He's a phenomenal second baseman, he plays the outfield with proficiency, not to mention that he's faster than hell and controllable for another three years.
Keeping Kemp handy is a plus, especially for situations when the Cubs need a pinch-runner. They let Terrance Gore walk after the 2018 season and failed to pick up Billy Hamilton when they had the chance this year. With time and the help of advanced hitting technology, Kemp will have the chance to become a better hitter. The Cubs need to become far more aggressive on the bases, something that I'd like to think they'll employ under a new manager, and Kemp would fit nicely into that type of scenario. He played for just over the league minimum in 2019 ($584k), and I think the Cubs will sign him to another one-year deal.
Most fans don't know the story behind Robel Garcia. A native of the Dominican Republic, Garcia signed with the Indians in 2010 but was released at the end of spring training in 2014, shortly after his 21st birthday. He wasn't ready to quit playing ball, and wound up playing in Italy, where last season he helped lead UniPoisai Bologna to a championship.
"He's a really intriguing player. It is an incredible story. He hits the ball really, really hard from both sides of the plate. Gets it in the air a lot, especially left-handed, and he can get around on anybody's fastball. … He's got some versatility to his game, certainly got some power to his game. It's an intriguing fit for the club down the road." – Theo Epstein
Robel Garcia will most likely stay in Iowa for the better part of 2020, but I think the Cubs will re-sign him. He played for the league minimum $555k last year, and with some time to develop his hitting, I think he'll eventually have a future in Chicago. His switch-hitting status is appealing, his skills at second base show potential, and he can play left field. Garcia also can play third base, and he's spent some time at first, as well.
You'll also see some of the minor leaguers retained, while others will be dealt, but Theo needs to walk a fine line, as depleting the farm system is what's biting them now.
Tomorrow: Part-5

Tags: Cubs Baseball
,
,
,
Anthony Rizzo
,
David Bote
,
Willson Contreras
,
Victor Caratini
,
Kyle Schwarber
,
Jason Heyward
,
,
Robel Garcia
,
Theo Epstein