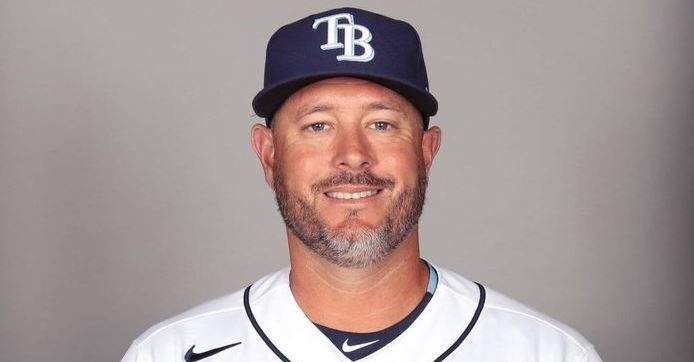 | | |
| --- | --- |
| New Cubs coaching hires bring hope in 2022 | |
---
| | | |
| --- | --- | --- |
| Wednesday, November 17, 2021, 9:29 AM | | |
Since the start of the offseason, the Chicago Cubs have been doing a lot of retooling, but not much has come at the expense of the roster. Instead, you have seen plenty of front office moves, which included new GM Carter Hawkins getting announced.
Once that transpired, the Cubs began to fill in the holes that needed to be filled after letting some of their coaches go. The most prominent hole was hitting coach, where Anthony Iopoce was let go. Replacing him was former Tampa Rays Minor League hitting coordinator Greg Brown as he looks to get this offense on a much more consistent track.
That wasn't the only coaching hire the Cubs needed to make as assistant hitting coach Chris Valaika was hired away from the Cubs to become a hitting coach. Taking over his spot on the team will be Johnny Washington, who will be the team's new assistant hitting coach. Although Washington doesn't have many connections with the Cubs organization, he does have a connection with Andy Green, whom he worked under as a member of the Padres.
While with San Diego, Washington was the team's first-base coach, so he does have some experience in other areas. He then was promoted to hitting coach in 2019, which happened to be Green's final year with the club. Later that season, Green was let go, and Washington followed, but it was his choice, not an organizational decision, as he spent 2020 away from the game due to the pandemic.
One year later, Washington was back at it, as he landed overseas in the KBO as the hitting coach for the Hanwha Eagles. Although a completely different
style of baseball in South Korea than here, the Eagles offense was one of the best in the game, which is promising when it comes to this hire. Having Green on the staff had to influence the decision of Washington, but I like this hire more than most.
The thing I like about it the most is the diversity he brings to the table with him. He has worked his way up through the Dodgers organization before linking up with the Padres and then spent a season in Asia. Over that time, Washington has performed many different roles, which will be good for this team. Team him up with Brown, and the Cubs have a drastically different approach to hitting this season.
The hitting side of things may have seen the most significant overhaul, but there were some changes on the pitching side of things too. Tommy Hottovy has gotten tons of criticism from many fans, but he has done a decent job since taking over. The organization feels the same, and he will be retained one more season. However, assistant pitching coach Mike Borzello won't be as the longest-tenured coach in the Cubs organization is officially on the market for someone else.
Losing Borzello will be a massive blow for this team, but the Cubs look to have found his replacement, and he may be one of the better hires out there for the gig. Enter Daniel Moskos as the team's new assistant pitching coach. His hire not only brings the Cubs one step close to rounding out the coaching staff, but it is an addition aimed at helping the gap between the pitching infrastructure.
Although Borzello helped a lot with the pitching last season, he wasn't considered the assistant pitching coach as this is a newly appointed position on this year's staff. Moskos will take over most of the duties that Borzello was performing while also performing new tasks within the pitching side of the game.
The 35-year-old Moskos comes to the Cubs after spending the last two seasons in the Yankees organization. Last season, Moskos was the pitching coach for AA, where his club led all AA clubs in ERA (3.38), WHIP (1.16), and opponents average .212. All of those statistics were issues for this team last year, so this move makes a ton of sense.
Before getting his job with the Yankees organization, Moskos made a name for himself at the Driveline Academy, which the Cubs are very familiar with. That came after a 12-year professional career where he was taken fourth overall by the Pittsburgh Pirates in 2007. During his lone taste of MLB action, Moskos was solid, posting a 2.96 ERA.
Neither of these moves is flashy, but they follow a common theme that the Cubs are looking to do. Both of them have a wide variety of experiences and bring different things to the table. Add in the Brown hiring earlier, and you have a pair of minor league coaches now landing MLB jobs.
I know what you are thinking. Why hire a minor league coach when other MLB coaches are out there. While I agree with that statement, I also want fans to consider the nature of a MILB hire over an MLB hire. Keep in mind that minor league coaches work more closely with their players than MLB coaches. That means they build a strong relationship and do more hands-on things to get them ready for the show.
In a way, they know what works and how to relate to players sometimes better than MLB coaches do. Moskos, Brown, and Washington will look to improve the team in other ways and look to build more of a relationship with their players to understand them and what they like to do. These hires may not look huge, but they will go a long way for this team.