| | |
| --- | --- |
| Report: Cubs kicking the tires on Zach Greinke | |
---
| | | |
| --- | --- | --- |
| Wednesday, March 16, 2022, 12:44 PM | | |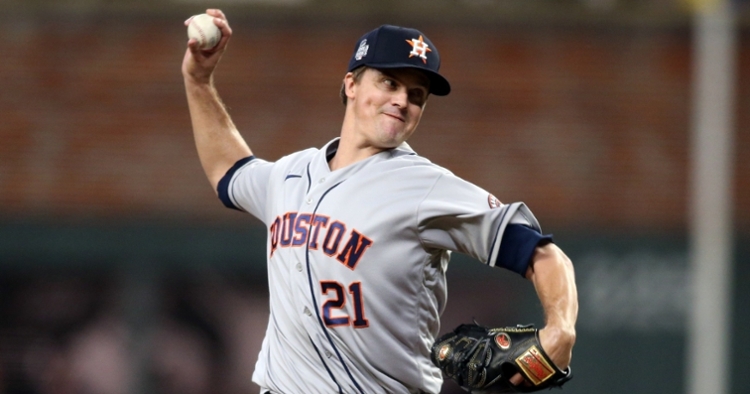 All off season, we have heard rumors surrounding the Cubs about taking on high-volume contracts in order to gain prospects in return. Eric Hosmer was the most common name brought up in the mix, and that is still a possibility despite those talks taking a back seat. Sticking with high-volume players to possibly flip, a new name popped into the mix, and I have to be honest, it was not a name anyone expected.
Knowing that pitching is still a need despite adding Wade Miley and Marcus Stroman, the Cubs are still looking for pitching help, especially for the early part of the season. According to David Kaplan, as the Cubs continue to evaluate their roster and continue to engage in starting pitching talks from multiple fronts, the name Zach Greinke has begun to emerge in conversations.
I know what you are thinking, isn't Greinke washed up and close to retirement? From an argumentative side of things, yes, he is currently 38 years old and nearing the end of his career. However, even on a one-year deal, he could be an excellent addition to the back of this rotation as he can give the Cubs innings to help preserve some of their younger arms.
Given Greinke's age, I don't see him signing with anyone unless they are playoff worthy of contending for the playoffs, but you never know in this day and age. Greinke was never a hard thrower, but he is the definition of a soft tosser reaching 89 MPH on his fastball. For what it is worth, soft-tossing is a specialty for the Cubs as Miley and Kyle Hendricks have the two slowest average velocity on their heater.
If you add Greinke, the Cubs would have three of the bottom five in that category.
Greinke is no stranger to the Wrigley Field, where he has struggled in the past, but he is no stranger to the NL, where he spent time with the Dodgers and Reds. While his best days are behind him, Greinke is still a reliable pitcher who would fit in nicely as a number four in this rotation. 2021 saw Greinke go 11-6 while posting a 4.16 ERA. That ERA isn't terrible, but for Greinke, it was the second-worst of his career.
Before 2021, Greinke was coming off a 2020 season where he went 3-3 with a 4.06 ERA, so you could see his days were starting to get numbered. However, go back to 2019, and he went 18-5 with a 2.93 ERA, and he has won at least 11 games in every season since 2011 outside of the COVID shortened season. That is a big reason he has more than 200 career wins, as he has posted a 219-132 mark to go with an impressive 3.41 ERA. Add in the 4/1 K/BB ratio; Greinke is a command specialist who knows how to get people out.
While his regular-season numbers are great, the playoffs are a different story as he is just 4-6 with a 4.14 all-time in the playoffs. He did post an ERA under 3.00 this season, so you have that to work with. Looking back on his career, Greinke has been one of the best starters since 2010 and may have an inside track to hall of fame consideration. Once someone who lived in the 94-95 MPH range, Greinke has had to reinvent himself, which often comes with age.
Now, he is content with living in the 89-90 MPH range as there are so many other ways he gets hitters out. He has a 74 MPH curve to keep hitters off-balance and mixes that in with a slider, change up, and occasional split. Neither one of them will blow you away, but if you know to pitch and change the eye level of a hitter, it works in your favor. Once a strikeout pitcher, Greinke has a contact first approach by pitching to contact.
That doesn't always work, but when you have the command that he has, he can avoid consistent hard contact and induce plenty of double plays. Greinke would not be brought in to be the ace of this staff, and you could argue that he won't be in the top three. However, despite his age and declining numbers the last few years, he has shown that he still has a few years left in the tank and potentially one more good year.
Should he sign with the Cubs, Chicago hopes his final good year can be this season. Looking at rotations across major league baseball, you could do far worse than having him as your No. 4 or No.5 so let's see how serious the Cubs are with this discussion.