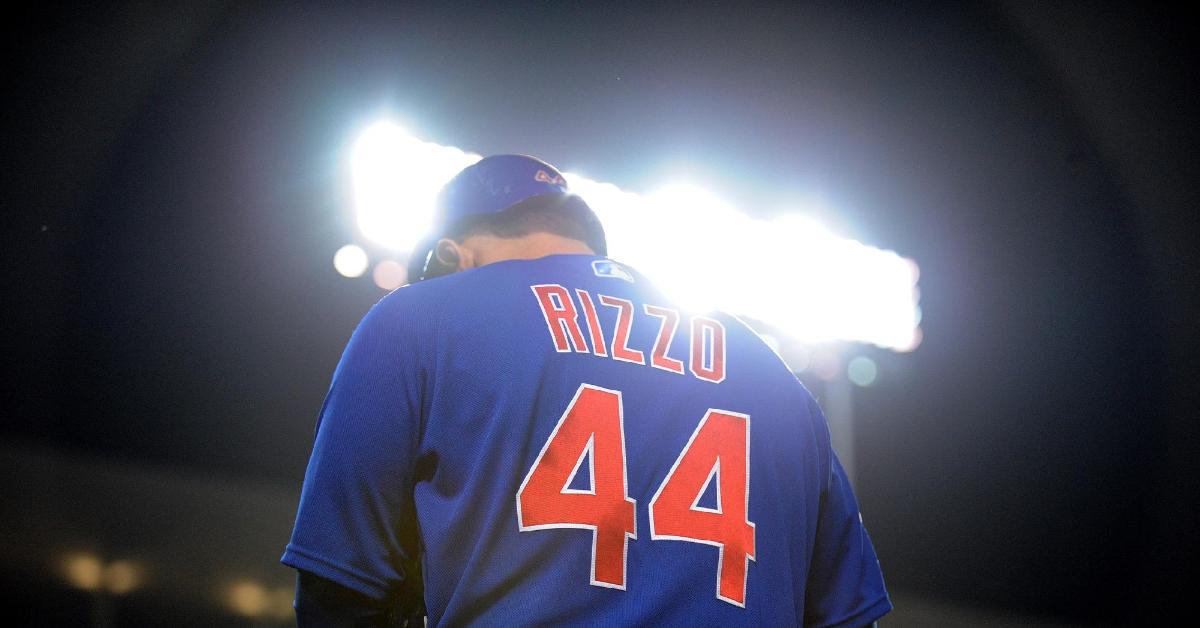 | | |
| --- | --- |
| Cubs News: Season Projection: Anthony Rizzo and other first basemen | |
---
| | | |
| --- | --- | --- |
| Friday, March 13, 2020, 1:03 PM | | |
Part three of the projections series shifts to first base where the Cubs are already set in stone at that position. Given that Anthony Rizzo is listed as the only true first baseman on the roster, this part of the series will feature his projections along with four other first basemen in the minor league system.
ANTHONY RIZZO: The heart and soul of the Cubs for nearly a decade now, and by all accounts the team captain, Rizzo has been everything the Cubs could have asked for and more since coming to the North Side as he was the first piece of the rebuild that got the Cubs their first World Series in 108 years.
Not only has he been consistent at the plate, but he continues to bring you gold glove defensive skills at first, which makes him one of the best two-way first basemen in the game. If there was a knock against Rizzo, it may be that he has only delivered one MVP type season, which was 2016, but his numbers are always consistent. That is mainly because of how close he stands to the plate as he continues to get drilled with plenty of pitches.
The growing concern with Rizzo is his contract, as next year will be the final year of his deal before he hits the free-agent market. The two sides would love to meet on a new contract, but at 32 years old at that point, how far would the Cubs be willing to go in terms of commitment, and at what cost. For now, let's enjoy the next two years while we can and let the business side of things play out.
Projection: 145 games, .286 average 31 homers 105 RBIs.
Rizzo is going to play 140 plus games if healthy, but he continues to have back issues that can often limit him for weeks during the season. Even at that, he hasn't missed more than seven straight games at any point in his career, which is a big reason as to why he puts up the numbers he does.
Moving to what looks to be the second spot in the lineup this year, Rizzo will see plenty of RBI chances this year, which often he cashes in on. After going through a rare power outage in the middle part of the season last year, I expect a great bounce-back year from him as his numbers should get back to the NLCS and World Series numbers.
JARED YOUNG: The Tennessee Smokies first baseman continues to be an under the radar prospect since the Cubs drafted him in the 15th round back in 2017. Outside of last season in which he a career-worst .235 average with just five homers and 57 RBIs, Young has been a very good hitter finds himself in the .270 plus batting average range most years.
Part of the reason for his struggles last season was the league he was playing in as the Southern League in AA is often looked at as one of the toughest leagues to develop during the season. Should he start the season back in AA, look for Young to make significant strides this season to get close to his career numbers once again.
Projection: 114 games, .274 average 12 homers 58 RBIs.
Young is a durable player, and I certainly look for that to continue this season. Could his patience at the plate be a little better? Yes, it could, but Young continues to be a solid contact hitter that gives you some pop now and then. With a team like Tennessee who won't have Nico Hoerner or Robel Garcia this season, Young will be counted a ton this season to drive in runs in the middle of the lineup.
TYLER DURNA: After starting the season in South Bend last year, Durna showed he was ready for the next step making the leap to Myrtle Beach in late July. Once he arrived, Durna played in 24 games, 20 at first and four as a DH, where he hit .253 with 10 RBIs. Add that to his numbers in his 76 games with South Bend, and you have a season where you batted a .291 with four homers and 53 RBIs.
The power numbers I am not concerned about as those should go up over time, but it is his eye at the plate that makes me think he is on the verge of breaking out this season. Not only is a 291-average solid, but his 35BB/53K ratio shows he is very good at putting the ball in play and often won't beat himself. For an organization that has a tough time doing that, this is certainly nice to see in the lower-level leagues.
Projection: 97 games, .279 average 6 homers 47 RBIs.
Durna will be battling it out with Cam Balego for the every day first baseman job, which I think will be Durna's by seasons end. Until that point, Durna will have to contribute when called upon on his days to play. This being his first full season in High-A ball, you will undoubtedly see some growing pains early. Still, with a month of experience already under the belt at this level, he should be able to make the adjustments to the league much faster than others.
JAKE SLAUGHTER: Perhaps the first baseman generating the most buzz in the Cubs system is that of Jake Slaughter of South Bend. Taken in the 18th round of the 2018 draft, he has impressed the Cubs with his bat, especially last season, which was his breakout year. After starting the season with Eugene in which he played 42 games, Slaughter led the team in batting average at 308, hit three home runs, and led the team with 27 RBIs.
That prompted a call up to South Bend in early August in which Slaughter not only picked up where he left off but contributed immensely in the Cubs title run. Slaughter ended up playing in 29 games for South Bend, 23, which were starts including 21 down the stretch. He proved he belonged as he hit .278 with one home run and 10 RBIs. I am not necessarily looking at those power numbers more, so the average as he is showing he is a complete hitter.
Now, expected to open the season as South Bends' full-time first baseman we could be in for a real treat as I expect Slaughter to put his hitting skills on full display this season. Will the power numbers increase? They should, but his ability to use the whole field gives him the potential to be a very solid hitter for a long time.
Projection: 101 games, .285 average, 7 homers 52 RBIs.
The toughest thing about playing in A-ball is that it is hard to play every day given the number of players that come through the organization. Slaughter may benefit from being at first base as I don't see too many people challenging him at that position and the ones that would are at different levels of the organization. That will give Slaughter not only plenty of games defensively but plenty of reps at the plate to be a better, more polished hitter. Should he continue to do what he did a season ago, and there is no question he will be a top 20 prospect in the Cubs organization by 2021.