| | |
| --- | --- |
| Series Preview and Prediction: Cubs vs. Pirates | |
---
| | | |
| --- | --- | --- |
| Thursday, April 8, 2021, 11:33 AM | | |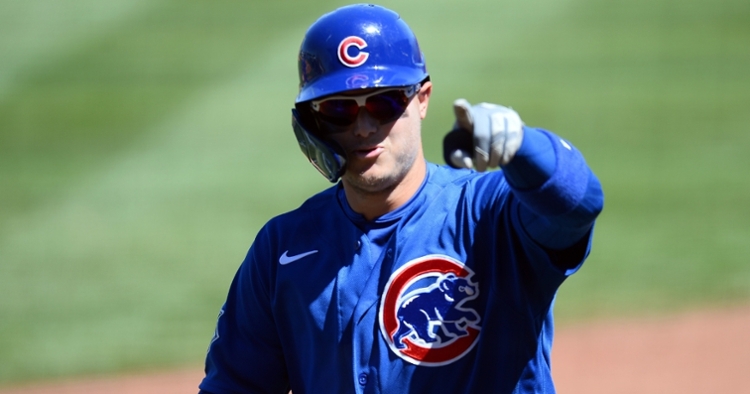 The Cubs just completed their first homestand of the season, going 3-3 against the Pirates and Brewers. It was a less than appealing homestand if you want to look at the offense as they struggled to get things going consistently.
Now, hitting the road for the first time in 2021, the Cubs will see the same two teams again as they look for better fortunes this time around. Pittsburgh was one of those teams who was picked to struggle all year, and after beating the Cubs on opening day, they have now lost five straight. A large part of that is Ke'Bryan Hayes has been put on the IL as he may be their best player.
The Cubs had a three-game winning streak snapped on Tuesday, then turned around and lost in extra innings yesterday to fall to 3-3 on the season. These next three games are not only important in terms of being divisional matchups, but this is a Pittsburgh team that is reeling, and if you want to get your offense on track, this is the time to do it. Here are the pitching matchups and predictions.
Thursday, April 8, 12:35 PM on Marquee Sports Network: Jake Arrieta 1-0, 1.50 ERA vs. Tyler Anderson 0-1, 5.40 ERA
In a rematch from last Saturday's contest, Arrieta and Anderson will go at once again on the mound. Arrieta looked like his old self on the Wrigley Field mound last time out, holding the Pirates to just one run over six innings of work while striking out five in the process.
He may not be the overpowering pitcher he once was, but Arrieta is learning to reinvent himself on the bump, becoming more of a groundball pitcher as opposed to a strikeout pitcher. In his 24 career starts against the Buccos, Arrieta has gone 13-6, posting a 2.87 ERA in the process. Bryan Reynolds and Colin Moran have handled him the best in this lineup.
Anderson wasn't quite as sharp in his first start with Pittsburgh despite striking out seven Cubs hitters. He allowed three earned runs in five innings, including giving up Kris Bryant's lone homer of the season. That was the low part of his start as Anderson, for the most part, pitched well enough to win. He will be looking for similar results on the mound with a bit more run support.
Going back to his days with Colorado and now Pittsburgh, Anderson has pitched well enough to get wins posting a 4.32 ERA across four starts. Both Bryant and Anthony Rizzo have seen the ball well off him and hope that continues today.
Saturday, April 10, 5:35 PM on Marquee Sports Network: Zach Davies 1-0, 3.18 ERA vs. Mitch Keller 0-1, 9.00 ERA
Speaking of rematches, Davies and Keller will face off again after going toe-toe last Sunday. Davies was impressive during the first five innings of his first Cubs start, keeping the Pirates off the board and needing just 67 pitches to get through those frames. However, he struggled a bit in the sixth, failing to get through that inning while being charged with two earned runs.
Still, that was enough for Davies to get the win as he continues to pitch well against Pittsburgh. Heading into his start on Saturday, Davies has posted a 4.34 ERA in fifteen career starts against the Pirates, but that ERA has been under 3.50 over his last seven starts. Much like Arrieta, both Reynolds and Moran have had good luck off him, as has Adam Frazier.
On the other hand, Keller struggled in his only start of the season, failing to get through four innings. A big reason for that was a high pitch count as the Cubs not only took their walks but worked counts forcing him out of the game after just three innings and nearly 80 pitches. He also allowed three earned runs in that start as the Pirates offense was held in check through five-plus innings.
In this start, the key for Keller will be to improve his command as the Cubs will have no problem taking free passes. This will be his fifth career start against Chicago, and so far, things haven't been as he has gone 0-3 with a 7.20 ERA. Although most Cubs have a small sample size off of him, Javy Baez and Ian Happ hit him hard with Happ connecting for a big fly last time out.
Sunday, April 11, 12:05 CDT on Marquee Sports Network: Trevor Williams 1-0, 3.00 ERA vs. JT Brubaker 0-0, 2.25 ERA
Of all the starters in the Cubs rotation, Williams was the most impressive the first time around. After no-hitting the Brewers through five innings and carrying a shutout into the seventh, he was charged with two earned runs as Omar Navarez connected for a three-run shot in the seventh. It still didn't take away from his great outing as he continues to impress following his fantastic spring.
If you thought his last start was emotional, pitching at Wrigley Field as a member of the Cubs, imagine this one going against his former team that he was recently with last season. Record aside, Williams had some great moments with the Pirates and has posted a 3.97 ERA in his career at PNC Park. Wilmer Difo is the only bat in the Pirates lineup that has seen him more than once, so look for Williams to go on the attack early.
Replacing Williams in the Pirates rotation is Brubaker, who burst onto the scene last year. After several strong outings in 2021, Brubaker went on to deliver a strong showing in his only start this season, holding the Reds to just one ER in four innings of work. It was also an emotional night for him as he is an Ohio native and got to pitch in front of family and friends. Brubaker also picked up his first career hit in that game.
Brubaker will be someone to watch this season as he has all the makings of a breakout campaign. Happ is the only one in this lineup with an average north of 250, so Chicago has struggled to hit him for the most part. In three career starts against the Cubs, Brubaker has posted a 2.35 ERA and has gone 2-1 against them. He is hoping that success continues this weekend.
Prediction: FLY THE W
The Cubs are frustrated with their offense, but they aren't going to let that eat them alive. At least not yet. Following Joc Pederson's homer yesterday, he went on to say that things are close to clicking with the offense and when they do lookout. Hopefully, they start clicking soon because these four-hit games are not going to get it done.
If there were ever a series to get things going in the right direction, this would be the series. The Cubs took two of three from Pittsburgh last time out, and the Pirates are riding a five-game losing streak, so the deck doesn't look good for them. I like the Cubs chances to win the series again 2-1 as the consistency with their offense isn't quite there for a sweep. If they can solve things against Brubaker on Sunday, this team can sweep Pittsburgh as they will soon be entering a tough stretch of games.