| | |
| --- | --- |
| Series Preview, TV info, and Prediction: Cubs vs. Cardinals | |
---
| | | |
| --- | --- | --- |
| Friday, July 9, 2021, 1:39 PM | | |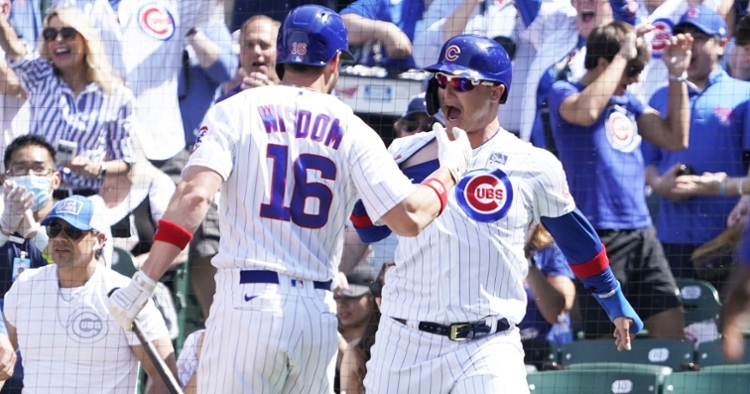 The last time the Cubs were under .500 at the All-Star break was in 2017, when they finished the first half 46-48. Unless the Cubs sweep the Cardinals this weekend, they are looking at finishing the first half under .500 for just the second time since 2014.
While under .500 is under .500 anyway you look at it, but 2017 had a much different feel this season. The team was coming off a World Series title and suffered what most people call a World Series hangover. The most significant difference between that season and this season was the Cubs were nine games under 500 at one point and were starting to play better baseball heading into the all-star break. They then went 24 games above .500 in the second half.
This season has an entirely different feel, as you could say the team is doing the exact opposite of that. The Cubs, at one point, were sitting in first place 11 games above .500. They then suffered an 11-game losing streak to drop them under .500 and playing their worst ball of the season. Given that it does appear that this team will be sellers at the deadline, I don't see a spectacular second-half run in them, so get ready for some teary goodbyes.
Friday, July 9, 1:20 CDT PM on Marquee: (Wade LeBlanc 0-1 4.24 ERA 15K vs. Kyle Hendricks 10-4 3.83 ERA 79K)
The Cardinals have had to deal with their share of injuries in the rotation and have to mix and match different guys to make things work. LeBlanc is the latest of those matches as the veteran journeyman has found a home with the Cardinals.
The soft-tossing southpaw used to be a starter in this league and has plenty of experience in that role. The 36-year-old has made 252 appearances, 123 starts going 46-48 with a 4.54 ERA. This will be his 13th appearance and the fourth start of 2021 as Jake Marisnick is the lone player with significant experience and success off him.
Opposing him will be the Cardinal killer in Hendricks. Despite two consecutive mediocre performances, Hendricks has still gone 10 straight starts without a loss and hopes to end the first half with 11. If there was one team that may help him do that, it is this Cardinals team that he has dominated in recent years.
Not only has he dominated them, but he has been nearly unhittable against them at Wrigley, averaging less than six hits per start and goes an average of 6 2/3 innings per start. Plenty of Cardinals have seen him 20 plus times, but only Nolan Arenado has an average above 250 against him.
Saturday, July 10, 6:15 CDT PM on FOX: (Kwang Hyun Kim 3-5 3.39 ERA 52K vs. Zach Davies 5-5 4.28 ERA 56K)
There was a time when the Cubs were looking at Kim in free agency with hopes of adding him to their rotation. He ultimately chose the Cardinals and has now emerged as the ace of that staff with Jack Flaherty down with an injury.
Record aside, Kim has been impressive this season as he continues to use his deception to pitch to contact and let the defense go to work. Across 22 appearances and 21 career starts, Kim has gone 6-5 with a 2.73 ERA and has proven to be a front-line starter despite a fastball that sits around 91-92. Only five players in this lineup have seen him in action, with three of them going 1-2 off him.
If you like pitching to contact, then Saturday is the game for you as Davies will take the ball for the final time in the first half. Davies has been impressive since the first month of the season despite walking nearly as many hitters as he has struck out this season. Someone who works off his change-up first to set up his fastball, Davies continues to pitch in and out of trouble by pitching to contact and letting the defense go to work.
This will be his second start against the Cardinals this season, and he looked excellent his first time out, where he lasted six innings in allowed one earned run. Davies has been up and down against the Cardinals for his career, but has gotten better the past three seasons against them. Yadier Molina, Matt Carpenter, and Arenado have tons of success against him, so he needs to keep them in check.
Sunday, July 11, 1:20 PM CDT on MARQUEE: (Adam Wainwright 7-5 3.58 ERA 99K vs. Trevor Williams 3-2 5.51 ERA 52K)
Wainwright is like a fine wine as he continues to get better with age. The former closer turned ace continues to give the Cardinals everything they need from the back of the rotation as he approaches his age 40 season.
With 174 wins and a 3.39 ERA, Wainwright has a slim chance to reach 200 career wins depending on how long he pitches. The Cubs are one team where he has almost an entire season experience against them as he is approaching 30 career starts. To this point, Wainwright has posted an 11-8 career mark while posting a respectable 3.78 ERA.
However, his past seven starts have seen him go 4-1 with a 2.45 ERA, as the Cubs have had issues with him across the past three years. Jason Heyward, Kris Bryant, and Ian Happ will look to continue their success off him while Happ loves to hit the Cardinals period.
In what would have been Jake Arrieta's final start of the first half, the Cubs are turning to Williams to make a start after Arrieta went on the IL. Williams is recently coming off the IL himself and tossed 3 2/3 innings of relief Tuesday night in a 15-10 loss to the Phillies. Williams was charged with six runs, only three earned in that outing which was his first Big-League appearance since May 26.
In his two rehab starts, Williams pitched very well as he allowed just two earned runs in seven innings of work to go with eight strikeouts. The Cubs are hoping to get five innings from him, and then they can reassess their starting rotation after the break.
Prediction: FLY THE W
The Cubs have owned the Cardinals this season, going 5-1 and 3-0 at Wrigley. However, things are different this time around as the Cubs are mired in a horrid stretch while the Cardinals are playing better baseball the past two weeks.
With identical 43-45 records, this becomes a battle for third place as each team is looking to finish the first half on a positive note. This will be a great series as all Cardinal/Cubs series typically are, but I think the Cubs get just enough from Hendricks and Davies to help win this series 2-1 and head into the All-Star break with a little bit of momentum.