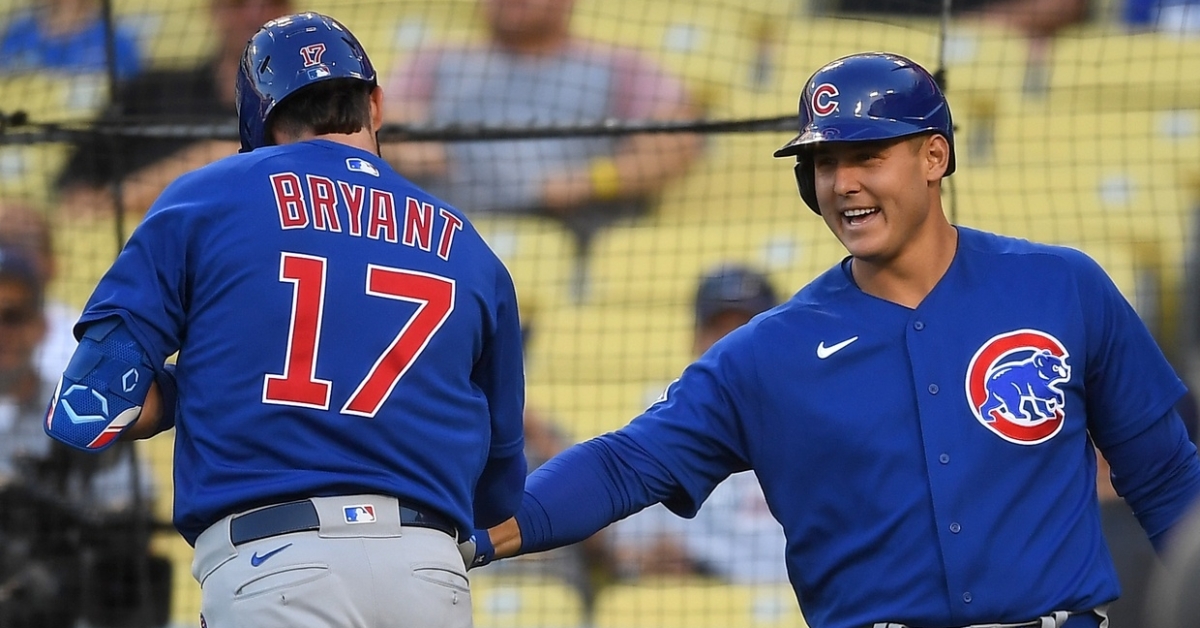 | | |
| --- | --- |
| Series Preview, TV info, and Prediction: Cubs vs. Diamondbacks | |
---
| | | |
| --- | --- | --- |
| Friday, July 16, 2021, 7:30 PM | | |
The Cubs will begin the second half of their 2021 season, sitting in third place in the NL Central with a 46-48 record. This is the first time since 2017 that they have been under .500 at the all-star break, and most of that is a result of an 11-game skid in late June into July.
There was a time this season when the Cubs were 11 games above .500 and seemed like sure-fire buyers at the deadline. An 11-game losing streak certainly changes that thought process, and the Cubs have entered sell mode, with Joc Pederson being the first of what should be several names being dealt by the Cubs in the coming weeks.
I would like to think a hot start to the second half would change the Cubs mindset, but I feel they have made up their minds. Even with six games against the Diamondbacks out of the break, the Cubs may be headed for a rough second half as fans are prepared for the worst at this point.
Friday, July 16, 8:40 PM Marquee: (Kyle Hendricks 11-4 3.77 ERA 80K vs. Madison Baumgarner 4-5 5.73 ERA 62K)
The Cubs will open their second half by turning to their ace Kyle Hendricks. With nine wins in his last 11 starts, including 11 straight starts without a loss, Hendricks is quietly putting a great season together as he is tied for the National League lead in wins.
Hendricks has gone through some bumps and bruises this season, but one thing remains the same he is as consistent as they come. Arizona is a team that has given him some problems in the past, but most of the hitters that gave him fits are no longer with this team.
Opposing him will be Baumgarner, who is looking to turn a rough season around. There was a time when Baumgarner was not only a top-five pitcher in all of baseball, but perhaps the greatest postseason pitcher of all time. Those days are long gone as Baumgarner is entering the back end of his career and his arm appears to be a shell of what it once was.
Baumgarner has had a ton of success against this Cubs team, but he hasn't seen them in a couple of years, so it will be interesting to see what they do against him. Kris Bryant has the most at-bats against him in this lineup, going 4-11 as that 364 average is the best on this team against him.
SATURDAY, JULY 17, 3:10 PM Marquee (Adbert Alzolay 4-9 4.66 ERA 81K vs. TBD)
With the All-Star Break giving the Cubs four days off, it gave them time to reorganize their rotation for the second half. That means Alzolay will take over the teams No.2 spot after posting up and down results in the first half.
Alzolay has shown plenty of growth this season, simply dominating hitters across five starts. However, he has had several starts where he has struggled to get through five innings. The home run ball continues to be an issue for him, but this is one team that doesn't hit a ton of long balls, so this could be a great confidence builder should he deliver a strong outing. This will be his first look against the Diamondbacks. Arizona has yet to name a starter.
Sunday, July 18, 3:10 PM Marquee: (Zach Davies 5-6 4.37 ERA 59K vs. Merrill Kelly 5-7 4.46 ERA 93K)
Numbers aside, Davies has been pitching well enough since the end of April to deserve an extension, but that won't happen. Instead, the Cubs are approaching the trade deadline looking to move players with one-year deals, and Davies falls into that category.
This could be one of Davies last starts with the Cubs as his name has been linked to the Padres in recent weeks. Should he put together a great next couple of starts, it could really help his trade value and help the Cubs bring back a better package.
Opposing him will be Merrill Kelly, who has pitched well in his own regard. Despite a record below .500, his 4.46 ERA is one of the better ones on the team, and he is starting to rack up a ton of strikeouts. If he weren't such a young pitcher with multiple years left, he would be on the trade block too. However, he looks to be the pitcher the team would build around long-term. He has struggled in two previous starts against the Cubs.
Prediction: FLY THE W
The Cubs are entering the second half not only sputtering but struggling to win away from home. Fortunately, they get a Diamondbacks team who is by far the worst team in baseball. I am not suggesting that one or two road series would change the Cubs course of action, but it could help them remain competitive the second half of the season.
Chicago is throwing their three best arms at the Diamondbacks compared to Arizona, whose pitching has been a nightmare. I think the Cubs kick off the second half by taking the series 2-1, but it wouldn't surprise me to see them sweep.