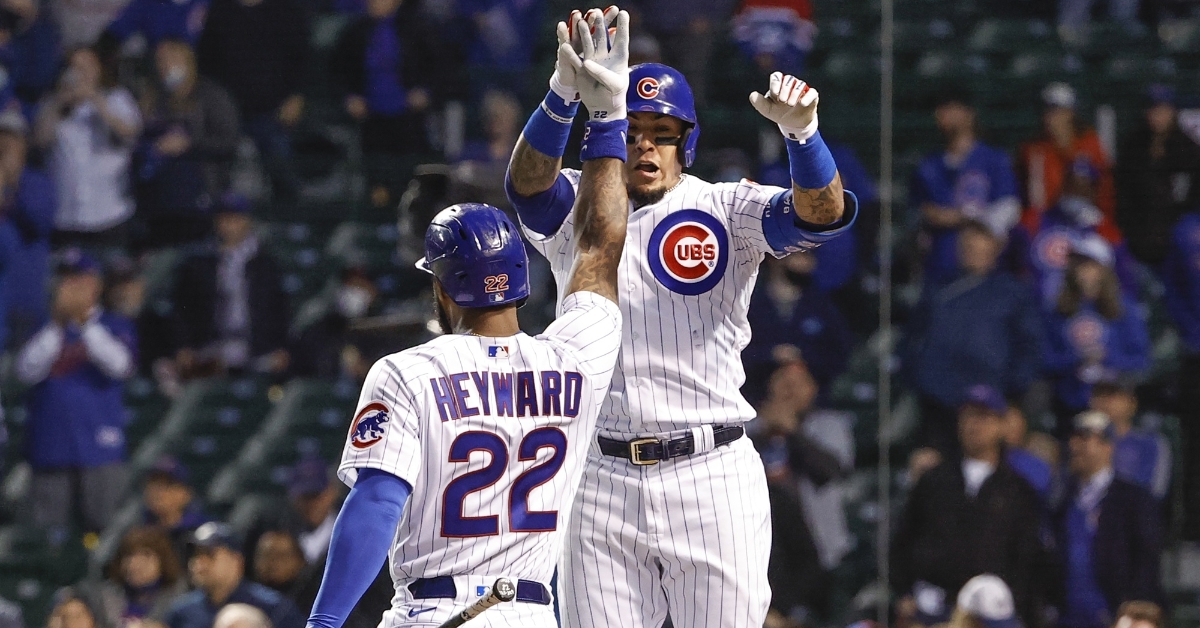 | | |
| --- | --- |
| Series Preview, TV info, and Prediction: Cubs vs. Dodgers | |
---
| | | |
| --- | --- | --- |
| Thursday, June 24, 2021, 9:27 AM | | |
Chicago is about to enter a pivotal road trip that could ultimately make or break what direction they are going in this summer. At eight games above .500, the Cubs remain just a half-game behind Milwaukee for first in the NL Central. However, that could change quickly as the next week, and a half won't be easy.
Not only do they open their 10-game road trip with four against the Los Angeles Dodgers, but Chicago has three at Milwaukee and three at Cincinnati looming behind, and things could go south in a hurry. Should the Cubs play at or close to .500 ball on this trip, don't expect much to change. On the other hand, should they have a winning trip, look for them to fully cement themselves as buyers this season.
However, should they have a losing trip of 4-6 or worse, this team's plans could drastically change as they could go from buyers to sellers in a matter of weeks. Either way, fans will have a great glimpse of where this team is now and where they will end up after these next 10 games.
Thursday, June 24, 9:10 PM CDT on Marquee Sports Network: (Zach Davies 4-4 4.66 ERA 45K vs. Walker Buehler 7-0 2.38 ERA 88K)
Davies is coming off one of his worst starts in a while as he got roughed up by the Marlins last time. More specifically, he got roughed up by Adam Duvall as his grand slam off Davies was the real backbreaker in that game.
For the most part, Davies has been going steady since the beginning of May and has turned his season around even if the results don't show. This will be a big test for him as he will be facing an extremely loaded Dodgers lineup. This will be his first look at the Dodgers this season after facing them four times in 2020 with mixed results. Cody Bellinger, Max Muncy, and Justin Turner all hit the ball well off Davies, so keeping them in check will be the key.
Opposing him will be Buehler, who still hasn't lost a decision yet this season. Making his seventh career start against the Cubs, Buehler has been impressive, posting a 3-1 record with a solid 2.25 ERA. This will be his second look at the Cubs this season after earning a no-decision back in May.
Buehler went six innings allowing just two runs on five hits to go with eight strikeouts in that start. Keeping the ball in the yard has been a problem for him against the Cubs, with Javy Baez and Jake Marisnick going deep off him in his last start. Kris Bryant also has good numbers off Buehler hitting a 333 in nine total at-bats.
Friday, June 25, 9:10 PM CDT on Marquee Sports Network: (Jake Arrieta 5-8 5.45 ERA 56K vs. Tony Gonsolin 0-0 3.00 ERA 11K)
If there were ever were a starter in desperate need of a good outing, it would be Arrieta. Ever since returning from the IL, Arrieta has not looked good. He has yet to make it past the fifth inning in any of those starts and has taken it on the chin with several rough outings in the process.
Lately, the biggest issue has been command and hard contact, as both have been up in recent starts. The Dodgers are a very familiar team, including Dodger Stadium, where he threw his first career no-hitter in August of 2015. This lineup doesn't have a ton of experience off him, but the ones that do, including Muncy, have pounded him.
Making his first career start against the Cubs will be Gonsolin, as he is also new to the rotation this season. With the Dodgers dealing with some injuries, Gonsolin was added to the rotation and pitched incredibly well in his brief stint. Gonsolin has allowed just three earned runs in nine innings of work but has been hit hard, allowing nine hits.
Command has also been an issue for him in the early going with eight walks to 11 strikeouts, but he has done a great job limiting the damage when
runners reach. Only one Cub has seen Gonsolin before, and that is Marisnick, who is 0-2 with two strikeouts against him.
Saturday, June 26, 6:15 PM FOX: (Alec Mills 3-1 5.18 ERA 24K vs. Julio Urias 9-3 3.99 ERA 95K)
With Trevor Williams still on the mend from an appendectomy, Mills assumes the No. 4 spot in the rotation for the time being and will most likely be there until the all-star break. After a less than appealing first two starts, Mills was much better in his last start, giving the Cubs five strong innings in a 2-0 win against Miami.
Mills continues to change speeds with regularity which has kept opposing hitters guessing and off-balance. While the Cubs would love to get more length out of him, just getting him through the lineup twice and or five innings is plenty for this team right now as he still needs to build up some arm strength. The Dodgers have totaled eight plate appearances off him, but have connected at a .500 clip.
On the bump for the Dodgers on Saturday will be Urias, who has been a pleasant surprise for them. After bouncing around between starter and reliever much of his career, Urias has finally found a home in their rotation and has taken grasp of it in a big way. His nine wins are a career-high, and he has taken his career record to 21-10 with a 3.41 ERA.
Urias doesn't have a ton of regular-season experience against the Cubs, but in the postseason, this Chicago team roughed him up at Dodger Stadium to help even the 2016 NLCS up 2-2. Bryant has the most at-bats of anyone in this lineup off him going 2-7 in his career, while Anthony Rizzo, Jason Heyward, and Baez have all fared well off Urias in the past.
Sunday, June 17, 6:08 PM ESPN: (Adbert Alzolay 4-6 4.19 ERA 67K vs. Clayton Kershaw 8-7 3.43 ERA 111K)
Alzolay wasn't at his best in his first start since coming off the IL, but he wasn't at his worst either. In just 4 1/3 innings of work against Cleveland on Tuesday, Alzolay allowed three earned runs, with all of them coming off homers. He walked one and struck out five as he should be on a longer leash this time out with pitch count.
Alzolay has continued to impress all season long, seemingly getting better with each start. If he can cut down on the long ball, then you will see his true potential emerge. This will be his second start against Los Angeles after taking a no-decision against them at Wrigley Field. In that start, Alzolay was strong, allowing just two runs on three hits in five innings to go with one walk and seven punchouts. Muncy, Gavin Lux, and Chris Taylor picked up the three hits off him.
Talk about a tale of two seasons so far, and that is how you best describe what Kershaw has gone through this season. After pitching like a Cy Young winner over his first six starts, things have not gone well since, as he has gone 3-5 with a 4.37 ERA since the beginning of May. Even with that stretch, Kershaw still is posting an 8-7 record with an ERA under 3.4, so you can see how good he was for a while.
There has been some improvement over his past few outings, which is crucial for the Dodgers staff. However, he is going against a Cubs team that not only handed him the shortest outing of his career back in May, but the one team he doesn't do consistently great against. Despite only having five hitters on their roster with a hit off of Kershaw, all five of them hit 333 or better off him, so he will undoubtedly be tested again.
Prediction: Dodgers win three of four
When the Cubs swept the Dodgers at Wrigley, that appeared to be the turning point in the season for them. This could once again be the turning point for them as their season could go one way or another based on the results. While it would be great for the Cubs to sweep this team or even win a series at Dodger Stadium, I don't see that happening.
The Cubs haven't played well on the road, and they do not stack up well against this team even if they swept them the first time through. If the Cubs can walk away with a series split, they would consider that a win, especially when you look at the road trip, they are on. However, I think the Dodgers take three of four in this series, but the Cubs would still walk away with the season series win 4-3.

Tags: Cubs Baseball
,
Zach Davies
,
Javy Baez
,
Jake Marisnick
,
Kris Bryant
,
Jake Arrieta
,
Alec Mills
,
Trevor Williams
,
Anthony Rizzo
,
Jason Heyward
,
Adbert Alzolay