| | |
| --- | --- |
| Takeaways from Cubs' doubleheader sweep of Dodgers | |
---
| | | |
| --- | --- | --- |
| Wednesday, May 5, 2021, 8:39 AM | | |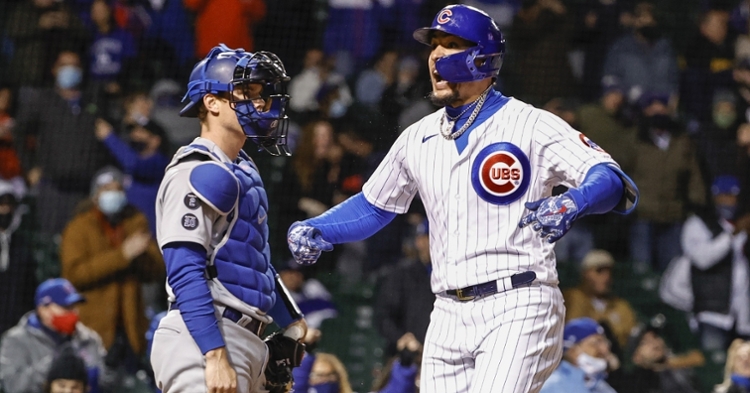 After an impressive display in game one of yesterday's double-dip, the Cubs were faced with the challenging task of knocking off Trevor Bauer in game two. The defending Cy Young winner was coming off a complete-game loss last time out but has looked like his old self on the mound. Opposing him was rookie Keegan Thompson making his first career start.
Speaking of firsts, it was a night of firsts in this one as Thompson made his first career start, Bauer allowed his first career run at Wrigley, Justin Steele made his first appearance at Wrigley, and Craig Kimbrel blew his first save of 2021. The last part of it isn't that great, but the Cubs battled back to pick up a 4-3 walk-off win and earn the doubleheader sweep.
It took a while for both offenses to get going, but Jason Heyward delivered the game's first blow drilling a solo shot to right in the fourth for the 1-0 lead. Despite the Cubs having several chances to bust things open against Bauer, the score remained 1-0 heading into the seventh. Looking to rebound from his loss on Sunday, Kimbrel struck out the first batter he faced, only to see Max Muncy take him deep to tie things 1-1. It was the first blown save of the year, and the first earned run Kimbrel has allowed.
Fast forward to the eighth, and it was the Dodgers smelling blood as they capitalized on Dillon Maples and his lack of strike-throwing. A wild pitch not only put the Dodgers in front, but Justin Turner sat dead read on a heater and took him deep to left, extending the lead to 3-1. Maples was able to get out of that inning without further damage, setting things up for the offense.
With the tying run at the plate, Javy Baez unloaded on a fastball for his eighth homer of the season, bringing things even 3-3. Steele would then hold the Dodgers scoreless in the top of the ninth, setting things up for the Cubs in the bottom of the inning. Captain clutch David Bote delivered with a single over the head of Mookie Betts, securing the series win, doubleheader sweep, and walk off 4-3 win.
Thompson steals the show
When news broke that Jake Arrieta was headed to the IL, it threw the Cubs rotation in flux for the doubleheader. With an off-day Thursday, the team doesn't need a fifth starter after this series, so they chose to call up rookie Keegan Thompson to make his first career start.
The No. 13 prospect in the Cubs system made his debut in Cincinnati over the weekend and now was faced with the challenge of holding down a powerful Dodgers lineup. He impressive, to say the least, holding the Dodgers to just two hits in 3 2/3 innings while walking two and striking out two.
Nerves were a factor early in his start, but after getting two double plays to end the first two innings, he started to settle in. Depending on the health of Arrieta and how long he will miss, there is a good chance Thompson makes at least one more start this season. Along with Adbert Alzolay, he is giving Cubs fans a glimpse at the future as pitching help is on the way.
Keegan Thompson called it a dream pitching at Wrigley Field.

"I'm glad it looked like I was in control my emotions because inside it was a whirlwind." -- on getting through the 1st inning after the first two Dodgers reached.

— Meghan Montemurro (@M_Montemurro) May 5, 2021
Trevor Bauer finally gives up a run
Making his fifth start at Wrigley and ninth against the Cubs, Bauer has dominated them, going 5-1 1.13 ERA. He was also 3-0 with a 0.00 ERA at Wrigley and had yet to give up a run during the regular season. All good things must come to an end, and it ended for Bauer in the fourth when the Heyward homer snapped his scoreless streak at Wrigley.
Although that was the only run Bauer allowed, he wasn't his crisp self as he walked a season-high four batters to go with seven strikeouts. Bauer also ran into some fatigue issues and failed to make it out of the fifth, needing 90 pitches to get through 4 1/3. You must give the Cubs hitters some credit.
They had a great approach against Bauer and made him work. They saw he wasn't at his best early on, which allowed them to work the count forcing him to work harder than he would like. Eventually, the offense broke through, but a 1-19 night with RISP shows that they could have busted this game open just as easy as possibly losing it.
Jason Heyward - Chicago Cubs (3) pic.twitter.com/O0VpkocERA

— MLB HR Videos (@MLBHRVideos) May 5, 2021
A season-changing doubleheader sweep
After his Three RBI showing in game one, Bote delivered the walk-off in game two, so you could say Yesterday was Bote day. Regardless, this has the possibility of being a season-defining moment for this team, especially when you consider what the Cubs have gone through so far in 2021.
You had the defending World Series Champions coming into Wrigley, and although they are struggling still put their three best pitchers against this lineup. Not only did they hammer Kershaw, but their approach proved that Bauer is human, forcing him out of the game much earlier than expected. That also has implications on Walker Buehler's start today as he may be forced to go deeper to save the bullpen some innings.
Beating Kershaw gave this team a big enough confidence boost but beating both Bauer and Kershaw now that is a different story. I look at game 2, for example, as a season-defining moment for this team. Despite going 1-19 with RISP, the Cubs managed to hold the Dodgers to 0-10 in that category.
Even though they let a late lead slip away and fell behind in extras, the Cubs lone hit with RISP was the Baez two-run shot to tie things up once again. Chicago refused to go down without a fight, and they wanted to win the game for Thompson even if he didn't qualify for the win. It was a great night at Wrigley, coupled with their first series win in quite some time. Hopefully, they take this momentum with them as they will have six winnable games in their next nine.
Wouldn't be the Friendly Confines without a little magic.#CubTogether @BudSelect pic.twitter.com/sctX39HydV

— Chicago Cubs (@Cubs) May 5, 2021