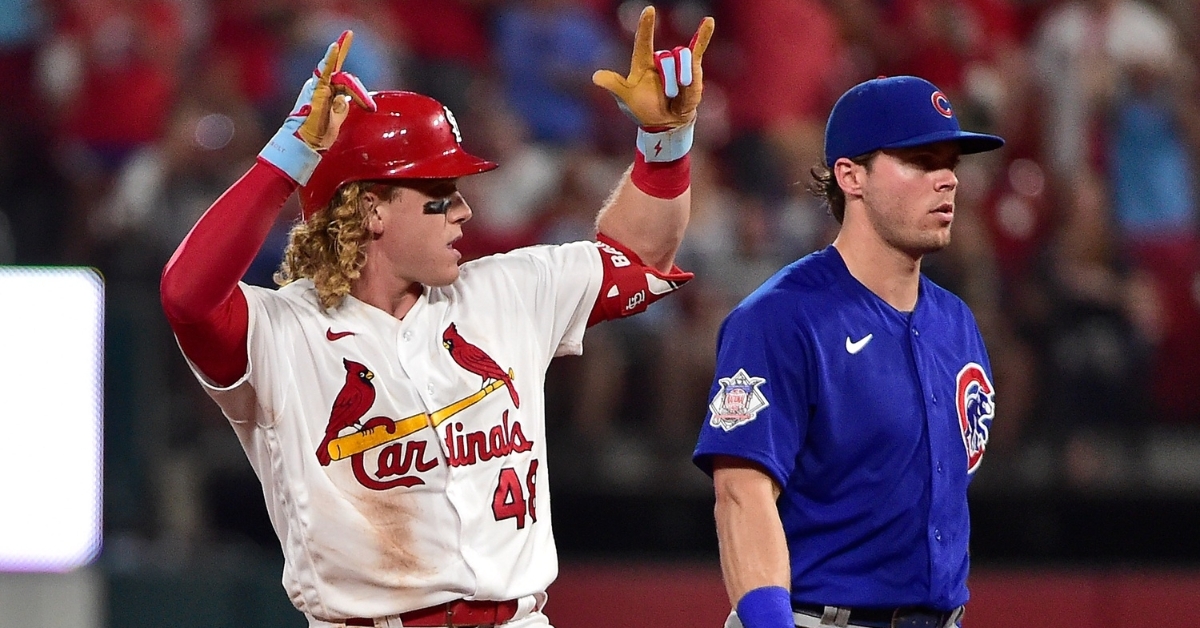 | | |
| --- | --- |
| Takeaways from Cubs' extra-inning loss to Cardinals | |
---
| | | |
| --- | --- | --- |
| Thursday, July 22, 2021, 10:56 AM | | |
For the first time in over a decade, neither the Cubs nor Cardinals are above .500 in July, which has been a rarity. When you watch both teams play, you can see why they are below the .500 mark, as both teams have their flaws.
For the Cubs, it has been an inconsistent starting staff mixed with an offense that hasn't lived up to their potential for years. For the Cardinals, it comes down to a bullpen that can't throw strikes and can allow anyone back into the game at any time.
Last night's matchup between the two teams put all those flaws on display before the Cardinals ultimately won 3-2 in 10 innings. For the Cubs, they had every chance in the world to get to Adam Wainwright, not only leading off several innings with a hit, but several innings with an extra-base hit. Whether it was terrible baserunning plays or lack of clutch hits, only the Rafael Ortega triple in the third put the Cubs up 1-0.
At the time, that score would be more than enough for Kyle Hendricks as he continued to go about his business against the Cardinals, keeping them scoreless through six. Once they got to the seventh, Hendricks surrendered some early contact and was pulled following a Harrison Bader double that tied the game. Shortly after, Dylan Carlson came through with a double off Andrew Chafin to give the Cardinals the lead as that was his first run allowed in 24 appearances even though the run was charged to Hendricks.
Still trailing 2-1 in the ninth, the Cardinals bullpen issues came full circle as they struggled to throw strikes once again. As if Giovanny Gallegos hitting Nico Hoerner with two strikes wasn't bad enough, Eric Sogard followed that up with an RBI double to right-center, tying the game up 2-2. That forced another call to the bullpen where John Gant hit two more batters to load the bases for Anthony Rizzo. Looking to come through with a clutch swing, Rizzo grounded out to short to end the inning before Craig Kimbrel, and Keegan Thompson got the game to the 10th.
In extras, the Cubs had a great chance to take the lead before a costly miscue which we will get to later cost them a run. That proved to be the difference as Yadier Molina took a Kimbrel fastball the other way and dropped it down for a walk-off RBI double.
Turning back the page to the 1990s
In a league that predicates itself on high-velocity pitchers, last night saw fans witness what life was like back in the '90s. Not only did it feature two soft tossers who pride themselves on location and spin rate, but two that limit teams to some of the lowest exit velocity in the game.
They are a master at their craft and put that on display all night long. Hendricks tossed six shutout innings before running into trouble in the seventh as he was charged with two runs in 6 1/3 innings of work. Hendricks was able to earn a no-decision pushing his streak to 12 straight starts without a losing decision.
On the other hand, Wainwright was a little better, going seven innings and allowing just that one run on five hits. He left with the lead before the bullpen blew it again, forcing him to finish with a no-decision. This was a prime example that velocity doesn't always lead to success.
As the game continues to change and go in the direction of high-velocity arms, these two continue to turn back the clock and pitch like it still is in the 1990s. Seeing the amount of success they have had, makes me wonder if teams will start to focus on pitch ability once again instead of high-velocity. Baseball runs in cycles, and it is only a matter of time before more of these soft tossers are back in the game.
"You're sitting there going, 'we just can't lose this game too," Adam Wainwright said. "The clubhouse is rocking right now. That's where we need to be."

— Jeff Jones (@jmjones) July 22, 2021
Rafael Ortega was the spark the Cubs needed
The Cubs haven't had much success at the leadoff spot the past several seasons, but at least had more consistency this season. With Joc Pederson and Willson Contreras handling the leadoff duties practically all year, David Ross has had more consistency out of that spot with some decent production.
In an effort to give the top of the lineup a bit of a spark last night, he inserted Ortega for that role as he continues to impress. Not only did he pick up a pair of hits, but an RBI triple while recording a stolen base as he raised his average to 273 on the season. A journeyman player for much of his career, Ortega has had some success in the minors, just never at the major league level.
He is finding some success this season and is a classic case of someone who is a late bloomer and figures things out later in their career. Ortega will not be a long-term solution or starter in this league, but he is proving his worth on this team. He has shown he can be a fourth outfielder who can fill in from time to time and the Cubs are happy to have him right now.
Rafael Ortega is batting .455 (5-11) with three extra base hits since the All-Star break. #CubTogether pic.twitter.com/on5r9QJpSW

— Marquee Sports Network (@WatchMarquee) July 22, 2021
Costly baserunning miscue costs the Cubs
It is not a secret anymore, but baserunning across major league baseball has been terrible this season. That was especially true on several occasions last night, but none stuck out more than the decision Rizzo made in the 10th. Known as one of the leaders on this team, Rizzo doesn't seem right mentally right now, which is a bit concerning.
Not only that, but his power numbers are way down, which doesn't bode well for a player entering free agency next season. Perhaps the uncertainty of his future is starting to outweigh his production because something isn't right with him. Typically, one of the smarter baserunners on this team, Rizzo, has had a rough go of it this year going back to a home series against the Marlins, where he was picked off in consecutive innings.
With a chance to give the Cubs the lead in the 10th on an Ian Happ grounder, Rizzo inexplicitly hesitated at third and then broke for home after Edmundo Sosa got the ball at second. That forced a throw home which resulted in a run down to get Rizzo out. The Cubs ultimately lost 3-2 shortly after.
Typically, with one out, a runner would never go on contact on a grounder to short. However, given that this was extras, the Cardinals were willing to concede that run, and had Rizzo broke for the plate on contact, the Cubs still had a great chance to score. At worst, he is still thrown out at home, but there would have been two on with one out instead of one on and two outs.
These are the kind of mistakes that drive Ross crazy and ones that this team is making far too often this season. At some point, Ross needs to hold Rizzo accountable for this much like he did with Javy Baez when he made a baserunning mistake. This team seems like a mental head case right now that is far from fixing.
Good morning. Hopefully Anthony Rizzo comes to the ballpark this evening with life in his game because it's been non-existent for weeks. pic.twitter.com/Nqi9e9Zjtc

— Cubs Live (@Cubs_Live) July 22, 2021

Tags: Cubs Baseball
,
Rafael Ortega
,
Kyle Hendricks
,
Andrew Chafin
,
,
Anthony Rizzo
,
Craig Kimbrel
,
Keegan Thompson
,
Joc Pederson
,
Willson Contreras
,
David Ross
,
Ian Happ
,
Javy Baez