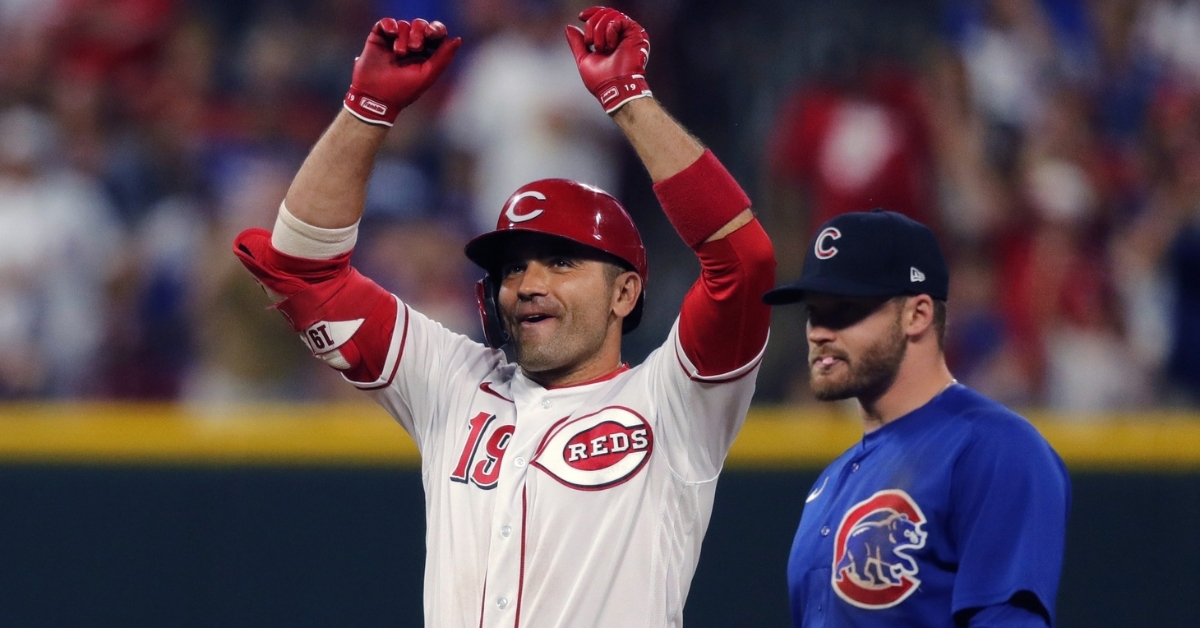 | | |
| --- | --- |
| Takeaways from Cubs loss to Reds | |
---
| | | |
| --- | --- | --- |
| Saturday, July 3, 2021, 9:14 AM | | |
It is starting to become a broken record with these Cubs as they fell 2-1 to the Reds on Friday and are now 42-40 on the season. The loss marked the Cubs seventh straight defeat, which is their longest of the season, and they wasted a great start by Alec Mills in the process.
Not only has the offense gone south, but this team still can't hit with runners in scoring position, going hitless again against the Reds. Add in their inability to win on the road, which was a big problem in 2019, and you get the results this team has put forth across the past 30 days.
The Cubs lone run came in the fourth inning when Jason Heyward picked up an RBI double off Sonny Gray to give the Cubs the lead. For most of the game, that run looked like it would hold up until Mills ran into some trouble in the sixth before being pulled in favor of Adam Morgan. With a couple of runners on base and two outs, Morgan was hoping to get out of the inning without damage to keep Mills in line for the win.
Instead, Morgan allowed a two-run double to Joey Votto, which not only put the Reds in front 2-1 but had Mills on the wrong side of an excellent pitching performance. The Reds bullpen took care of things from there as they were able to keep the Cubs off the board, picking up a 2-1 win, and are now just .5 games out of second place in the Central.
Jason Heyward is heating up
While most of the Cubs offense has gone ice cold since the beginning of June, Heyward is the one player who seems to be heating up. You wouldn't guess that looking at his 195 average, but he was hitting in the 160s not that long ago, so you can see the improvement he has made.
It all started after his rehab assignment, and his timing seems to be better. Going back to the Dodgers series and you had someone desperate for hits pick up a few cheapies, which seemed to get him going. He now is creeping close to 200, which would be a significant step in the right direction.
With the rest of the offense scuffling, the Cubs need someone to step up and start to take the load off everyone else. Heyward is trying to be that guy as he has the capability to do that from time to time. Perhaps his improvement will trickle down throughout the roster, as hitting does seem contagious.
Kris Bryant anotó y Jason Heyward ancló en la intermedia. ??#CubJuntos pic.twitter.com/tNpsoqJic1

— Cachorros de Chicago (@cachorros) July 3, 2021
Alec Mills is proving his worth
Say what you want about Mills and his performance as a starter, but he was one of the more important pitchers on the roster last season. Bouncing between the bullpen and rotation, Mills has filled several roles that David Ross has needed him to serve and has done an excellent job in the process.
After his slow start out of the pen this season, Mills was inserted back into the rotation as Cubs needed rotation help. Since then, Mills seems to be finding himself as he looks much more comfortable as a starter than a reliever.
His 5 2/3 inning performance in which he gave up two runs on two hits to go with nine strikeouts shows his potential as a starter. This certainly will not be every start performance, but Mills knows how to pitch.
Given what we have seen from Jake Arrieta over the past month-plus, it wouldn't shock me at all to see Mills remain the starter. He is more comfortable as a starter, and the more he pitches like he did tonight, the more starts he will earn.
Alec Mills throwing most of his sinkers...UP AND IN. *Shocking*. Wish a certain someone tried it. pic.twitter.com/RSp8fEwIxm

— Brendan Miller (@CubsRelated) July 3, 2021
With the all-star starters being announced earlier in the week, it doesn't come as a surprise to see none of the Cubs players earning starting spots. Given their performances at the plate this season, none deserved to be a starter, although Kris Bryant may be the only one to earn a place off the bench.
However, the Cubs bullpen has two pitchers that deserve to be all-stars, with one of them a virtual lock. That player would be Craig Kimbrel as his historic start to the season continues. However, there is a name that people often forget about in Andrew Chafin as he too deserves to be an all-star.
Acquired last season from the Arizona Diamondbacks, Chafin has always been viewed as a left-handed specialist who could fill different roles in the pen. This season, Chafin has emerged into one of the more dominating relievers and constantly finds himself as one of Ross's three-headed monsters he uses to get the job done in the seventh, eighth, and ninth innings.
Following another scoreless inning tonight against the Reds, Chafin has lowered his ERA to around 1.50 and hasn't given up an earned run in quite some time. Compare his numbers to those of other left-handed relievers, and he ranks near the top in most categories. He certainly has proven to be a solid pickup for the Cubs, and he should be rewarded for his performance by landing in Colorado in two weeks.