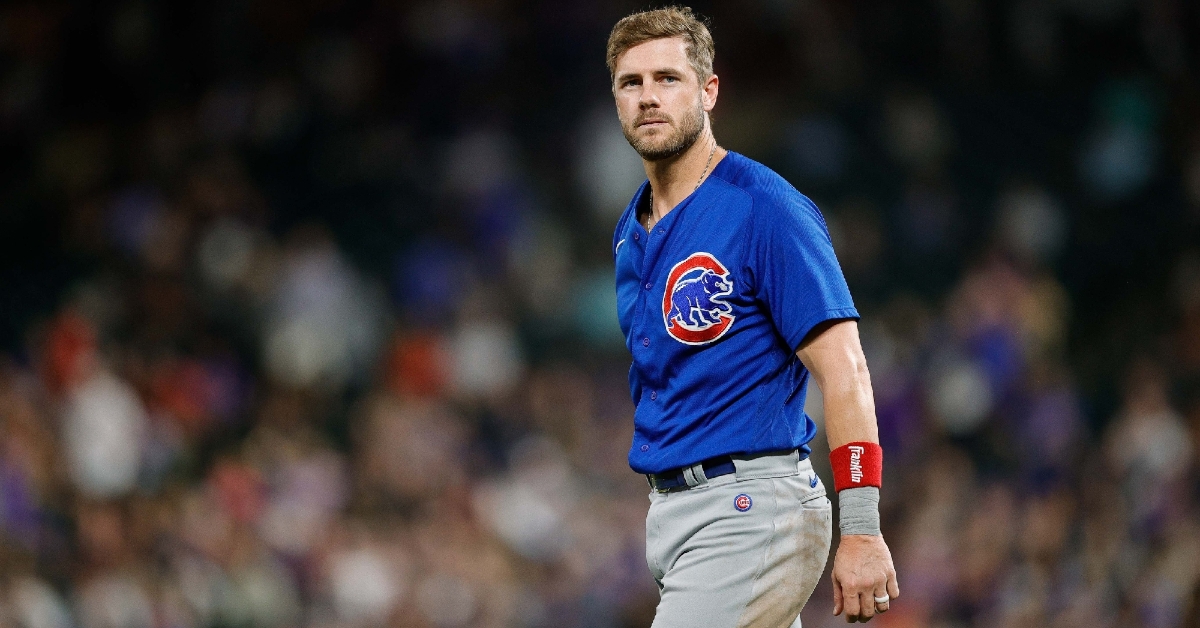 | | |
| --- | --- |
| Takeaways from Cubs loss to Rockies | |
---
| | | |
| --- | --- | --- |
| Wednesday, August 4, 2021, 1:00 PM | | |
The Cubs continued their six-game road trip with a trip out west to the Rocky Mountains to open a three-game set with the Rockies. On tap in-game, one was Zach Davies as he was set to face off with Kyle Freeland. Despite how bad the Rockies have been this season and how rough things have gone offensively for the Cubs, Coors Field often acts as the great equalizer.
The great equalizer showed up in a big way on Tuesday as the Rockies made quick work of the Cubs 13-6. Most of that damage came from two players, with Elias Diaz and Sam Hilliard combining for eight RBIs in the win to give Freeland his first victory in a month.
After Jason Heyward gave the Cubs an early 1-0 lead with an RBI groundout, Diaz changed the game with one swing as his second-inning grand slam gave the Rockies the lead for good 4-1. Hard contact was the theme of the game for Davies as he labored through four innings, getting charged with seven earned runs in the process.
Looking to keep things close, Ian Happ picked up his 11th homer of the season in the second before Hilliard erased any hopes of a comeback with his three-run shot to make things 7-2. Hilliard added to his already big game with an RBI double in the sixth before Raimel Tapia, and C.J. Cron added RBI singles of their own to make things 11-2.
Despite the game well in hand, the Cubs refused to go away without a fight as they pushed across four runs across the final two innings. The first half of those came in the eighth when Willson Contreras picked up an RBI single and then came around to score on the David Bote single, while the second half came off a Heyward RBI double mixed in with a balk. Regardless, it wasn't enough as the Cubs fell to the Rockies 13-6.
What now for Zach Davies?
When the Cubs were discussing deadline deals last week, Davies name came up a ton as a player who could be moved. The San Diego Padres and New York Mets appeared to be the teams most interested in him, yet nothing could get done to find him a new home.
From a record side of things, Davies is 6-8 and is playing for a team going nowhere this season. As he remains a Cub after the deadline, many questions are surrounding him and what his future with this organization might be. At this point, there is no point in hanging onto Davies unless they plan to sign him next year.
If that is the plan, what is the purpose of that? Would it be a decision based on someone to give them innings, or would the Cubs bring him back because they believe they can compete. Either way, Davies will be a fascinating player to watch not only the rest of this season, but also this offseason as the Cubs have a decision to make regarding his status on the team.
watching Zach Davies start after the trade deadline pic.twitter.com/ODSGjBKnnS

— Randall J. Sanders (@RandallJSanders) August 3, 2021
Frustrations starting to show
David Ross did about as admirable of a job as you can expect from a manager after watching his team get dismantled last week. Through all the stress, question marks, and decisions the front office made, Ross kept this team together and knows the difficult task ahead not only this season but next season.
Despite all that, you can see Ross is frustrated, which is starting to show on a more frequent basis. Tuesday night, that frustration came full circle as Ross was ejected just seven batters into the game for arguing balls and strikes. I get that umpiring has been iffy at best this season, but seven batters into a game seems a little early to be arguing balls and strikes.
Maybe the mindset behind that was to light a fire under the Cubs' butt. If that was the intent, I applaud Ross for sticking up for his team, but I feel there is more to it than that. With everything that has gone on in the organization the last few weeks, I think Ross is frustrated and just mentally drained. He just seemed like he needed a mental reset, and maybe the ejection is what gave him what he needed.
Ump aggressively tosses David Ross. pic.twitter.com/QhcKi4Ta5n

— Major League GIFs (@MajorLeagueGIFs) August 4, 2021
Hoyers clarifies some comments about negotiations:
Hoyer clarified a few statements he said on Tuesday night.
"We've always had a rule of not talking about negotiations," Hoyer said. "I think we've done a really good job over the years of honoring that. Yesterday on the radio, I got asked a direct question, and I did express my frustration of never getting deals done. That frustration comes from a good place. It comes from a place of wanting to get deals done and wanting to keep those guys here.
"If I could do it over again, would I have ended that sentence earlier? I think I would have. We have that rule for a reason. People get defensive when you start talking about those things. Ultimately, that frustration comes from that place of having wanted to get deals done."
Anthony Rizzo responds to Hoyer's comments: "There's a common denominator" https://t.co/qiY7nZSs8N

— CubsHQ.com (@ChicagoCubsHQ) August 4, 2021