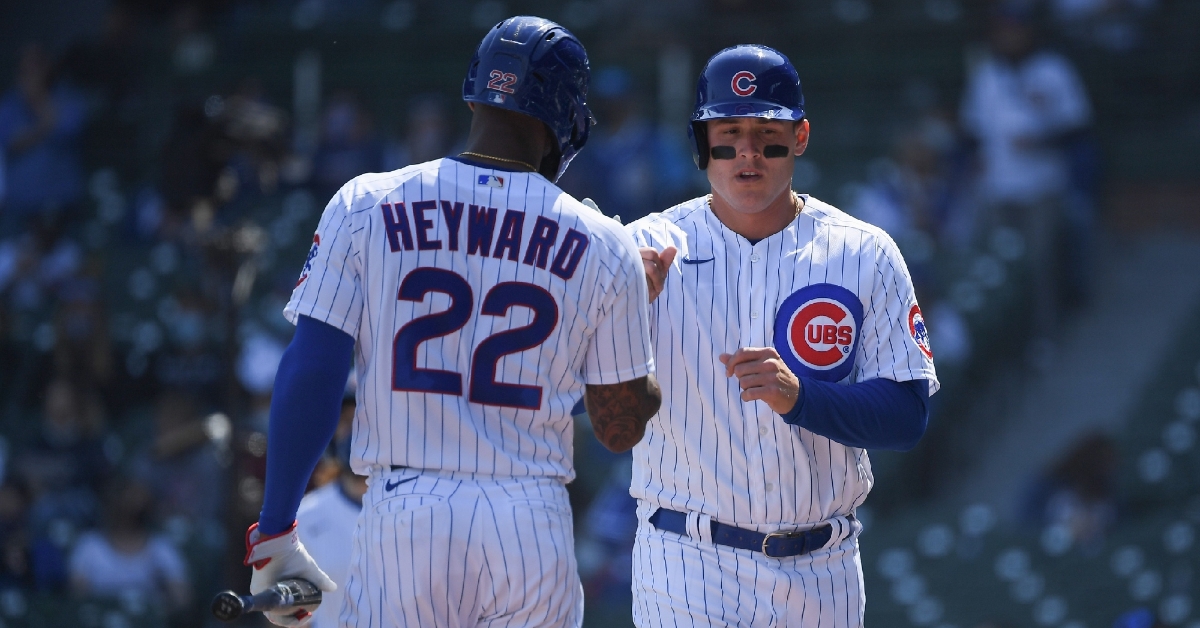 | | |
| --- | --- |
| Takeaways from Cubs' series win over Pirates | |
---
| | | |
| --- | --- | --- |
| Monday, April 5, 2021, 8:16 AM | | |
The Cubs took the field on Sunday Easter Sunday looking for a series win against the Pirates. In front of roughly 10000 screaming fans, Zach Davies took the mound for his first regular-season start in a Cubs uniform against one of the Pirates top prospects in Mitch Keller.
For the most part, the Cubs handled things from the very beginning jumping out to a 3-0 lead and never looking back. Pittsburgh did, however, mount a late-game rally against some of the Cubs relievers, but in the end, it didn't matter as Chicago held on for the 4-3 win to secure the 2-1 series win.
Walks lead to success
I know when people look at the box score from today's game, the immediate thing they will see is just four hits. Surely a team will not have long-term success picking up just four hits, but that doesn't always tell the story. Two of those four hits produced RBIs while some extended the inning, setting things up for other hitters.
However, take the hits away, and it is what the Cubs did early in the game that proved to be a big difference. Going back to 2015 and 2016, when this team was at their peak offensively, one thing they did well was work counts and take walks. In fact, they led the league in pitches per plate appearance and walks in 2016 to get back to that type of success that may need to continue again.
Sunday saw the Cubs indeed get back to that approach as they made Keller work. In his three innings, not only did he walk four hitters, but he threw nearly 80 pitches as the Cubs made him work. This is an offense that can slug with anyone, but they can also make life miserable if they are patient. Sometimes they are too patient, but then sometimes, patience pays off. That was the case Sunday.
The good and bad of Zach Davies
When the Cubs traded for Davies along with a slew of prospects for Victor Caratini and Yu Darvish, all eyes were on Davies from the moment he joined the Cubs. After all, he would be stepping into a rotation spot occupied by perhaps the most dominating pitcher in the national league for a calendar year. Davies is coming off a great year himself but has had trouble being inconsistent at times.
Unlike most pitchers in today's game, Davies turns back the clock and pitches like many pitchers of the early to mid-'90s. In essence, he gives the Cubs another Kyle Hendricks as he thrives on location and pitching to contact and uses his changeup more than anyone in baseball. Davies was phenomenal all spring, and Cubs fans were eager to see what he could do when he took the ball for the first time in the regular season.
Going back to his days as a Brewer and the Cubs know firsthand how difficult he is when he is locked in. Davies was locked in through five innings as he limited the Pirates to just one hit while needing only 67 pitches to get through five frames.
On the flip side, The Cubs have also seen how fast Davies can lose things if his command suddenly falters. That was indeed the case for Davies in the sixth as he struggled to finish the Pirates off after getting the first two hitters out. With just one out left from getting through the sixth, Davies was walking hitters and started to serve up hard contact. Colin Moran knocked him out with a two-run shot to left, putting a negative mark on a strong outing otherwise.
This was precisely the kind of start that Davies has been plagued with much of his career. Hopefully, he uses this game and studies what went wrong in that final inning to improve upon things moving forward.
Baffled.
Befuddled.
Bewildered.

Adjectives @JimDeshaies used to describe Pirates hitters facing Zach Davies today. pic.twitter.com/bn4lzyBpch

— Marquee Sports Network (@WatchMarquee) April 4, 2021
5 for 6
No, I am not talking about the Cubs average with runners in scoring position or a number of wins in a particular stretch of games. Instead, this 5-6 stems from Craig Kimbrel and what he has shown in two outings this season. No, he is not 5-6 in saves, as he recorded his first save of the season on Sunday.
Craig Kimbrel. Selling it with the Insta-K Strut. ?? pic.twitter.com/5EDLkHctpG

— Rob Friedman (@PitchingNinja) April 4, 2021
Instead, that 5-6 stands for the number of strikeouts he has collected compared to batters faced. After striking out the side on Saturday, Kimbrel struck out the first two hitters again on Sunday and looked for another perfect frame. Wilmer Difo fell behind 0-2 before lining out to Javier Baez to end the streak.
I know the season is only two games in, but Kimbrel has looked great. Take away his first three outings of the spring, and he has looked great for a while now, which is a positive sign for the Cubs. In his third season with the team, Kimbrel has been a shell of his once hall of fame self. So far this season, he looks like he is back to his old ways, and if that continues all season, the Cubs have a significant upgrade in the late innings.
Good.

Vibes.

Only. pic.twitter.com/JyEkX1BGAr

— Corey Freedman (@CFCubsRelated) April 4, 2021