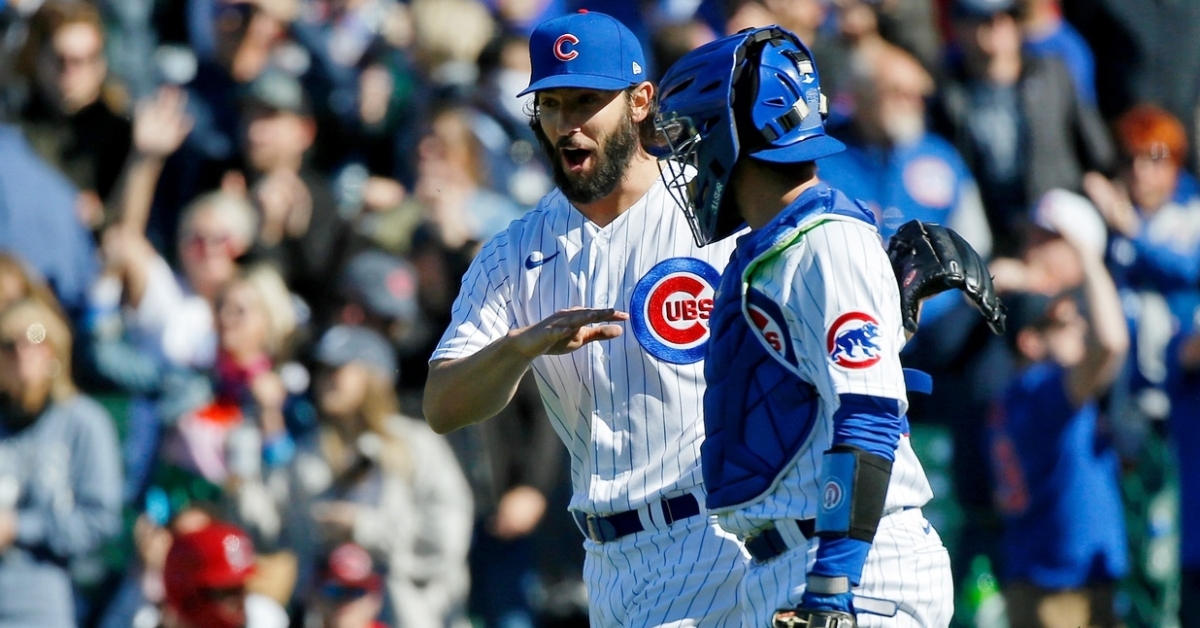 | | |
| --- | --- |
| Three takeaways from Cubs' blowout win over Reds | |
---
| | | |
| --- | --- | --- |
| Sunday, May 30, 2021, 9:01 AM | | |
The Cubs are rolling now as they picked up yet another series victory and their sixth straight win overall beating the Reds 10-2 on Saturday. The Cubs are not only a season-high 29-22, but this current winning streak marks their longest of the season as the team finds ways to win ball games.
With the wind blowing in hard off the lake yet again, both teams knew that they would have to manufacture runs if they wanted to come away with a win.
Days like this also happen to benefit pitchers like Zach Davies as he is able to pitch to contact more and worry less about what damage can be done.
Davies was on point through five innings, limiting the Reds offense to just three hits and throwing just 61 pitches in the process. After allowing a leadoff baserunner in the sixth, David Ross elected to go with Rex Brothers and the pen, knowing the kind of trouble Davies has third time through. At first, that decision backfired as Tyler Stephenson ripped a two-RBI double to right to tie the game ending the bullpens scoreless inning streak. However, the Cubs were able to recover, piling it on late to score eight runs over the final three innings to take things 10-2 over the Reds.
Small ball is working for this team
Over the last decade-plus, small ball has continued to disappear from the game of baseball. Don't tell that to Ross, as he is turning back the clock to use more small ball, and it is working thus far.
Even though the Cubs have averaged 5.7 runs per game since April 17th, second only to the Rays and fourth overall in home run rate, this team is winning plenty of games lately without relying on the home run. Saturday was a prime example as just one of the 10 runs scored came via the home run, which was the Rafael Ortega solo shot in the seventh.
Rafael Ortega blasts his first #Cubs home run! #CubTogether @BinnysBev pic.twitter.com/I0v9fRtWtW

— Chicago Cubs (@Cubs) May 29, 2021
Ross has found his niche with this offense, from stealing bases to hit and runs and even dropping down bunts which the Cubs did in the second. Leading to a pair of runs. The best thing that could have happened to this offense was adapting a contact-first approach, and you can see the results from that mindset.
Instead of the three true outcome team fans have been accustomed to seeing over the past five years, this team has turned back the clock, and they are looking like those early 2000 teams that didn't need to hit homers to win games. This is a refreshing trend that fans have harped on for years, and finally, a contact-first approach is paying off.
It sounds so nice to hear fans at Wrigley again
After not having fans in the ballpark last season, it has been refreshing to hear the fans return since the beginning of this season. However, that was only 25% to open the season as this weekend was the first time it was bumped up to 60% capacity. That comes out to over 24000 fans, and they are making their presence felt.
Teams know how intimidating Wrigley can be when the Cubs are winning and fans are rocking. The Cubs have been much more winning lately, but there were no fans to let visiting teams hear about that last season. Now that fans have been back, 10000 fans seemed like 25000, and the 60% capacity this weekend has sounded like 100% capacity yet again.
With Chicago expecting to be at full capacity come July, it will be amazing to see Wrigley filled to the brim once again, and those fans are going to make sure they get loud. The Cubs have one of the best home records in all of baseball, and their fans play a big reason for that. I expect that to continue this season as this team is having fun once again.
Another fun win at Wrigley today with over 24,000 in attendance - atmosphere was buzzing! #CubTogether pic.twitter.com/IidwTQ1fQt

— Scott Changnon (@ScottyChags) May 29, 2021
Another injury to overcome
There is no secret that this Cubs team hampered with injuries, yet they keep finding a way to win games. They truly have adapted the next-man-up mentality, and so far, they have been able to get around a lot of these injuries, even to the ones of their key players.
During the bottom of the fourth inning, another injury was added to the list and one that could last long into the second half of the season, depending on the severity. With Nico Hoerner and Matt Duffy currently on the IL, Eric Sogard and David Bote have much more playing time, but one of them is about to hit the IL.
That player would be Bote, as he injured his shoulder after sliding into second base trying to break up a double play. The strange part about that play was that it didn't look out of the ordinary as Bote did precisely what you were taught. However, something wasn't right, and Bote was in immense pain.
From the moment the training staff reached the field, you knew it was a shoulder injury as he was grabbing his left arm and not letting go. Once they were able to get him on his feet, not only was he walking gingerly off the field, but his arm was dangling at his side as this will be a severe injury.
David Bote injury update https://t.co/f3ZRVOX7fe

— CubsHQ.com (@ChicagoCubsHQ) May 29, 2021
With Bote most likely the next casualty to hit the IL, Sogard will be the second baseman, but who plays a little third base. Duffy will be back sooner rather than later, but the Cubs may have to use Patrick Wisdom at third in the near future. Normally I would say Kris Bryant could go there, but he is filling in for Anthony Rizzo at first. This goes to show you the job Ross has done this season as he continues to win games despite the injuries mounting by the day.